RTG Keno is basically the same version of Keno that most players know and love. It's not over the top or has any real special themes like so many Keno variations have. This version is very straight forward and is easy to grasp and play.
RTG stands for Real Time Gaming which is a casino software company. This is their version of Keno.
Players will not find anything out of the ordinary when it comes to this game; the layout is very smooth and has good graphics and enough intrigue to make gameplay worth it!(Get 20 free spins on the Mariachi 5 slot, win real cash. Click here and use code DANSPINS20 during signup.)

How to Play RTG Keno
In Keno, players select the numbers that they would like to wager on. The numbers are then drawn totally at random. You then find out whether the numbers you selected won or lost. It's not as involving in strategy or choice as many casino games, which is much of its appeal. Keno is a classic game that can have dated graphics but is steadily getting updated visually with online variations and new versions of the game.
Here's a screenshot of RTG Keno: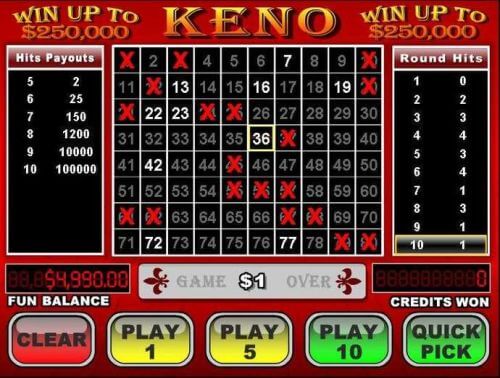 How RTG Keno Works
This game is pretty simple to understand because it has the same rules as regular or 'original' Keno. Players will choose the amount that they want to wager and then pick their numbers. You can pick numbers all the way up to eighty just the same as original Keno. So you pick your first round of Keno's wager amount by using the arrows that are placed to the left or the right of the dollar amount. Players may bet anywhere from a penny to five or twenty dollars. They then allow you to choose how many rounds of Keno you would like to play.
You can choose if you would like to play just one round of Keno. You can also play five or ten rounds in a row by picking Play once, Play Five, or Play Ten. At the end of the rounds you will get paid out based on how much you wagered and which numbers were chosen out of the ones you picked. The payouts will also be listed before you play, highlighted and explaining the payout according to what you selected, and there's also a breakdown of the rounds you have already played when you choose to play multiple rounds (five or ten).
RTG Keno Features
– Wager limits: Choose a wager of a penny, a quarter, a dollar, five dollars, or twenty-five dollars.
– Easy to understand and play
– Choose your wager amount and then choose one number or multiple numbers, up to fifteen, from the game board
– Select single round with Play Once: players can play one round of Keno based on the number or numbers they have selected
– Play Five: players can play five rounds using their number or numbers
– Play Ten: You can play ten rounds of Keno in a row with your selected number/numbers
– Clear button clears everything you have done, getting rid of your numbers and wage amount every time
– Quick Pick feature lets player get ten randomly selected numbers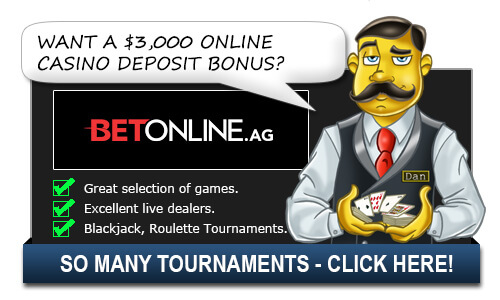 Final Thoughts
RTG Keno is the same Keno version players know and love, just jazzed up a bit. If you like playing classic Keno or variations of Keno, you will most likely enjoy playing this variation. It's sleek, simple, and easy to play and well worth a try, so check it out.
Top Keno Casinos for Americans

| # | Online Casino | Reason | Visit |
| --- | --- | --- | --- |
| 1 | WinADay Casino | Amazing Multi Card Keno Game | |
| 2 | Slots.LV | $22 No Deposit Bonus just for registering, Fun Keno Game | |
Additional RTG Keno Questions:
None Yet
Related Questions:
Alternative Ways to Ask/Incoming Search Traffic:
The answer to the question RTG Keno is also applicable for the following questions:
Play RTG Keno Online, Where To Play RTG Keno Online