Developed by WagerWorks, Krazy Keno presents one of the most unique versions of the classic Keno game on the Internet right now. Read on for an introduction of this fascinating and fun online betting game.
You should know what Keno is by now – but just in case you don't here's a quick reminder.

Keno has earned frequent comparisons to lottery as it is popular in casinos worldwide and is also offered in most lottery outlets. It makes use of either a random number generator or a ball machine in order to draw numbers spontaneously. While there have been a few changes as to how it is played in recent years, what is present in physical Keno games is the "pay table," which presents a series of payouts. What you win will depend on how much you bet, how many numbers were picked from the slips as well as the number of matches.(Get 20 free spins on the Mariachi 5 slot, win real cash. Click here and use code DANSPINS20 during signup.)
What Makes Krazy Keno Unique?
As far as online Keno games go, Krazy Keno has one of the more advanced graphics, displaying a colorful interface that makes you excited to play even more. The graphics use for the background evokes memories of steampunk science fiction animation.
How To Play
To play Krazy Keno, you have to fill in 2-10 slots out of the available 80 numbers presented in the two number boards (with 40 numbers each) on the screen. Once you have chosen your numbers, you may bet up to 4 credits in the game.
Once you press the Select button, 20 Keno balls will be dropped and may land on either one or both of the number boards.
The numbers will be picked in a random order and your payout will depend on how many numbers you match.
Each game may cost you from a half credit to 4 credits which, if you are lucky, may translate into 80,000 credits. The average return in playing the game is at an incredibly high 96 percent.
Krazy Keno Features
One of the features of Krazy Keno is the Bonus Ball. This brings an advantage if you bet 4 credits when the feature is activated, thus doubling the credits or payout you will earn. The Bonus Ball will be shown in the screen using a red star at the top of the hopper in a row. It may drop down in the next round and could be part of the next set of balls that will be dropped.
Krazy Keno has four betting levels, which represent each credit that players will be able to apply to the game.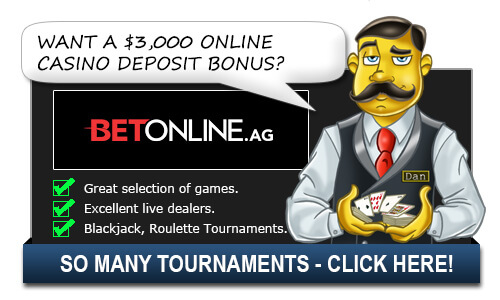 Tricks
Just like any Keno game, one strategy that players can use to ensure optimal wins is to use the same numbers in every round. This is a strategy that lotto winners in the past have used and the two games' similarities will work to your advantage.
It is also smarter to play fewer numbers as one of the factors used to determine payouts is the percentage of numbers that match with your selection. This is why fewer numbers may yield to a bigger win for you.
So for those who want to play an online Keno game that is fun and engaging, you may want to consider Krazy Keno.
Top Keno Casinos for Americans

| # | Online Casino | Reason | Visit |
| --- | --- | --- | --- |
| 1 | WinADay Casino | Amazing Multi Card Keno Game | |
| 2 | Slots.LV | $22 No Deposit Bonus just for registering, Fun Keno Game | |
Additional Krazy Keno Questions:
Where To Play Krazy Keno Online
Krazy Keno is available to play at Bovada.
Related Questions:
Alternative Ways to Ask/Incoming Search Traffic:
The answer to the question Krazy Keno is also applicable for the following questions:
Krazy Keno Review, Play Krazy Keno Online
Top Keno Casinos for Americans

| # | Online Casino | Reason | Visit |
| --- | --- | --- | --- |
| 1 | WinADay Casino | Amazing Multi Card Keno Game | |
| 2 | Slots.LV | $22 No Deposit Bonus just for registering, Fun Keno Game | |