To me, one of the most interesting online games is the game of Keno.
See – Keno is a very basic game. If you've ever played it, you know that already. And for years and years I'd see online casinos trying different ways to make it interesting – but no casino could get past "changing the graphics".
I mean there was a TV show style of Keno and things like that – but at the end of the day it was plain and simple Keno.(Get 20 free spins on the Mariachi 5 slot, win real cash. Click here and use code DANSPINS20 during signup.)
Some online casinos spice up their Keno games a lot with crazy graphics etc – but to explain how to play Keno online, I'm going to go with the "old school" version of Keno. I believe you can find this version at both Bovada and Bovada. Or at least a similar version.
It's a very simple Keno game and one most people are familiar with. Here is how this Keno game looks: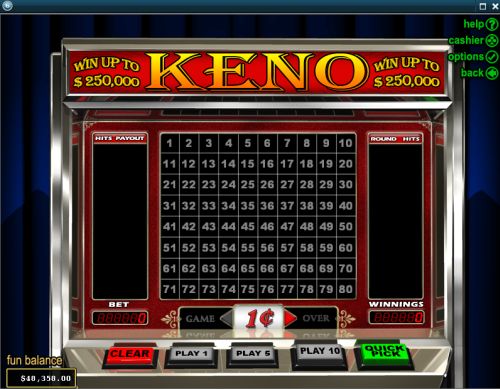 As you can see, it's very basic and easy to play.
So the first thing you will do is pick the amount you want to bet. This particular machine offers 1 cent all the way up to $10. Once you've did that, you can choose "Quick Pick" to pick your numbers for you, or simply click each number yourself. I'll click a whole ton of numbers just to show you: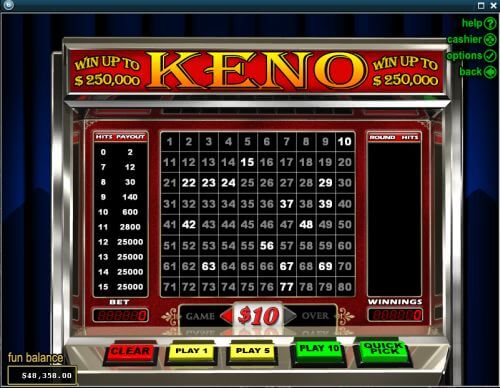 So that's the numbers selected. Now you will notice that there are 3 buttons I can choose from – Play 1, Play 5 or Play 10. This is actually pretty neat – rather than clicking "Play" over and over again you simply choose "Play 10" and it will play 10 rounds of Keno for you. It then keeps track of everything. Let me show you how that works – and I actually won on the last round: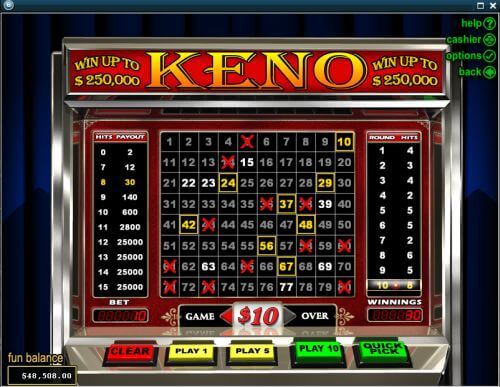 So you can see there – the numbers that came up on round 10 are all highlighted. I got 8 numbers for a 30 credit payout so it's listed in the winnings. And on the right side I played 10 rounds, so it lists all 10 and the amount of hits I got and there's a special icon for where I won.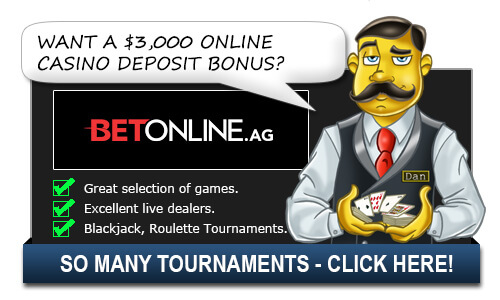 One other neat feature is say you like to keep track of the numbers – simply hover your mouse over "Round 7" for example and it will show you the 2 numbers that came up for you on that one, and all the numbers that actually came up.
And that's how you play Keno online. There are some neat variations of Keno, but for a nice beginner version you can play for free, head to Bovada if you're an American. If you aren't in America, check out Bovada.
Top Keno Casinos for Americans

| # | Online Casino | Reason | Visit |
| --- | --- | --- | --- |
| 1 | WinADay Casino | Amazing Multi Card Keno Game | |
| 2 | Slots.LV | $22 No Deposit Bonus just for registering, Fun Keno Game | |
Additional How To Play Keno Online Questions:
I heard about Multi Card Keno. What is That and How Do You Play That Online?
I refer you to my friends over at MultiCardKeno.com for all the answers about Multi Card Keno. It is available at Bovada and is called "Power Keno".
Related Questions:
Alternative Ways to Ask/Incoming Search Traffic:
The answer to the question How To Play Keno Online is also applicable for the following questions:
How do you play keno online, how to play multi card keno online
Top Keno Casinos for Americans

| # | Online Casino | Reason | Visit |
| --- | --- | --- | --- |
| 1 | WinADay Casino | Amazing Multi Card Keno Game | |
| 2 | Slots.LV | $22 No Deposit Bonus just for registering, Fun Keno Game | |