Keno is a lottery-type game where players choose a number and place a wager. That number must match the pre-determined numbers that are usually written on a card. There are several versions of Keno, one of which is called Fortune Keno. The main difference between Fortune and regular Keno is in their interface. In Fortune Keno, players will feel like they are playing Keno with a gypsy vibe.
Some of Fortune Keno's signature characteristics are superior graphics and calming music. In the game, a fortune teller sits holding a crystal ball on the left side of a set of numbers. Players then make a selection out of this number—a prediction, if you will—and the fortune teller will rub her crystal ball. Several numbers will spin inside the glowing ball, which will then be shot out on to the board. Players then check whether the numbers on the board matches any of the numbers they have selected. (Get 20 free spins on the Mariachi 5 slot, win real cash. Click here and use code DANSPINS20 during signup.)
Fortune Keno is a really easy game to play. The rules are similar to regular Keno games. It is an 80-ball keno game, which means players will have the number 1 to 80 to choose from. They can wager on a minimum of 2 and the maximum of 10 of those numbers. To pick a number, players only need to click on the desired numbers on the screen. It is possible to change the numbers selected before the crystal ball drawing. Players can click on the same number to deselect the earlier choice.
Here's a screenshot of Fortune Keno in action: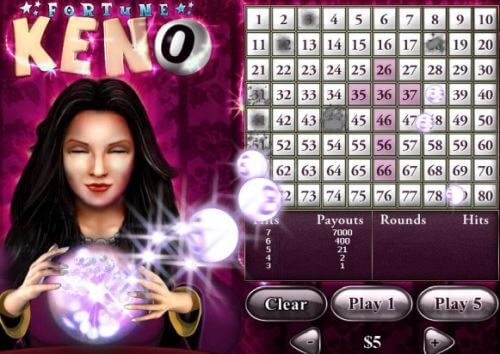 When all the wagers have been placed, the crystal ball will spew out 20 numbers at random. Although it is virtually impossible to match all 20 numbers is one game—the odds of doing so is approximately 1 in 3.5 quintillion—players will still be paid in accordance to the amount of numbers they caught. This payout is based on how many numbers the player selected and how many of those numbers match the randomly drawn number, and then multiplied by the ratio of the player's original wager to the base rate of the paytable. Each casino sets its own paytable, but it usually has a slightly larger "house edge" than any other games offered in that casino.
Fortune Keno also has several special features that set it aside from regular Keno games. Its interface is very simple—players only need to pick the numbers they desire, between 1 to 80, and press play. It also has Play Once feature to enable players to play only one hand with the selected numbers or Play Five to play with the same numbers five times in a row. A Quick Wager Select helps player quickly select or deselect their wager, ranging from $0.25, $0.50, $1.00, $2.00, to $5.00. Players will know precisely when and what they have won as soon as it happens with the Nice Win Notification feature. This feature will send a pop-up box after each winning to notify you on the amount of numbers you have caught and how much you have won. If players want to select new numbers, they simply have to press Clear and the board will be reset promptly.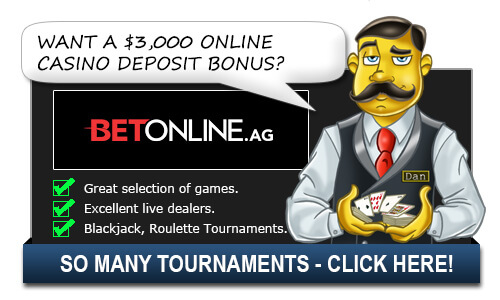 It is suitable for both beginners and veteran players as it is easy to navigate and at the same time highly entertaining.
Top Keno Casinos for Americans

| # | Online Casino | Reason | Visit |
| --- | --- | --- | --- |
| 1 | WinADay Casino | Amazing Multi Card Keno Game | |
| 2 | Slots.LV | $22 No Deposit Bonus just for registering, Fun Keno Game | |
Additional Fortune Keno Questions:
Where can I Play Fortune Keno for Free?
Unfortunately at this time no online casinos currently offer the ability to play Fortune Keno online for free or for real money. If that changes we'll update this.
Related Questions:
Alternative Ways to Ask/Incoming Search Traffic:
The answer to the question Where To Play Fortune Keno Online is also applicable for the following questions:
Fortune Keno, Play Fortune Keno, Play Fortune Keno Online
Top Keno Casinos for Americans

| # | Online Casino | Reason | Visit |
| --- | --- | --- | --- |
| 1 | WinADay Casino | Amazing Multi Card Keno Game | |
| 2 | Slots.LV | $22 No Deposit Bonus just for registering, Fun Keno Game | |