As an incentive to sign up at online casinos, they are always offering bonuses to new players to sign up. They are also offering bonuses to existing players to encourage them to deposit more or play specific games at their casino.
The whole bonus system can actually be quite confusing. Many online casinos will offer up a variety of different bonuses that you get to choose from prior to registering. Some will allow you to claim them all via different deposits and others will only allow you to claim one of the bonuses. Depending on the bonus, the wagering requirement, and the games that you play, that can be quite a tough decision.
There are a lot of good websites out there that highlight either the primary bonus or the main bonus that is worth taking. Sites such as OnlineCasinoList provide comprehensive reviews of all bonuses a casino offers, and also gives a good summary of the terms and conditions. It is worth referring to websites such as them, as they will help you understand what the bonus on offer is.
In this article, I am going to cover the different types of bonuses, and what to look out for:
Percentage Match Deposit Bonus: This is the most common deposit bonus found at an online casino. Almost every casino will offer it and it will vary depending on the casino. They may also offer a variety of different percentage match deposit bonuses to choose from.
An example of a percentage match deposit bonus is "100% to $500". What this means is they will match your first deposit up to $500. If you deposit $50, you will only get a $50 bonus. If you deposit $600, you will only get a $500 bonus. To take advantage of these bonuses, it is highly recommended you deposit the maximum amount.
You should be paying attention to the wagering requirement, as well as what games are required to play for this bonus. Please note I recommend depositing the full amount because the initial deposit bonus for a new player usually has the more relaxed wagering requirements. This means you won't have to wager as much money prior to cashing out the deposit bonus.
No Deposit Bonus: This sort of bonus is obviously very popular! You sign up, you don't have to deposit anything, and you get real money to wager with. If you clear the wagering requirement and have funds leftover, then you can actually withdraw that money if you want.
This is a great way to check out an online casino prior to actually investing any money in them. Please note that wagering requirements for these can often be quite strict, and there is usually a maximum amount you can withdraw. One example would be a $25 no deposit bonus, but the maximum you can withdraw would be $100. Anything above that would be void.
One thing to pay attention to is whether the wagering requirement will carry over or not once the no deposit funds are gone. This can be an issue as these bonuses often have a hefty wagering requirement and it could affect previous deposits.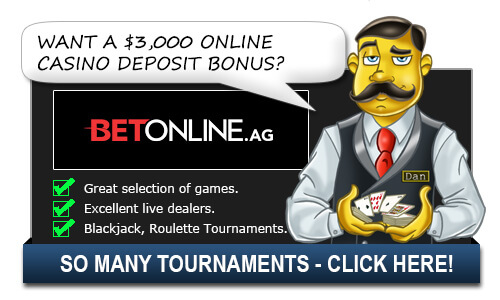 Free Spins Bonus:
You will often see this either as a standalone bonus, similar to a no deposit bonus, or attached to a deposit bonus. The former means you get to register, spin for free, and keep whatever cash you win from the free spins. Similar to the no deposit bonus, there will likely be a wagering requirement for the funds you earned from the free spins.
The other is attached to a deposit bonus – such as "100% to $100 plus 100 free spins on a select slot". Along with earning the percentage match bonus, you also get 100 free spins from it. It can be a nice little addition. Please note that free spins are usually a very low denominator so it's unlikely you will win anything big from them.
Specific Game Bonus: Most bonuses listed above will have a specific game requirement; you can only wager bonus funds on slots, keno and similar games. Casinos know though that there are Blackjack, Roulette, and Craps players out there who would love a bonus to clear so you will often see casinos offer a bonus for one of these specific games.
It will be clearly marked indicating that it is for one specific table game. It is wise to explore the wagering requirements for this because there may be specific variations of that game that don't count, including live dealer games.
Crypto Bonus: A lot of online casinos encourage deposits via cryptocurrency. They will offer up specific deposit bonuses only if you deposit via Crypto. These often are able to be used independently from a percentage match bonus. By that I mean you can claim the percentage match bonus first, clear that wagering requirement then do a second deposit with Cryptocurrency, and receive the bonus from that.
Deposit bonuses are the one big factor in playing at online casinos over live casinos. You're not going to walk into the MGM and be given $100 just for choosing to wager $100 at their tables!
Additional Casino Bonus Questions:
What is a "Reload" Bonus?
This terminology is when a casino wants you to "reload" your account with more funds. Some casinos will list it clearly on their website – every deposit after the first deposit gets a reload bonus up to $250. Some may only offer these bonuses on the 2nd and 3rd deposits. Others won't list anything on their website at all but will e-mail you with reload bonuses to entice you.
Top Casinos for Americans

Related Questions:
Alternative Ways to Ask/Incoming Search Traffic:
The answer to the question What Casino Bonuses Are There? is also applicable for the following questions:
What does a match deposit bonus mean? What is a crypto bonus? How do free spins bonuses work?
Top Casinos for Americans