On Saturday, September 4th 2010 I spent the day and night at the Caesars Palace casino, located in Windsor, Ontario.
Going to Windsor wasn't the primary reason for my trip – me and a friend were going to Detroit for the Eminem/Jay-Z concert on the Friday evening. However we couldn't resist staying an extra night so we could hit up the casino. Unfortunately we did not stay at the Caesars Palace hotel – we stayed at the Days Inn. If you are looking for the cheapest hotel in Windsor then the Days Inn is it – at least for the downtown area. It's only 3 blocks away from the casino and there are shuttle buses every hour to the casino as well.
It IS known as a party hotel however, and if you're looking for a good sober nights sleep I wouldn't recommend it. Lots of young people and lots of drinking throughout the night. Thankfully that is right up my alley, so I thoroughly enjoyed my stay there!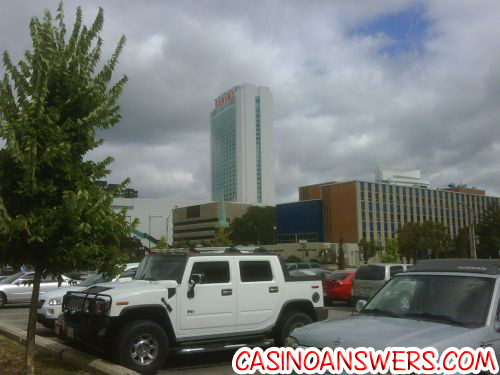 We headed over to Caesars Palace at approximately noon on Saturday, and managed to get there just before the breakfast menu at Artist Cafe was finished. I ordered the eggs benedict and my friend got the breakfast special. Both were delicious and I have to highly recommend the eggs benedict which comes with either back bacon or smoked salmon. Here is the eggs benedict: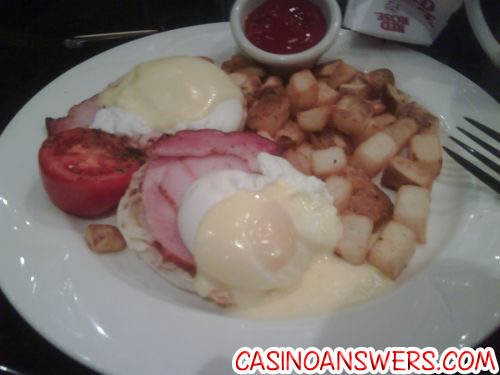 Once breakfast was over we headed to the casino, and started off playing some slots. Like any casino, Caesars has a great selection of slot machines, and all the popular slot machines like Wheel of Fortune are there. I did find the slot machines rather disorganized however. I like casinos where the slots are separated based on the bet value and progressives, but the slot machines were all over the place and it meant if you were looking to play a specific amount you had to walk around staring at every slot just to see what the bet value was.
I also came very close to hitting a $2600 progressive jackpot, getting 2 of the 3 symbols with the 3rd symbol hovering just one notch above the payline. Unfortunately I don't have any pictures of that as I was too busy swearing and cursing at the slot machine.
Here's a picture from inside Caesars: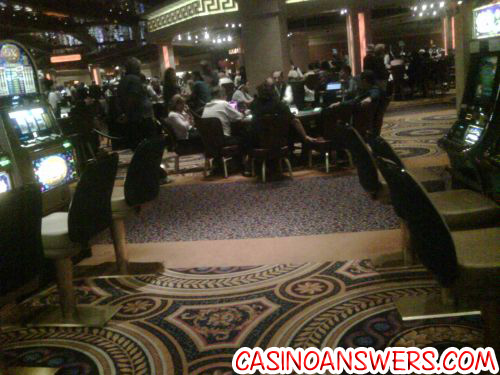 After playing some slots, it was time to hit up the tables. One thing about Caesars is that it is very busy and the table game selection isn't huge. For the majority of games there was only 2 tables for each – 2 tables of Roulette, 2 tables of Let It Ride and so on. On a Saturday afternoon sometimes I had to wait to play the game I wanted, which obviously can be frustrating.
I hit up the roulette tables first, which had a minimum bet of $5. I didn't hit any big wins but ended up breaking even. One player there bet the number 14 at least 25 times in a row, with no win. He went off mumbling about how it was rigged, and then of course on the very next spin the #14 came up.
After that I hit up the Let It Ride tables, which had a minimum bet of $10. This was where I spent most of my afternoon. I've always enjoyed Let It Ride. It's such an easy game to play, one of those games that really makes you feel like you are winning big but losing little, and is just a great game to sit back and play while drinking the beer.
Along with the standard Let It Ride bonus bet, Caesars also has a new bonus bet which is probably very close to break even in terms of house advantage. This is something new since Harrahs took over them. The dealer convinced me it was the best bet in the house or at least one of them, and earned themselves a nice tip when I placed a bonus bet and immediately hit trips for a nice little payout.
I ended up killing at the Let It Ride tables, ending up my session with over $800, betting $25(or 3 bets of $75). Some old guy sat down while I was playing and would only make one bet rather than three. If you know anything about Let It Ride you know how absolutely RETARDED this is because you can pull back two bets if you want to. One of the worst decisions I've ever seen, made even worse because he sat down at the table with $100 and left with $1500, when he could have left with over $3500 with the EXACT SAME AMOUNT OF RISK.
Unbelievable.
After that we decided to head to Legends Sports Bar to watch some college football and have some beer and wings. The wings weren't that great, but Legends is still a really nice place to hang out with a relaxed atmosphere: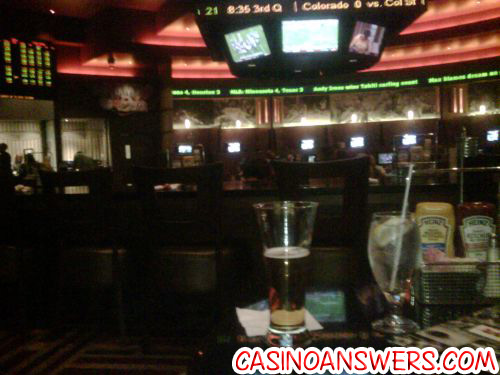 I should also point out how great smoke breaks are because you get to go outside and have this wonderful view of the Detroit skyline: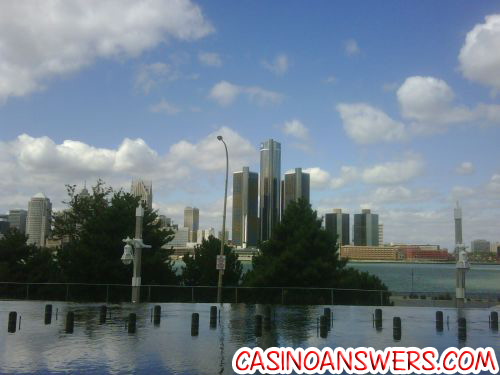 Caesars was really picking up around 5pm, and it was getting harder to find a game. I managed to get to the Craps table for a bit which was okay – not as energetic a game as I would have hoped but it was still good. Lost a little on that then we decided to go as it was just getting too busy, and hopefully come back in the wee hours of Sunday morning and things would have died down a bit.
We came back at about 2am but unfortunately it was still very busy so we called it a night and left.
Overall I enjoyed Caesars Windsor, and one thing that really stood out there was the staff, and the friendliness of every employee we encountered. From the woman who made our breakfast to every dealer we dealt with, everyone was having fun and clearly enjoying being there.
If you're travelling through or near the Windsor area, I highly recommend stopping off at Caesars Windsor. And be sure to get an eggs benedict!