I received a flyer in the mail from All Slots Casino, offering a free 10.00 casino credits for signing up there. The actual value of the credits depends on the currency I use there. If I use pound sterling then I get £10, or if I use the euro I get €10. As I am based in Canada I decided to go with the almighty Canadian dollar, so I'm going to hit up All Slots Casino with $10 free cash to play with.
All Slots Casino uses the Microgaming Casino software, which unfortunately does not accept Americans. However the name "All Slots" is quite an accurate name in my opinion, considering the amount of slot machines available at Microgaming casinos. You can see a list of the Different Types of Slot Machines, however Microgaming have over 190 video slots, 119 classic slots, and 24 Progressive Jackpots. Yikes.
I decide to hit up the classic slot machine Blackjack Bonanza. That's right – a Blackjack Slot Machine. Here is how it looks: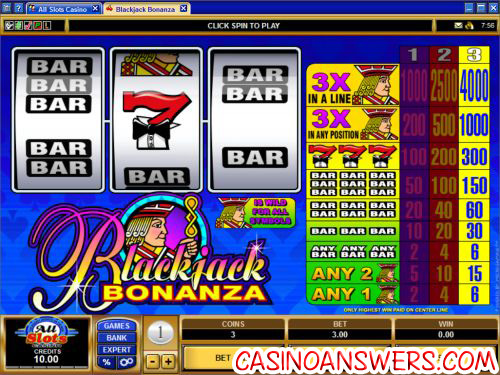 Now optimal slots strategy would be for my coins to have the value of $1, and bet the maximum 3 credits at a time, however with $10 that amount would go fast. I drop it to $0.25 per credit, although of course will still bet the maximum 3 coins.
Two spins in and we get a great $15 win: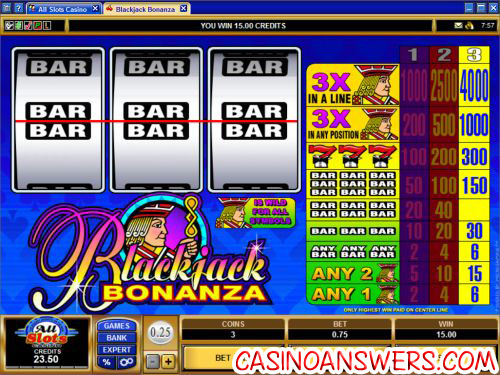 I have a rule when it comes to playing slots – I win twice, and then I leave and try out another slot machine. This allows me to play a variety of slot machines, and it also means I'm not stuck there hitting "Spin" over and over. I play Blackjack Bonanza a bit more, and finally get the "Any 3 Bars" reel win for $1.50 in winnings.
With $18.25 left in my balance, I decide to play another classic slot machine in Jackpot Express. This one you can actually bet up to 5 credits which is what we will do – you can actually win diagonally: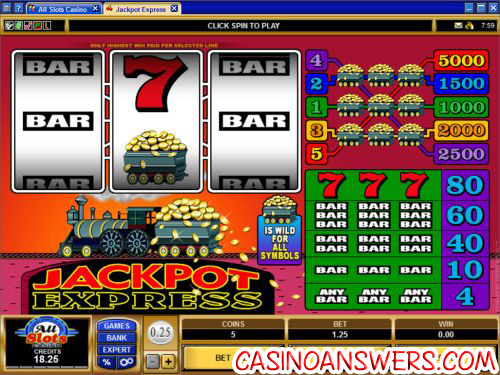 3 spins in, and we get two different wins. The first win is with any 3 bars, and the second win is with 3 bar symbols: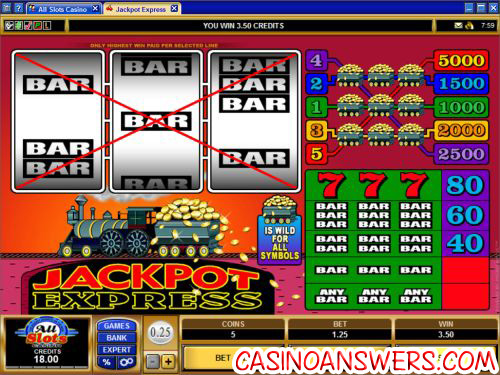 We immediately pick up a second "win"(where we actually lose $0.25 haha) with three more "any bar" symbols.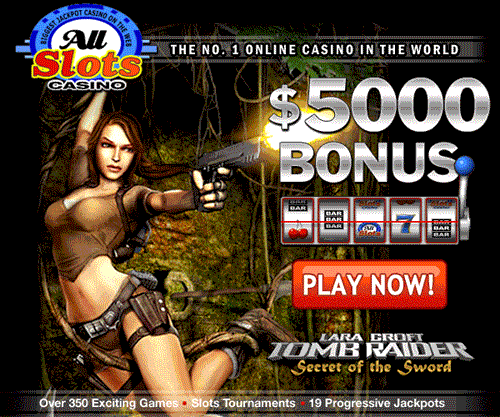 I decide to hit up the fruit machines – specifically the Cops and Robbers slot machine. I love games like this where they have nudge options etc: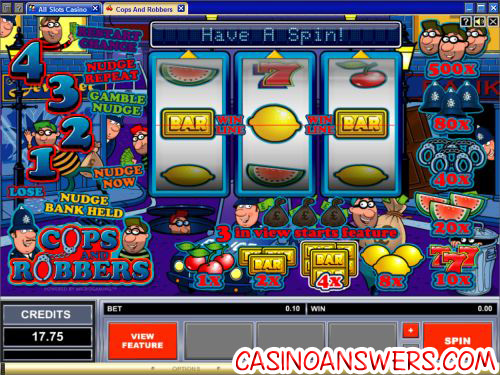 I can also bet as low as 10 cents, however I'll go with $0.50 with our whopping $17.75 casino bankroll.
We actually unlocked the feature bonus game right away: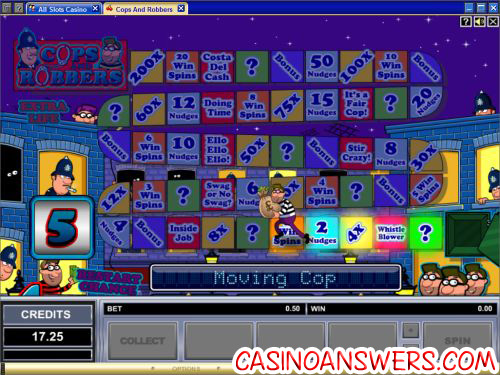 However got caught by a cop. The software for this slot machine isn't that great to be honest – I find myself hitting "Spin" a few times and it doesn't spin. Quite annoying. Then on my next spin it freezes on this screen for a good 20 seconds: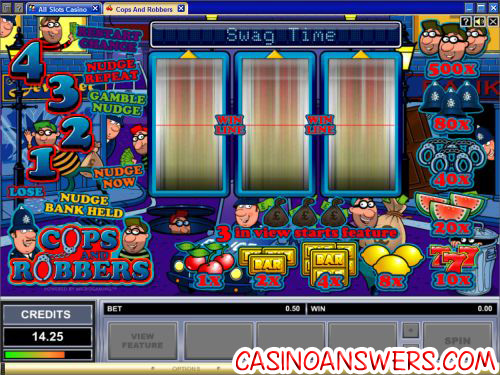 It fixes itself thankfully, and a few spins later we pick up our first win: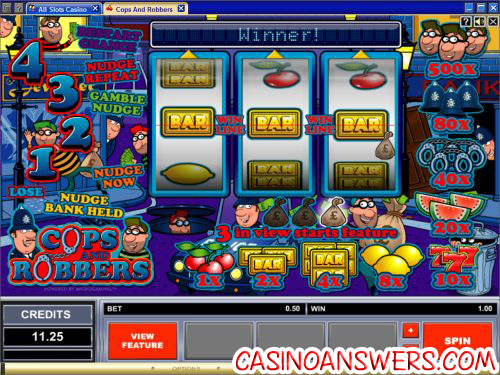 However don't do too well for the rest of it. We finally unlock the feature game: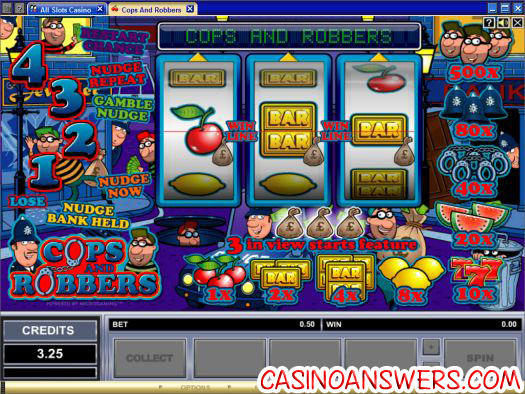 And win $2 from there, bringing our bankroll to $5.25. Time to hit up a video slot with the remaining funds.
We'll hit up a slot machine called Bearly Fishing. This is a 25 reel slot, where you can bet up to 20 coins per line, which means you can be betting a whopping 500 credits a spin. Wow.
I decide to spend the rest of my money at this slot machine. I win on the first spin: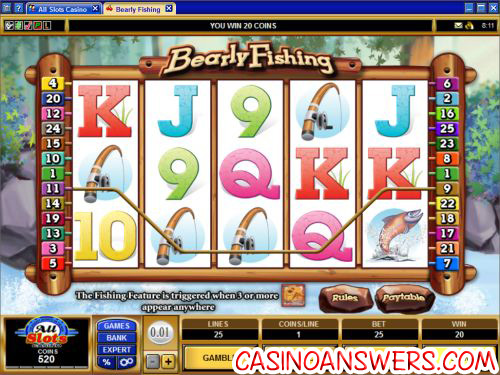 I should note I am betting all lines, 1 coin a line, one cent a credit. Yep, ye good ole penny slots, haha. So thats $0.25 a line. I pick up a 70 credit win and go for the bonus game: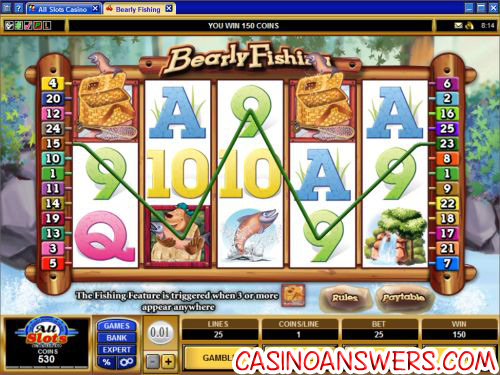 Which I ultimately lose when I choose red and the :ac: appears. Grr – ALWAYS BET ON BLACK.
We pick up a nice 150 credit win a few spins in: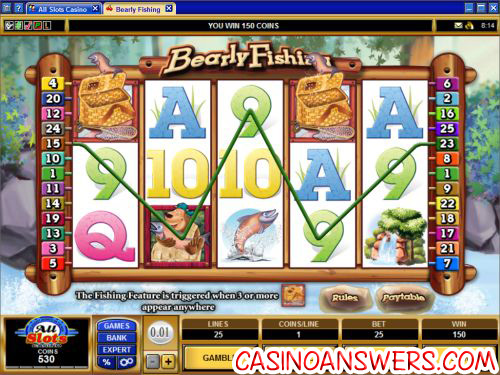 And I choose to collect that one.
Unfortunately we don't hit any other big wins, and lose the rest of our free casino cash shortly after.
Oh well that was fun, and I always love playing at Microgaming Slot Machines. You can probably get a free $10 at All Slots Casino too. Just register there, then e-mail support and ask if you can have $10 to try out the casino. Most online casinos will do this without a second thought.