Every online casino offers both real money and play money versions of their software. They offer play money so you can try out the software before playing, and so you don't waste your real money on random games you've never played. They usually give you thousands of credits to try out the play money casino.
But what happens when you run out of that money?
First of all, there are eight different software platforms. They are Cryptologic Software, Microgaming Software, Net Entertainment Casino Software, Playtech Casino Software, Random Logic Software, Rival Gaming Casino Software, Real Time Gaming Software and Vegas Technology software.
As we get a lot of American casino players, we should point out that the only online casinos that accept US players use either Real Time Gaming Software, Rival Gaming Software, or Vegas Technology software.
We will provide details as to what happens to your play money at every online casino software provider. Please note that some online casinos will differ. Also, you may be looking at signing up for real money and taking advantage of casino bonuses. I have an article How to redeem and unlock online casino bonuses which will guide you through that process, and how to look out for the best bonuses to claim.
Cryptologic Software:
This one is pretty simple. When you run out of play chips, all you have to do is exit back to the lobby, and then you will get the following message: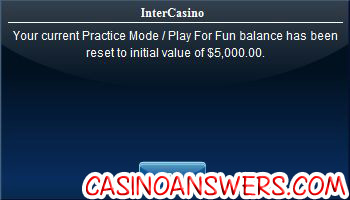 And your play money balance is immediately upped back to $5,000. We tried this numerous times, so it seems you can do this unlimited times.
Microgaming Software:
Once you run out of free money at Microgaming Casinos, you get the option to visit their cashier, where you can make a practice money transaction. It offers a variety of different amounts, up to 1500 play chips.
Net Entertainment:
Upon losing the five thousand dollars in free casino chips, when you try to place a bet you get a notice that there is not enough money in your account to bet. We visited their cashier, however there didn't seem to be an option to refill your play money chips. All it listed was my poker play money chip balance. I had the option to refill that, however there was nothing about refilling my casino play money chip balance, or transferring the funds from my poker play chip balance to the casino software.
I even tried logging out, closing off the software then logging back in, however that did not affect my free chip balance. So if you are looking to play for play money, it may be best to avoid Net Entertainment software.
Playtech Casino Software:
For Playtech, we received 2000 EUR upon logging into the fun money client. After losing all that money, you are prompted to visit the cashier. At the cashier you have the option of adding more to your fun money balance. It doesn't list a minimum or maximum, however we tried a few high numbers and were told it was an invalid amount. It looks like 5 figures and above is not acceptable, however anything below that is fine, as we were able to add 9,999 to our fun money balance.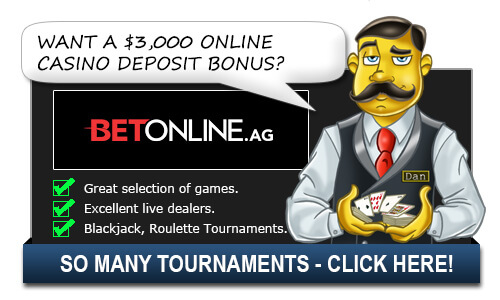 Real Time Gaming:
You initially get $1,000 in free casino chips to play with. Upon running out of play money chips at the Blackjack table, a message popped up stating that I have sufficient funds to play the game, and asked if I wanted to visit the cashier.
When you go to the cashier, you get the option to adjust your balance. You can increase your balance or decrease it, with a minimum of $1, and a maximum of $1000. Here is the screenshot below showing this:

Although you can only increase your play money casino chip balance by $1,000, you can actually do it multiple times, up to the maximum of $999,999.00. So if you are betting $250 at the Blackjack tables, you don't have to go back to the cashier every few minutes just to get more play money chips.
Rival Casino Software:
Okay, we get $2,000 in play money chips. Once you run out of play money chips, a window pops up asking you to visit the cashier so you can make that bet. You then have the option of choosing your fun money balance, from 1 through 99999. See the below screenshot: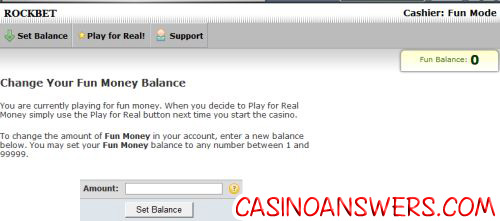 And your fun money balance is adjusted immediately, so you can continue to play. When you close that window, the software will even take you back to the game you were last playing.
Vegas Technology Casino Software:
Upon losing all the money, a message pops up stating that your account has been credited with more chips, and you get an additional $3,000 to play with.
Okay – so that's probably the best option of all then. While all the other casinos make you actually DO STUFF to get your chips, the Vegas Tech software is smart enough to just automatically give it to you, so you can keep continuing to play.
Top Casinos for Americans

Additional Casino Play Money Questions:
(None yet)
Related Questions:
Alternative Ways to Ask/Incoming Search Traffic:
The answer to the question What happens at a Casino when you lose all your play money? is also applicable for the following questions:
What happens at online casinos when you lose all your fun money? Do casinos give you money to practice with? What is the best online casino to play for free at?
Top Casinos for Americans