When starting out playing online casinos, it's important to have a look around for a casino to play at. It's like like buying a pair of shoes: you don't just go for the first pair you see and it should be the same for online casinos.
You might like the look of one casino, but it could end up not "feeling" right for you – you might not like the games on offer, you might not like the designs of the slots, or you might not like the payment/withdrawal methods. If you have a look around, you'll be able to find the casino or casinos that suit you. It's worth remembering that a lot of casinos use the same "skins", but a lot of them have different bonuses, different customer support or different "comps". By shopping around, you're able to compare all these things before you deposit any of your hard earned cash into the casino. You can then choose to play with "play money" to see if the casino is everything you hoped it would be. If it is, great! You can then deposit your money and play at a casino you know you're going to enjoy playing at.
So, first up, you want to think about what games you want to play. Are you a slots fan? Do you like blackjack? How about roulette? Well, whatever your game, why not try our recommended casinos for each type of player?
If you're only going to play slots, you will be looking for a sign up bonus that rewards you for playing on slots and one with a huge selection of slots for you to choose from.
Now, blackjack is a different beast. It is, for the most part, the same everywhere. You get the same payouts, the rules are the same and the only thing that's different is the graphics. Well, perhaps the main difference is that a lot of casinos don't allow you to play blackjack as part of the bonus wagering requirements. However, some do so if you are looking to find one of these be sure to look closely at their bonus terms and conditions.
The some theory about blackjack is the same for roulette. Many sites won't let you play roulette to clear the bonus and since the only difference between most sites is the graphics, making sure you have a clearable bonus is the key.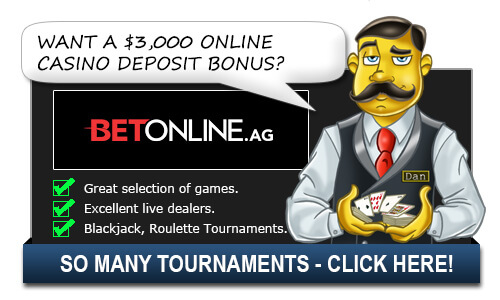 Of course, playing with play money is nice when getting familiarized with a casino, but how about REAL money for nothing to try out? Well, why not? Many casinos will give you a free bonus when signing up, so you can try their games out and if you clear the bonus requirements, you have some nice winnings you are able to withdraw. For nothing.
So, hopefully you have a good idea of the types of casinos you want to play at. Now, do you still want to narrow it down? Well, you'll need to compare the bonuses, in that case. Which casino has the easiest bonus to clear? Which casino has the biggest bonus? Which casino has the best deposit bonus? Well, from your shortlist, make notes, compare them all and then you should have all the information you need to make an informed choice.
So, you've had a look round, you've used play money and some free bonuses to work out which casinos are for you and you've compared all the bonuses to see where you're getting the best value and hopefully you'll now be happy with your decision and will have a lot of fun AND profits at your chosen casinos.
Top Casinos for Americans

Additional Finding the Right Casino Questions:
(None yet)
Related Questions:
Alternative Ways to Ask/Incoming Search Traffic:
The answer to the question How do I find the best online casino for me? is also applicable for the following questions:
How can I decide what online casino to play at? What is the right online casino for me? Can you help decide which online casino to play at? What is the best online casino for me to play at? What is the best online casino to play at when starting out?
Top Casinos for Americans