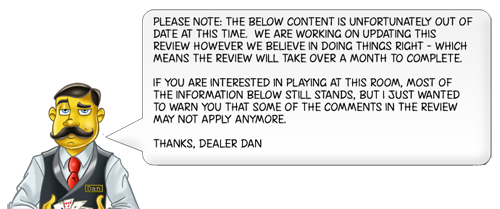 Sportsbook.com is, as they will gladly tell you, the largest sportsbook and casino on the planet. Open since 1997, Sportsbook.com boasts over a million users and paid out over $10 million dollars in bonuses just last year. They also have a casino, horse racing and are affiliated with one of our favorite poker rooms, Paradise Poker. To top it all off E! Television host and Playboy model Brooke Burke is their spokesperson and she is featured prominently on the site.
Promotions: 10% Signup Bonus, 5% Redeposit Bonus (Mondays only), NFL Shutout Payback (if your team scores 0 you get your money back), Half Juice NBA Monday, Half Juice Basketball and Football Friday, $50K NFL Giveaway
***PLAY AT SPORTSBOOK.COM NOW – CLICK HERE***
Sportsbook.com offers a wide variety of sports to bet on, as a matter of fact they are the one of the few sites we've seen that offered betting on mixed martial arts and the current season of Survivor. However, we found it hard to find those lines on the site as the focus is definetly on the "mainstream" betting sports, basketball and football.
The site is well put together with a lot of extras that really put it over the top. "The Odds Guys", a Sportsbook.com presented TV show that you can watch right on the site, Brooke Burke hosted tutorials, columns and a place to see betting trends all make this a nice site to visit even if you aren't wagering. On the pages where you place bets it can seem a little cramped as the games aren't seperated as well as on other sites. As we said before it can be difficult to find non-sports bets (we found it under "Boxing, exotics and more") and sports that aren't mainstream betting sports aren't as easily accessible as ones that are. The site itself is excellent, but the sportsbook section has definite room for improvement.
Sportsbook.com has all the betting types you see everywhere else; Straight Bets, Teasers, Parlays, "If" Bets, Props and Futures, but also offers two completely unique betting options. The first is In Running bets, or bets after a game has already started. The odds change as the game goes on, but you can still bet on the final outcome. The other, even better, unique option is Progressive Parlays. This is how Sportsbook.com explains them:
How does a Progressive Parlay work? In fact, it's quite simple. In exchange for not getting quite as big a payout for picking a perfect combination, you are getting insurance for those rare occasions when one or more or the teams in your parlay losses.
***PLAY AT SPORTSBOOK.COM NOW – CLICK HERE***
Let us look at an example. An 8 team progressive parlay for $10 will payout $750 for making a perfect 8 team winning combination. If you are only able to find 7 winners then you win $100. And if you only bring home 6 winners then you will still find a winning ticket for $20.
Sportsbook.com created the Progressive Parlay and we have to say that it is an incredible betting option that really seperates Sportsbook.com from other sites.
Sportsbook.com offers all the basic deposit options (NETeller, Firepay, Credit Card, Bank transfer), but not much beyond that. The good news is that they cover all fees on deposits and withdrawls, making them a superstar in this department.
Sportsbook.com's customer service is some of the best in the industry. Offering live chat, email and phone support, sportsbook.com claims over 700 employees working 24/7.
Payment Methods: NETeller, FirePay, E-Check, Bank Wire, WU Money Transfer, Visa, Mastercard. For more information, click here.
***PLAY AT SPORTSBOOK.COM NOW – CLICK HERE***
Dealer Dan's Cash-In: "With or without Brooke Burke, I'm WILD ON Sportsbook.com!"
Alternative Ways To Ask/Incoming Search Traffic:
People who were looking for this Sportsbook.com Review were also looking for answers to the following:

Sportsbook.com should have most of the sports a bettor or punter is looking for. You can find all of the latest odds listed at their website.
Here are some examples of what you can bet on at Sportsbook.com:
Auto Racing: Sportsbook.com has lines for NASCAR, IndyCar, Moto GP, Moto 2, 125cc events and much more. You can also bet on Formula 1 races.
Cricket: You can bet on Australian cricket matches such as Sheffield Shield or Ryobi One Day Cup matches or you can bet on international cricket matches like Twenty20, ODI or ICC.
Boxing: Bet on all of the upcoming fights at Sportsbook.com, including anything involving Floyd Mayweather, Manny Pacquiao, Miguel Cotto or Antonio Margarito.
Here's the full of list of all of the sports you can bet on at Sportsbook.com:
Aussie Rules Football
Auto Racing
Baseball
Basketball
Boxing
Cricket
Darts
Entertainment
Football
Formula 1
Golf
Handball
Hockey
Horse Racing
Mixed Martial Arts
Pool
Rugby League
Rugby Union
Snooker
Soccer
Speedway
Tennis
Volleyball