There are a lot of slot games available online to play. Sometimes it is easy to choose which slots to play – you might be in the mood for a TV show or movie-style slot, and can choose a game based on that theme. Or you might be in the mood to win it big with a nice jackpot and can look for slots that have progressive jackpots which you can play.
Other times you have no idea and jump from slot to slot, unsure whether it is even a good slot to play or not. In this article, I've decided to look at 5 of the top-rated slot machines online and give reviews of them. I'll be using the website OnlineCasinoGames.com which covers thousands of slots online and offers up a comprehensive 5-star rating system.
Sticky Bandits 3 Review
This is the current highest-rated slot, with a 4.67-star rating, and it's a part of a popular series of slot machines. Sticky Bandits 1 and 2 were big hits, so QuickSpin released this one and it's easily their best yet.
It's a fun 3×5 slot, and the usual offerings are there such as wild symbols and free spins. What makes Sticky Bandits 3 stand out is the sticky bandit wilds. When these appear, they stick during the entire free spin period.
I like when slot machines offer the ability to gamble and earn more, and that's exactly what Sticky Bandits 3 offers – the Bonus Buy, which you can activate the free spins round, and starts with three scatters.
Graphically, this is a very good slot machine with a Wild West theme. Activating the Bonus Buy feature and being able to increase the RTP is a nice touch too. Sticky Bandits 3 deserves the high rating.
Ooh Aah Dracula Review
I fell in love with this slot machine right off the bat. No pun intended. Ooh Aah Dracula is a very colorful slot with fun graphics.
It offers up the Dracula Big Bet option where you get to play 5 spins for $20, and the Graveyard Bonus will be awarded if the free spins are triggered during those 5 spins. Or you can choose to do the $30 option where the Super Graveyard Bonus is awarded.
There are multiple bonus games within it such as the Heart Attack Bonus, which offers up Free Spins games and unique wild symbols during those spins just for you – along with the regular wild symbols. Just testing the game out I tried the $30 option, unlocked the Heart Attack Bonus immediately, received 15 free spins, and won $110.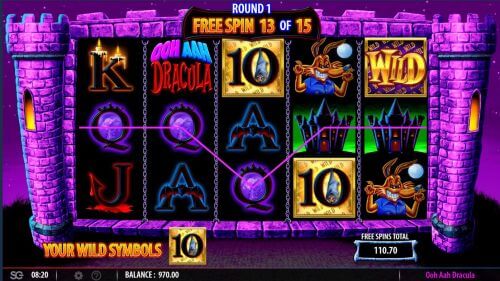 I then had the option of collecting that money or moving onto Round 2 which offered up double wild symbols and 10 free spins. A bit similar to the TV show Deal or No Deal, and I enjoy having to make those sorts of decisions in a slot.
Following that, there was a bonus game where I had to pick a gravestone and would receive a credit bonus. All of that after just two Big Bet Spins! Such a lot of fun.
I just wish there was a progressive jackpot available for Ooh, Aah Dracula, but it is still an excellent slot and I am a big fan of the Big Bet feature. I like being able to do a big risk at the beginning and really enjoyed this slot.
The Golden Owl of Athena Review
This slot machine is by Betsoft and has an Ancient Greek theme to it. This game isn't too great if you like to wager big money with a maximum bet of $10 USD. In saying that, it does have a very neat Buy Feature option where you can spend $93 and unlock 20 free spins with a special symbol to allow you to win more money. I tried that and was left quite disappointed honestly; all it ended up really being was free spins and nowhere near as fun as the feature in the aforementioned Dracula slot.
The slot itself is just a very basic 3×5 game and really brought nothing new to the table. This is one slot where I have to disagree with the users of OnlineCasinoGames.com on – I was not a fan of this one and wouldn't play it again.
Cats Review
Don't worry – this one has nothing to do with that horrific movie! This IGT slot machine features cats such as tigers and lions. It offers up to 30 lines and I have to say I quite enjoyed this one.
There seemed to be a higher frequency of good wins you can unlock based on the actual cat symbols. The slot has that feature where symbols such as scatter symbols show up and the slot machine slows down in the hope that more show up. That's always an exciting feature in slots and I found that occurred with some real frequency and it made playing the slot fun.
It reportedly has a low RTP of 93-94% but in my experience of playing it I can see why the users like this slot. Options such as split symbols are not found in too many slots and really added to it. I enjoyed this slot machine a lot and would recommend it. A lot better than the movie at any rate!
Pompeii Review
A 243-line slot by Aristocrat, which releases some great games. It has an Ancient Roman theme and has a nice classic theme to it. Graphically it reminds me a lot of a fruit machine.
It offers a Gamble feature on wins and has a nice autoplay feature where it is easy to do multiple spins at once. This was a slot machine that was very popular in actual casinos and I can see why it is popular online. The Reel Power feature is cool as it awards wins for left to right symbol combinations from 2 of a kind to 5 of a kind.
It's not one that I would personally seek out to play though. I can understand why some like it but it's not among my top slots.
---
I hope you enjoyed this look at 5 of the top-rated slot machines online. Out of the 5, I enjoyed Ooh, Aah Dracula the most and would suggest that one or Sticky Bandits 3.