1 Arm Bandit is a 3-reel, 3-line classic slot machine developed by Microgaming. You can play 1 Arm Bandit at Bovada.

1 Arm Bandit Game Description
1 Arm Bandit is a western-themed slot machine. The main character is a cigar-smoking bandit, which is the main symbol in the slot game. Other symbols include Sevens and three Bar symbols shaped like bullets. Upon hitting winning combinations, you will hear a gunshot and a sound effect ripped off from The Good, The Bad and The Ugly. For a look at the One Arm Bandit Microgaming slot machine, a screenshot has been provided below: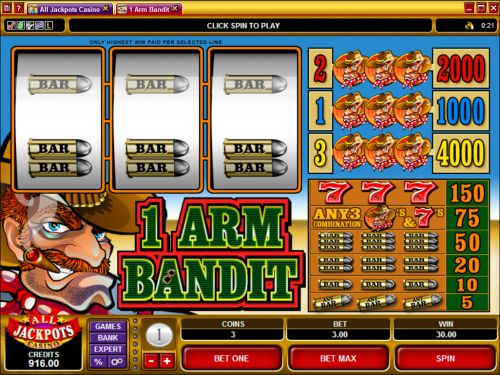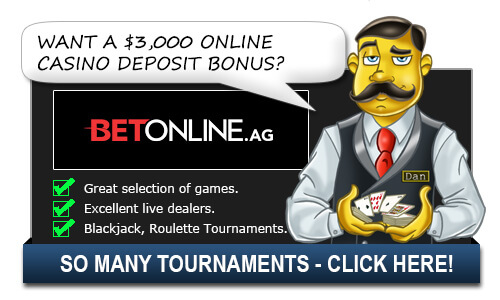 1 Arm Bandit Betting Options
Coin sizes on the 1 Arm Bandit slot machine are $0.25, $0.50, $1, $2 and $5. You can bet 1-3 coins on a spin in 1 Arm Bandit. The number of paylines you activate correlates with the number of coins you play. The lowest total bet you can make on the 1 Arm Bandit slot game is a quarter per spin up to the maximum total bet of $15 per spin. Casino Answers recommends that you play the maximum bet at all times on 1 Arm Bandit to be eligible for the top jackpot. 1 Arm Bandit has a good betting range that most classic slot players can enjoy. To play 1 Arm Bandit, select your bet with "Bet One" and hit the "Spin" button. To play the 3-coin maximum bet, use the "Bet Max" button to spin the reels.
1 Arm Bandit Top Payouts
The highest paying symbol on the 1 Arm Bandit online slot game is the Bandit symbol. 3 Bandit symbols on the third payline will pay out the 4000 coin top jackpot. On the first payline, it will only pay out 1000 coins. On the second payline, it will pay out 2000 coins. To make sure the third payline is enabled, use the "Bet Max" button at all times on the One Arm Bandit slot machine.
1 Arm Bandit Payout Schedule
There are 7 winning combinations on the 1 Arm Bandit classic slot machine. The complete payout schedule is as follows (line 1/2/3 payouts in parenthesis when applicable): 3 of any Bar symbols (5), 3 Single Bar symbols (10), 3 Double Bar symbols (20), 3 Triple Bar symbols (50), any combination of 3 Bandits or 7's (75), 3 Seven symbols (150) and 3 Bandit symbols (1000/2000/4000).
1 Arm Bandit Autoplay Mode
Hit "Expert" to access 1 Arm Bandit's autoplay mode where you can play 5 or 10 autoplay spins or hit the "Auto Play" button to open up advanced settings. You can set the number of spins (5, 10, 25, 50, 100, 250 and 500), number of seconds between spins (0, 0.25, 0.50, 0.80 and 1.50), stop once all spins are complete, stop when jackpot is won, stop if a win exceeds or equals ($25, $50, $100, $250, $500, $1000 and $2500), stop on any win and stop if credits increase/decrease by ($25, $50, $100, $250, $500, $1000 and $2500). You can stop autoplay at any time.
1 Arm Bandit Summary
Fans of westerns will enjoy playing the 1 Arm Bandit reel slot machine. It doesn't have much in the way of special features (not even a wild symbol), but it at least has an OK top payout. You can play the 1 Arm Bandit slot machine when you signup and make a deposit at Bovada.
Additional One-Arm Bandit Questions:
Can players from the United States play the 1 Arm Bandit online slot?
American players cannot play 1 Arm Bandit for real money at this time. If you're based in the USA, you might want to check out some of the excellent online slots at Bovada.
Related Questions:
Alternative Ways To Ask/Incoming Search Traffic:
The answer to the question Arm Bandit Classic Slot Guide & Review is also applicable for the following questions:
Arm Bandit Fruit Machine, Arm Bandid, one arm bandit online slot, western slots, old west slot machine,