If you are tired of the same old classic slot games and you want something different to spice things up, Deal or No Deal is the perfect casino game for you.
Deal or No  Deal is based on a popular game show, that offered lucky contestants the opportunity to win a life-changing amount of money with the biggest prize of $1 million.  The NBC show became instantly popular, which inspired many software developers to adopt the same practices in a casino game.
If you somehow are not familiar with the television version of Deal or No Deal, 26 different fixed amounts of money are scattered across different numbers from 1 to 26. Each number is represented by a briefcase and contestants should choose one briefcase and eliminate others with every round.
This concept is very similar to Deal or No Deal casino games, and sometimes even more fun since some paylines and combinations can win you a lot of money.
The entire atmosphere of the slot game is inspired by the TV game show. You can find this game on popular online casinos, like 1GoodBet.
Deal or No Deal is not a revolutionary slot game per se just because it is merely an adaptation of the same existing concept.
Deal or No Deal Concept and How to Play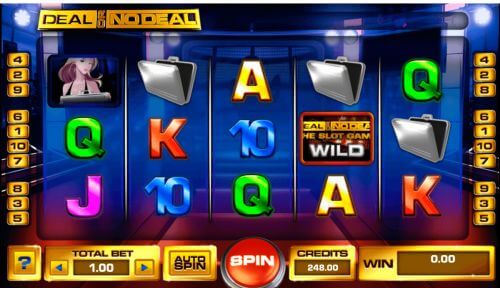 This slot machine follows basic rules that are common in the slot industry. The game concept is based around 5 spinning reels and 10 fixed paylines. The goal, like in other slot games, is to collect different symbol combinations on these paylines, in order to win money.
The best thing about Deal or No Deal is that wins come relatively frequently, but in most cases, they won't cover your bet. The goal is to land on a bigger base game win, in order to boost your finances.
So, what makes Deal or No Deal different from other casino games?
Despite the classic slot layout, Deal or No Deal has some great bonus features.
Once you enter the game, you have the chance to spin the wheel until winning combinations come up. If you trigger some of the bonus features, this is where the money comes flooding in.
First, we have the Banker's Offer which triggers a winning spin and it offers a guaranteed cash amount. You have a choice to reject that amount and take the winnings you'd receive from the free spin. The choice is yours.
The second bonus reminds people more of the popular TV show we are used to. Once you trigger this bonus you can select from the 15 suitcases that hide cash sums, and end up winning what's in the box. If you are lucky enough, you can land on the Win All Selection in which case you'll win all the money from each suitcase.
The best feature of this slot game is the Deal or No Deal bonus, which is very similar to the TV show that started this trend. You have to play through round picking suitcases, with the progressive jackpot up for grabs.
You should select a number of boxes each round to eliminate cash amounts and after each round, the banker gives you an offer that you can accept or reject and continue to another round of picking suitcases. The progressive jackpot is settled in one of the suitcases, and if you are lucky enough to leave it to the last round, you'll have a hard-to-walk-away offer from the banker.
Each bonus is accessed by landing on three matching symbols across the reels, and since it is a medium to high volatility game, this happens very frequently. Unlike the show, other sums hidden in the suitcases apart from the jackpot are not that big. You can get anywhere from $0.05 to $125.
Despite its unique layout and gameplay, the Deal or No Deal casino game is very straightforward to play, especially if you are already familiar with the popular TV show.