What Scratch Card Betting Options Are There?
We all know there are online scratch cards and that they have a rather diverse selection of scratch cards.
The biggest differences in scratch cards is the design aspect of them. Some will be a simple scratch card where you click on an option or scratch away at it to reveal the below symbol.
Others try to make it more entertaining with gaming aspects to it and videos, animations etc.
But is there any difference when it comes to the betting options of scratch cards?

Not really.
The big betting option you will see at scratch cards is the amount you want to bet. That's it. Some allow you to bet for less than a dollar and will go up to $100 or more.
Where they can be different however is the payout amounts. You will see some scratch cards that offer a higher payout than others – or a better win ratio. You'll see some where the lowest payout is x1 your bet while others the lowest payout is x5 your bet.
There is also the occasional scratch card – rather rare – which allows you to do a double up at the end of the game. The type of thing where after you win you can double up and they deal a card and you say whether the next card will be higher or lower than that card.
One thing you'll find though is that's the only real difference – I've spent lots of time looking through online casinos and the variety of scratch cards hoping to see something different. For example similar to video poker where you bet more coins you get a higher grand prize or something like that. I've never really seen it.
There are a few different ones though like check out this one at VideoSlots.com called Bunny Boiler Gold: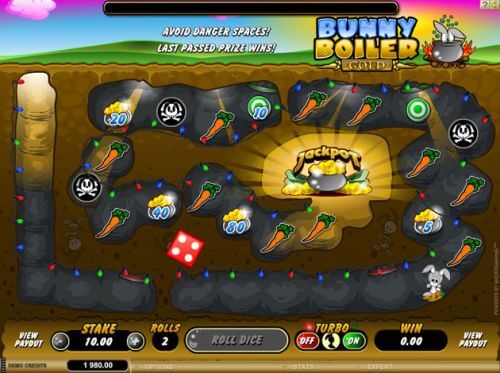 This one is still a scratch card but it's almost like an adventure game the way it works and it's got a whole bunch of different bonuses. In that one you want to hit carrots or jumps and get to the jackpot area rolling the dice as little as possible. It's a pretty fun game.
And as mentioned the payouts for a lot of them can be incredibly different. For example again just picking up two random scratch cards from VideoSlots.com one had a max payout of x250, another had a max payout of x10000 and another had a progressive jackpot as well.
So that's really it when it comes to scratch card and the diversity of the betting options they offer onlien.
If you want to check out the biggest variety of scratch cards I'd recommend VideoSlots.com because they license games from a variety of different software providers so you will get to see a good variety of different scratch cards. And I'd recommend that bunny one!
If you're American – ignore the name but Slots.LV is the place for you. Like Video Slots they offer a good variety of different games from different software providers and although they don't have as much of a selection of scratch cards they still do have a fairly solid one.
If anyone knows of any scratch cards with unique betting options be sure to let me know though by e-mailing me below!
Additional Scratch Card Betting Options Questions:
None Yet
Related Questions:
Alternative Ways to Ask/Incoming Search Traffic:
The answer to the question What Scratch Card Betting Options Are There? is also applicable for the following questions:
Different Types of Scratch Card Betting,