If you've watched the World Poker Tour you've no doubt heard Mike Sexton extol the virtues of seeing the flop with a pocket pair in hopes of flopping a set (three of a kind.) You've probably even seen some people on those shows rake in huge stacks of cash with that hand as well. So the question is obvious, how do I do that?
This is the ideal scenario for a set. Before the flop you want to try to play a pocket pair for as little as possible and play it with several other people in the hand. So the best way to play is from middle or late position for a the price of the big blind, or to complete from the small blind after several other players have called the big blind. You should not be raising with a small pair under most circumstances before the flop.
If you are under the gun (first to act) or under the gun plus one (second to act), you should probably just fold these hands. There are too many players ahead of you and you could easily get raised right out of this hand and lose all of your value. Of course, that's assuming a full table. With a six-handed table or lower, you can probably start this one off with a raise and feel pretty good about it.
However, if you are playing late and someone raises your pocket pair it is often correct to fold. Unless, you are on the button or the big blind so you can defend your position. What you don't want to get is into a situation where people are three-betting and you are far behind in this one so you just get squeezed out. You basically want to avoid any situation where a three-bet comes into play. These hands have value, but when people are betting you can only think that they might have a better hand than you. Considering your hand is only truly valuable if you get that set made on the flop, you want to avoid paying them off.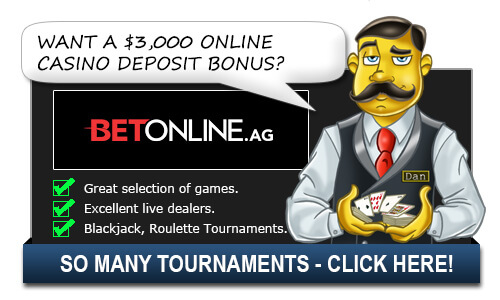 Of course, tournament plays does work different. If you are a low stack, you don't want to get into too many hands with low pocket pairs unless you are prepared to go all-in. While you'll have a small advantage from having an already made hand, the odds won't be on your side. This is where playing your position is really important.
Conversely, with a large stack you can try to see as many of these flops as possible if your position dictates. Flopping a set can be a great way to knock out a low stack and if you can see the flops cheaply, you could be collecting bounties in a hurry.
Try your luck with the low pair at Bovada, but always try to remember your position and chip stack. Those have far more to do with when and where to play these hands than the announcers on television would have you believe.
Top Casinos for Americans

Additional Low Pocket Pair Questions:
(None Yet)
Related Questions:
Top Casinos for Americans