Whether it's at a live casino or an online casino, tournaments can take a long time to play. The human body has things that it needs to do and the length of these tournaments can be hell on it. Single table tournaments will usually last over an hour, and multi table tournaments can go on for numerous hours. Breaks are needed and necessary, so how do poker rooms handle it?

Due to this, online poker rooms have implemented an obvious system where the tournament takes a break for a set period of time, to allow players to get any refreshments or go to the washroom or take a cigarette break. They don't really care what you do with your time as long as people are back in their seats when the tournament resumes.
However, this can be a problem in online poker, as players often multi-table tournaments. The standard in online poker tournaments is usually that a 5 minute break will begin exactly one hour after a tournament has begun. However if you are multi-tabling tournaments this can be a problem. If one tournament starts at 7pm and another starts at 7:30pm for example, then you're not going to be able to take a break from both online poker tournaments at the same time, and are ultimately going to miss a few hands during your next bathroom break.
That's how online poker rooms came up with the idea of synchronized poker tournament breaks, which is in place at online poker rooms like Bovada and is really cool if you like to play more than one online poker table tournament at once.
Here is how synchronized breaks work at Full Tilt Poker:
At 55 minutes past the hour, a synchronized break will take place. This means that every tournament currently being played will go on break.
The breaks can take longer than 5 minutes – the break won't actually start until every running tournament has finished their last hand. At that point, the 5 minute break will return.
There are only a few different settings in which a synchronized break will not take place:
If the tournament is still open for late registration
The tournament is within the first blind level
The tournament is a turbo tournament and within the first two blind levels
It is a sit and go tournament with less than 30 players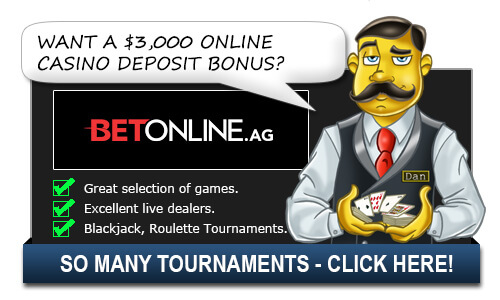 So that is how synchronized breaks work in online poker. If you like to play more than one poker tournament at once, head on over to
Bovada
.
This is an outstanding system and allows you to not miss any hands at any tables for a break. You could play five tournaments at once and not miss a single hand of the action. This type of play can take a long time to get done and synchronized breaks are absolutely key for players who want to play as many tournaments as possible at once. So if there is more than one tournament you want to play, have no fear about entering them at the same time. Your break will be timed accordingly.
Top Casinos for Americans

Additional Tournament Synchronized Breaks Questions:
(None Yet)
Related Questions:
Top Casinos for Americans