Free poker tournaments can provide numerous benefits to you, with very few downsides. Playing in freerolls, especially at the beginning of your poker career, may actually be one of the best investments you can make towards becoming a successful tournament poker player.
First of all, there's one very obvious advantage to playing freerolls – they're free! You don't have to risk a single penny to participate. Free poker tournaments allow you to experience the thrill of tournament poker without worrying about the money involved. You can't lose, even if you're knocked out on the first hand. To see the variety of tournaments available, go register at Bovada and go to "Tournaments" followed by "Freerolls" and you'll see the wide variety of free poker tournaments available for you.
Maybe you want to play online poker for real money, but you're wary about depositing money on a site you know little about. While most major online poker sites are perfectly trustworthy, it's natural to have some anxiety about using your own money to fund an online poker account.
If that sounds like you, freerolls are the perfect solution! You can play in free poker tournaments without depositing, but the money you earn by cashing in a freeroll is real. Many successful players have started their online poker careers by winning a few dollars in a freeroll, and have never had to deposit a cent of their own money into an online poker site. It may not be the easiest way to start a bankroll, but it can be the first step in your success story too.
(On a sidenote, be sure to try your credit card at Bovada as they have a high deposit success rate)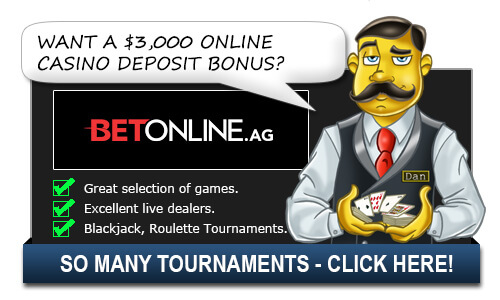 Of course, not all the benefits of freerolls are about money. Learning poker strategy is hard without experiencing a real poker tournament. If you want to become a strong poker player, you have to play and gain experience at the table. On the other hand, this time spent learning basic tournament poker strategy can be very expensive if you play tournaments with cash buyins and entry fees. Playing free poker tournaments is a great way to hone your skills without costing yourself hundreds or even thousands of dollars in losses. Even more experienced players might get something out of playing freerolls; for instance, if you want to change your play style, practicing with a few free tournaments first is a good way to get a handle on your new strategy without draining your bankroll.
Are there any reasons not to play freerolls? One springs to mind – time. If you are playing in a freeroll, it might limit your ability to play in other games at the same time. If there is a more lucrative poker tournament with bigger prizes that you'd rather concentrate on, it might be a better use of your time to play in that event rather than a freeroll with small prizes. This is why you rarely see many serious players in free poker tournaments; while they could win money in freerolls often, it's simply not worth their time when they can make much more money by dominating the fields in real money tournaments with big prize pools.
But for most casual players and those just beginning their poker careers, freerolls are one of the best ways to gain experience or start building a bankroll. Free poker tournaments are one of the few things that truly offer something for nothing – and that's an opportunity most players can't refuse.
Now head on over to Bovada and work up a bankroll so you can take on Doyle Brunson himself!
Top Casinos for Americans

Additional Play Freeroll Questions:
(None Yet)
Related Questions:
Alternative Ways to Ask/Incoming Search Traffic:
The answer to the question Should I Play Freerolls? is also applicable for the following questions:
What is the point of poker freerolls? Should I play this poker freeroll tournament? What poker freeroll tournaments should I play?
Top Casinos for Americans