If you regularly play the likes of Hold'Em and are looking for something really different, look no further than Triple Draw Lowball, also known as Triple Draw 2-7, or Triple Draw 2-7 Lowball.
The object of the game is to make the worst possible hand. Yep that's right – the WORST possible hand. Or to be more politically correct – you're aiming to have the lowest possible hand. Sort of like Razz, in the Stud Genre of games.
Played with up to six players, one player posts a big blind, another a small blind, and then five cards are dealt to each player. There is a round of betting, which will involve each player either betting, raising or folding, and then there is the draw, where you discard 0-5 of your cards, and draw new cards.
There is then another betting round, followed by another draw, another betting round, then the final draw, then the final betting round. That is why it is called "Triple Draw" – because you get the opportunity to draw new cards three different times.
You do not have to draw cards – you can choose to stand pat if you have a good hand(or want to bluff).
If there are not enough cards to complete the draw, the mucked cards will be reshuffled and put back into the deck for the draw.
To add to the complexity of the game, Aces are considered high in 2-7, game, and straights and flushes count against your hand. The best possible hand is 23457 that isn't suited. 23456 is considered a straight, and is thus a bad hand, and worse than holding something like AKQQK.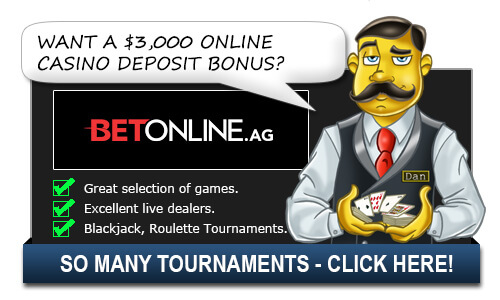 All cards are dealt face-down; no cards are dealt up at all so no-one will ever see your cards until the end of the game.
Online Availability: Triple Draw in various forms is currently available at Bovada both for real money and play money. They have a wide variety of traffic so you should have no problems getting a game.
Top Casinos for Americans

Additional Triple Draw 2-7 Questions:
Where can USA-based players play Triple Draw 2-7 online for real money?
Unfortunately no American poker rooms currently offer Triple Draw 2-7 Lowball.
Where can I play Triple Draw Lowball For Free?
Bovada currently offer 2-7 Triple Draw Lowball for free. You can test out the game with "play money" chips and not risk your balance at all.
Is Triple Draw Lowball A Fun Game to Play at A Home Game?
Yes – it's a GREAT game to play at a home game.
It may seem a bit confusing above but it's an incredibly fun game. There's a lot of interesting strategy to it – you're not playing the cards, you really ARE playing the player. And there's a lot of big decisions to be made about what cards to stick with and let go.
It can be a bit of a complex game so just make sure you write the key rules out to make it easy for people to understand. "Aces being high" is one of the best rules to remind new players of.
Can I Play Triple Draw Lowball Online in Tournament Format?
Yes you can. Bovada is the place to do just that. They offer a wide selection of 2-7 Triple Draw Lowball tournaments for a variety of different buy-ins. They even offer 2-7 Triple Draw Lowball Sit&Go Tournaments.
Related Questions:
Alternative Ways To Ask/Incoming Search Traffic:
The answer to the question What Are The Rules to Triple Draw Lowball? is also applicable for the following questions:
Triple Draw Rules, Triple Draw Lowball Poker Rules, how to play triple draw lowball,