Sponsorship is a big part of poker today, both in online poker and offline poker. Online poker rooms like Bovada use their list of poker pros as one of their main marketing devices. They are called the "red pros" as their usernames or nicknames are in red on the Full Tilt Poker software, while all other usernames are in black. They take part in games on the site and often go down to lower limits to give players a feel of what it's like to play against the pros. They'll also play in knockout tournaments with a bounty on the heads of the pros.
If you've watched any poker on television, you'll notice a lot of sponsorship of poker players too. It's hard to turn on a WSOP event without seeing a table full of people in Bovada hats and t-shirts. They are basically free advertising as people are watching these events and wondering where to play online for real money.
Sponsorship of poker players is on two different levels. The first sponsorship is the like of Daniel Negreanu at Bovada or Phil Ivey at Bovada. These poker professionals are expected to play exclusively at that poker room, and allow players the chance to play with them. It's a marketing method – want to go heads up with Chris Ferguson? Then head on over to Bovada. This can be a way for the players to make some side money while also building their brands by playing with regular joes. Players will often chat quite a bit with players in the chatbox of the rooms and answer questions about life on the pro circuit. So even when people aren't playing with them, they'll join the room just to read.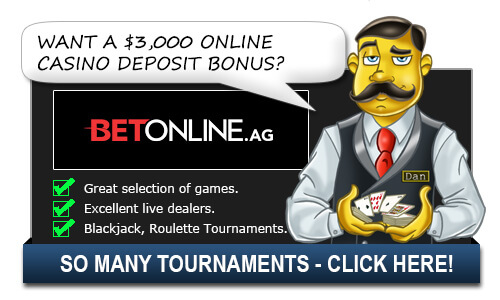 What they get in return can vary. 100% rakeback is most likely for when they play online poker, and they also get bought into the majority of tournaments, in return for wearing that online poker rooms merchandise. They will also be involved in commercials for the company and get paid. Many poker rooms also pay the poker players for actually playing at their website, and will often play at lower stakes so the players who play micro limits can still have their chance with the pros. This is where the multi-tabling really helps as a pro can play with a multitude of different players at different skill levels while giving them all a chance of playing along with them.
The other form of sponsorship is one that you can win – by entering a satellite tournament. For example, if you win a World Series of Poker satellite tournament at Bovada, you'll get your buyin and entry fee covered to the tournament. You may also get expenses for hotel and airfare. When you get there you will meet up with the people at Bovada and get some other perks, like a free meal with the pros, some merchandise, possibly some new tech gadget. Plus, whatever you happen to win the tournament is all yours to keep.
So win some Full Tilt Poker ipods today! Head on over to Bovada.
Top Casinos for Americans

Additional Sponsored Poker Player Questions:
(None Yet)
Related Questions:
Top Casinos for Americans