Every poker room offer both real money and play money options for players. You simply download the software and choose either the real money tables where you can actually bet for real money, or the play money tables where you are given a play money balance, or play money chips, and then you can play online poker for free without risking any of your own money.
While there are many apps and online websites like ESPN that offer a free to play version of poker, these aren't the best to play at. For one, the quality of play isn't the greatest. You have people who are at work and just killing time. They know it's not real money so they try to see every hand. That's not poker. That's a video game you are playing with other people that you don't really care about winning.
What we are looking for is a place to play online where you can play for real money without making a deposit. Every poker room offers freerolls with the chance to win real money while playing in a tournament setting. Because there is real money at stake, you see less of the bad play you see on a free website and more people who are playing to win. This makes for a more "real" experience and gets you ready for when you win one of these things and start playing live.
You can even play for free, with the chance at winning real money. Not in cash games but in something called "freeroll tournaments". You play in a freeroll tournament where it costs you no money to enter, and you have the chance at winning real money which you can then cash out, or start building a bankroll with by playing for real money. Poker rooms allow you to sign up for their site without making a deposit so you can do this at many different poker rooms if you so desire. Different sites have different prize pools and tournament schedules, so it's good to sign up for multiple if this is the route you are taking.
We should note that these freeroll tournaments tend to have a small prize pool and a large amount of players to play against, so even if you win the tournament after many hours you may have only averaged $2 an hour. However, freeroll tournaments are a great way to get started in poker, and learn a lot more about the game. Tournament play can be hard so this is a great way to learn what you are in for when you make it to the World Series of Poker.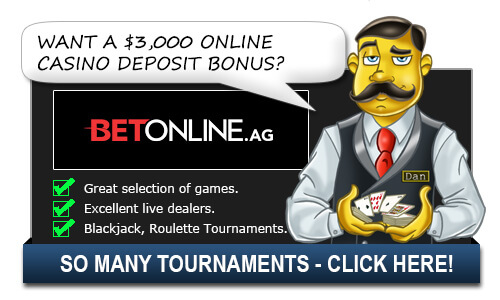 If you are looking to play in freeroll tournaments or play for play money, the best poker room for this is Bovada who have some great freerolls, and a wide variety of games for play money players. They also have some of the best software in the industry and are beloved among players.
Top Casinos for Americans

Additional Free Online Poker Questions:
(None Yet)
Related Questions:
Top Casinos for Americans