Welcome to my 5th casino blog. We've now played and blogged at 4 different online casinos – although we got off to a great winning start in the King Solomons blog, we've unfortunately been losers the last 3 times out.
Can we change that in the 5th casino blog? Let's hope so. We are going to be hitting up Jackpot City Casino, which uses the Microgaming software that you would have seen in the Gaming Club casino blog.
So let's visit Jackpot City Casino…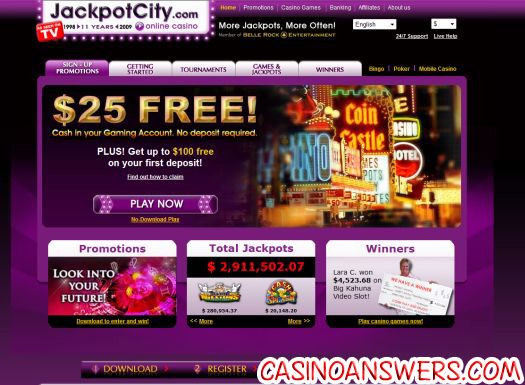 Alright so there's the Jackpot City Casino website. Very easy to navigate. First thing I do is check out the promotions, and the bonus terms and conditions itself. So you can get $25 free at Jackpot City Casino without even having to deposit which is awesome. All you have to do is download the Jackpot City Casino software, register a new account and then click "Claim Bonus" when a pop-up appears, and you get $25 free.
You can also use that $25 to play any game with no restrictions which is really good, so you can play Roulette, Blackjack, Video Slots etc with it. The deposit bonus itself is a 100% to $100 casino signup bonus, so we'll get the $25 free, plus $100, meaning we'll start with $225.
Jackpot City Casino, which has been online since 1998, also offers betting on the mobile platform. Hopefully it will work on my Blackberry because if so we'll definitely have to try that later.
The $25 free signup bonus has a 50x wagering requirement, as does the deposit bonus. These are quite hefty playthrough requirements unfortunately, but it's still sweet to be given that additional $25 free.
Jackpot City is also available in an absolute TON lf languages, including English, dansk, Deutsch, Francais, Nederlands, Norsk and Espanol. One thing I found weird is that it didn't seem like I could choose exactly where I wanted the casino installed, and I can be really anal about having everything installed in the proper directories etc.
Upon registering and logging in, the popup appears for the $25 free immediately: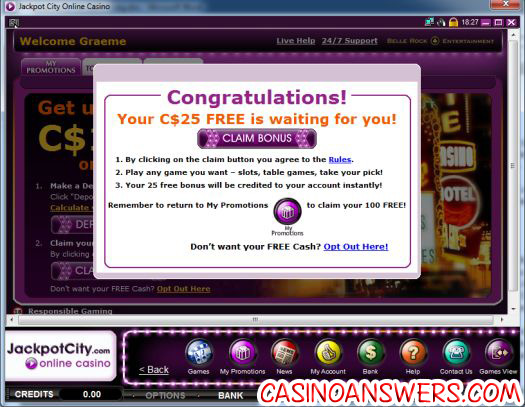 I clicked that and within seconds I had the $25 free which was sweet.
After depositing $100 with moneybookers, I had to go to the "My Promotions" button, where I get the option to claim the casino signup bonus. I do that and am informed that the bonus money will appear in my account within 5 to 10 minutes. It's applied within 8 minutes.
Here's the Jackpot City lobby: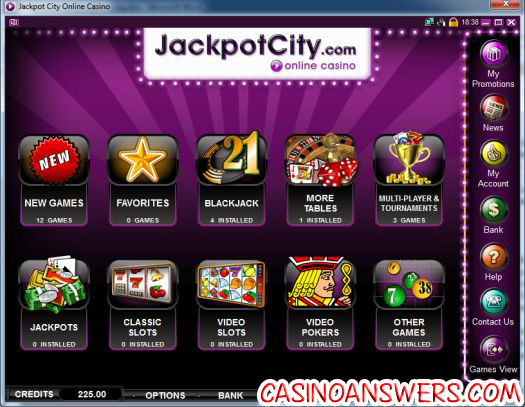 Back later to play some Jackpot City Casino! If you want $25 free without having to deposit click here.
Welcome to day 1 of the Jackpot City Casino Blog. Immediately upon logging into the casino I get a message stating that 5 lucky players will each win free spins worth $250 on the Starscape Video Slot – all you have to do is wager $100 on any game to qualify. The promotion runs January 6th through 12th, so hopefully we'll be able to wager $100 and may be one of the lucky winners!
Let's start that wagering with some slots….
I'm going to go with the slot machine entitled the Wheel of Wealth to start off with. It's a slot machine that has a bonus game. Here's how it looks: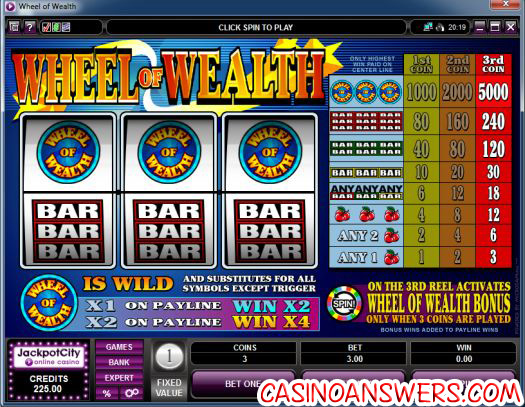 Also that button down at the bottom that says "Expert" – if you click on that it basically allows you to bet 5 spins in a row, 10 spins in a row, or autoplay.
This game is pretty simple – the wheel of wealth bonus feature is only triggered when the spin symbol appears on the third reel, and you have to bet the maximum three coins per spin. You can win up to 1,000 credits for every wheel of wealth bonus game.
While there is no such thing as slots strategy – betting the maximum 3 at all times obviously increases your chances of big wins. This is a fixed value slot too, meaning we will be betting $1 as a credit, and the maximum 3 credits per spin, so $3 a spin. Let's hope we get lucky fast.
First two spins are complete duds, but we manage to hit a win on the next spin worth $18: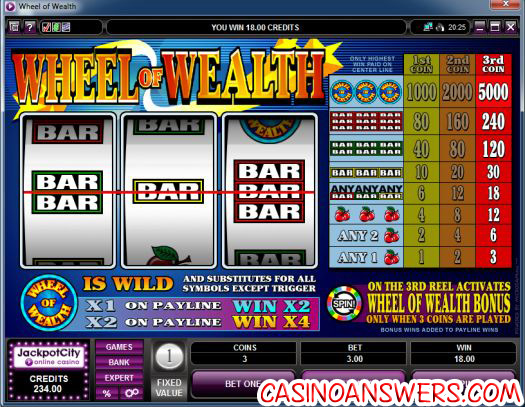 A few spins later we hit a cherry to basically return our $3 bet: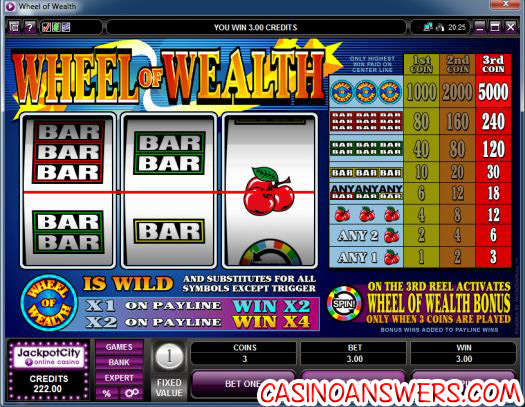 What I like about this slot machine however is that with the bonus icon being won on the 3rd reel, as well as any cherry winning you something – even if the first two reels are duds, you can still win something on the 3rd reel. So you're always sitting there waiting and hoping.
We come very close to the bonus game a few spins later….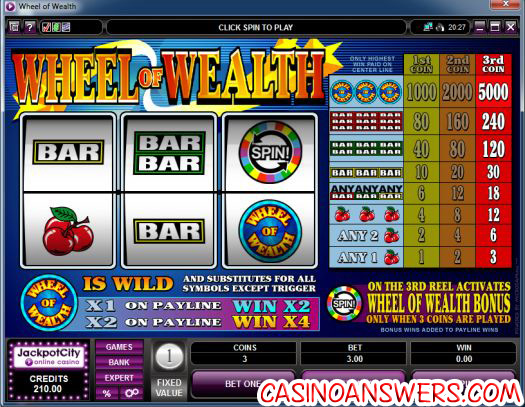 Then the very next spin we hit a nice $30 win with three BAR icons: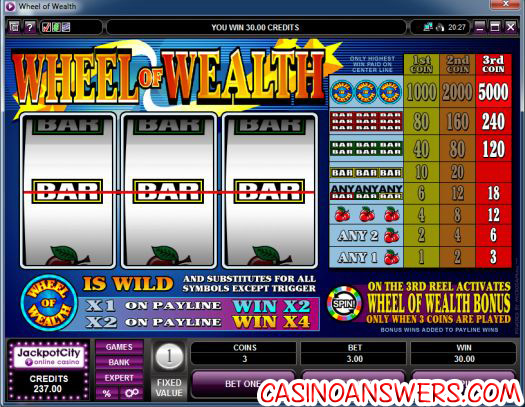 Jesus christ – we just had the ULTIMATE goddamn tease: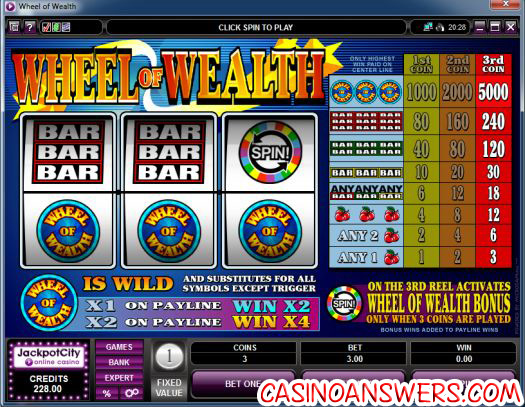 Look at that! if those wheel of wealth items appear on the payline we win FIVE THOUSAND FREAKING DOLLARS. Arrrrrrgh so close.
The very next spin is ANOTHER tease: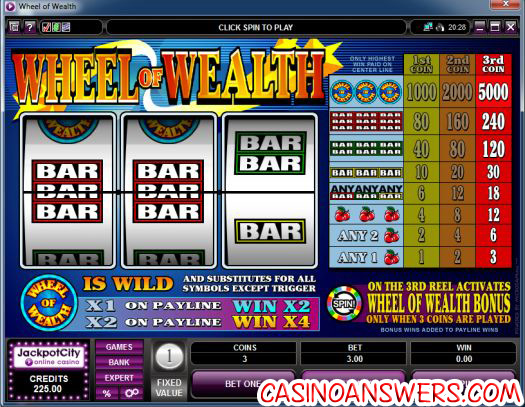 Another one of those bar icons would have been $240. Oh please stop teasing me so, you evil evil game.
The game continues to tease us, and before long I am down to $159. Yikes where did the money go? $66 blown already.
Alright that sucked – we'll play some Bonus Poker Deluxe Video Poker to end off the night. Here's what it looks like: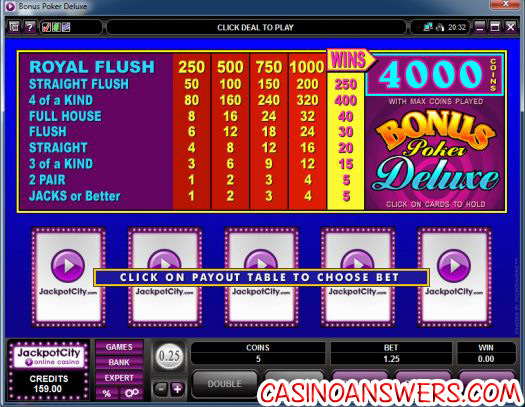 This is a standard video poker game, with no wildcards and the only exception is the high payout on the royal flush hand combinations.
It holds cards for you automatically: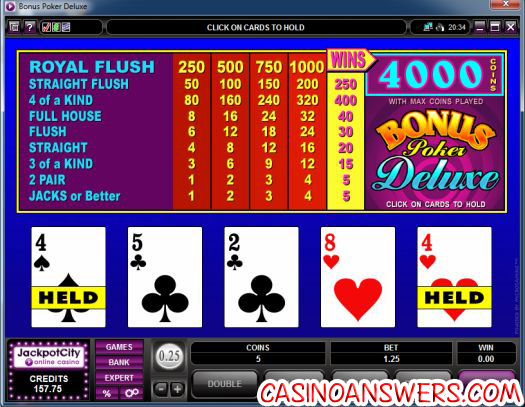 And a few hands in we get a nice 40 payout as we hit a full house, aces full of fours: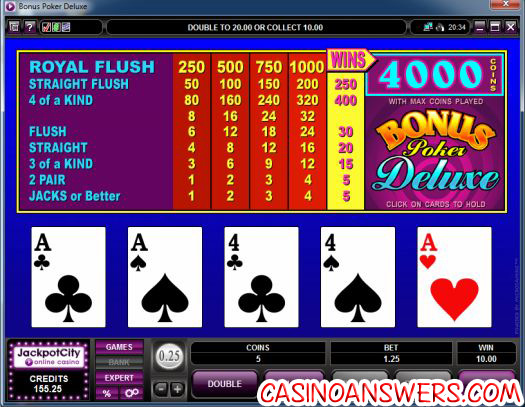 This straight was a nice one: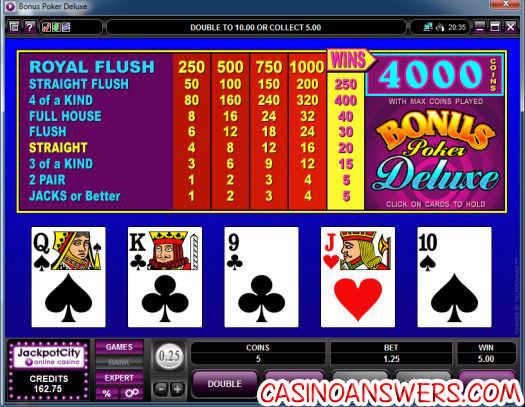 As we held the :qs::kc::9c::10s: and the :jh: came up.
You can see those buttons there – Double and Collect. If you click double you get a card dealt to you, and then the choice of 4 cards to click with the chance to double the amount you won if you pick a card with a higher value to win: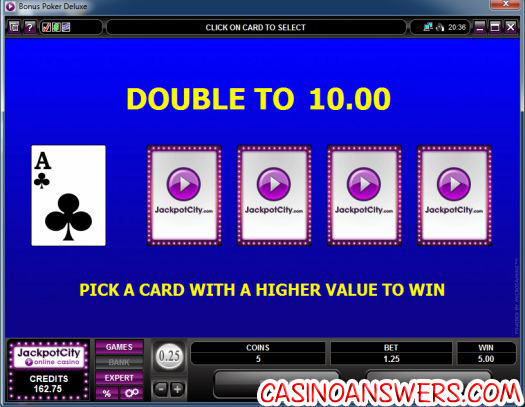 Of courses aces are considered high – so yeah, that sucked.
First draws like this are always nice: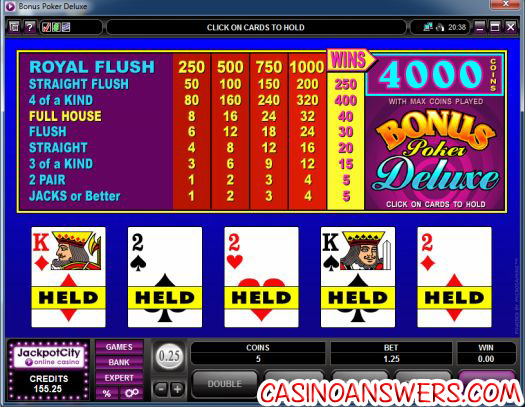 Although with the higher payout for 4 of a kind I should actually be only holding the 3 of a kind.
The balance gets down to $152.25 and I decide to call it quits for the night. I gotta admit I really enjoyed that Wheel of Wealth slot – might revisit that before the week is out.
Back tomorrow, and in the meantime remember without even having to deposit or give your credit card information, you can get $25 free at Jackpot City Casino. Click here.
Welcome to day 2 of the Jackpot City Casino blog. Today we are going to try out one of the unique features of Jackpot City casino which is mobile betting.
Jackpot City is one of the only online casinos that also offer a real money version for your mobile phone. I've never even tested this out yet, so let's hope it all works.
So first things first – I go to the Jackpot City Mobile website: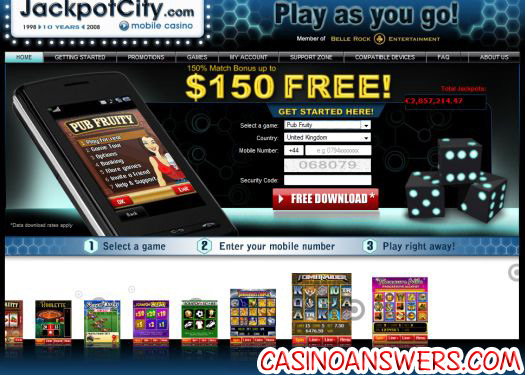 You don't install the whole casino onto your phone – you only install a certain game. Jackpot City Mobile Casino has the following games available:
3 Card Poker
Baccarat
Blackjack
Double Magic Slots
Fruit Fiesta
Jacks or Better
Keno
Major Millions
Pub Fruity
Roulette
Royal Derby
Scratch Card
Scratch 'n Score
Thunderstruck
Tomb Raider
Treasure Nile
So a nice selection of slots, table games, video poker and a few miscellaneous games.
The process is very simple – I enter the game I want – Pub Fruity in this case – my country then my mobile number in the form, fill in the security code then click the download/play now button. Within seconds I receive a text message with a download link. I click the link and then it downloads to my phone.
The phone I am using for this is a Blackberry Bold BTW – much better than those crappy Iphones thank you very much!
So the game is installed, and I run it and get a message that it is making a secure connection. I then get the following screen: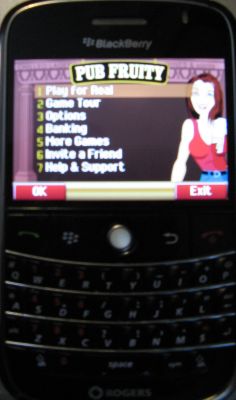 To this is the Pub Fruity "lobby". I have a variety of options to choose from. If I choose "Options" I can turn the sound and vibrate on or off. First things first I will be playing for real money. I get a message that there is a special promotion today – get "spotted" playing for real money on the mobile casino and I will win up to 50 credits on the spot. That'd be sweet.
Once I close that message, I get to login, and my existing Jackpot City Casino login works. Within seconds of entering it I am off and running: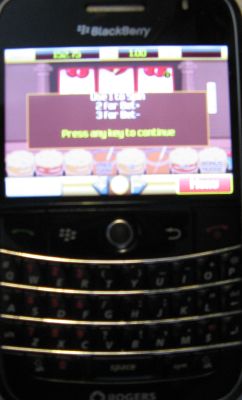 And the first spin is a winner too!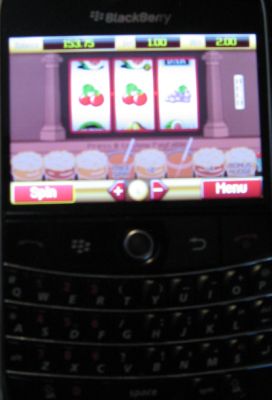 You only have the option of betting one coin at a time however.
I end up getting completely hooked on this game – as my balance drops to $120. Oops. oh man – mobile casino betting is addictive. Fun as hell, but addictive! Let's try out another game.
First things first – I spend some time figuring out how to take actual screenshots of my Blackberry screen so I don't have to mess around with crappy quality. If you have a blackberry and want to take screenshots simply download a program called CaptureIt. For full instructions read this page on Simple Help.
Here I am playing 3 Card Poker: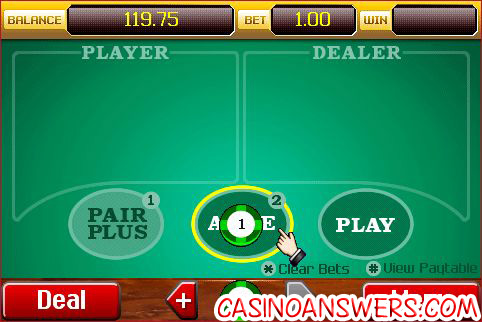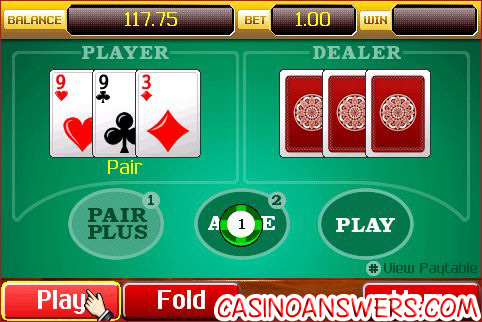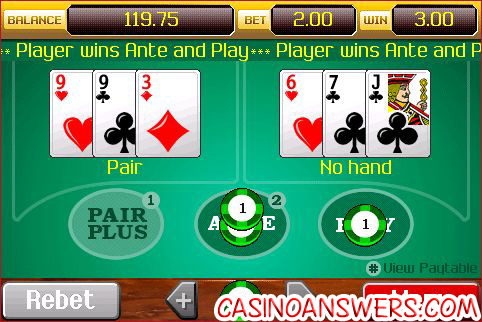 Nice win there. Here is Video Poker: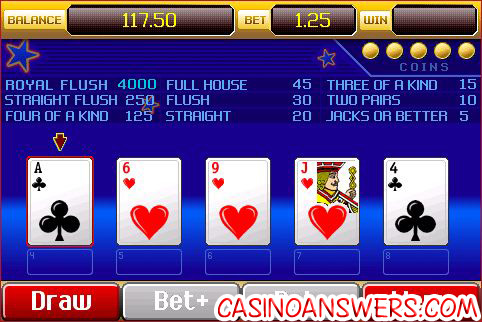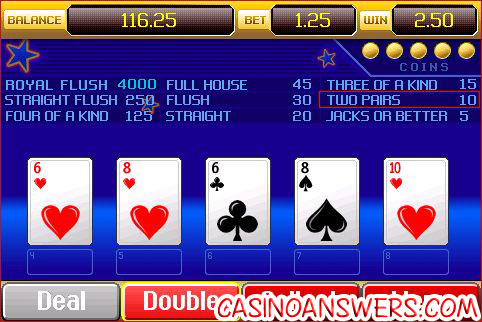 As you can see, you have the option of double or collecting after you win a hand. I got super lucky in this one as I drew the :ac: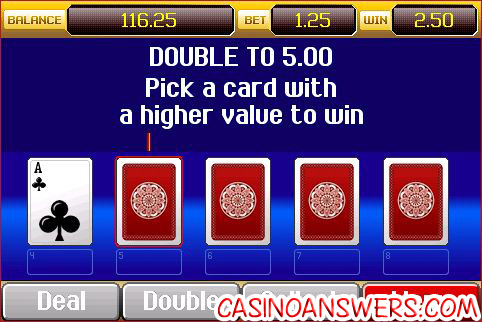 But managed to pick the :ah: for the win: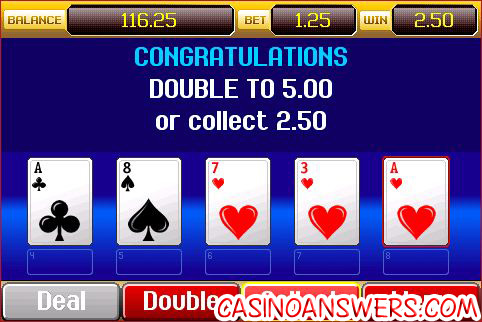 Here are some more screenshots of Pub Fruity: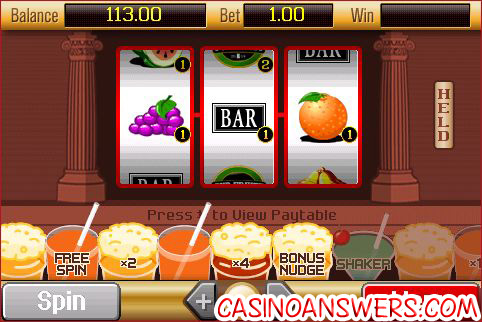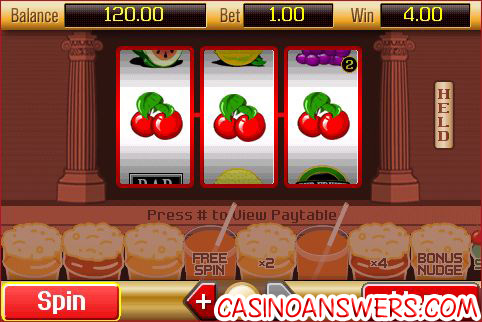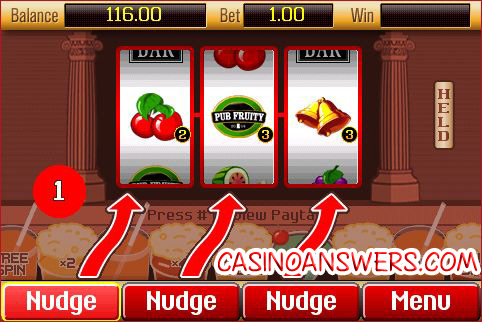 So that's Jackpot City Mobile Casino for ya. I found that it was a chore on the battery which was the only negative. I may have had some other applications running though which didn't help matters. Check it out – you can play for real or for free. Visit Jackpot City Casino.
We're left with $115, back later with more Jackpot City Casino blogging.
Welcome to the 3rd day of the Jackpot City Casino Blog.
I haven't been able to do daily updates unfortunately due to time constraints – it kind of sucks having a "real" job when all I want to do is sit and play online casinos all day, then write about it!
Next week we are going to be playing at Tower Casino which should be a lot of fun – they use the Net Entertainment software which I have never played at, and looking forward to.
Let's get rolling at Jackpot City Casino…
In the Day 2 Update, I mostly played at their mobile casino which I have to say was really sweet. I've found myself out and about lately and very tempted to play for real money – even if it's just when I am out for a smoke break. I definitely recommend checking out Jackpot City Mobile Casino.
Today I am going to try out some of the different games available at Jackpot City Casino. This is how the casino game lobby looks: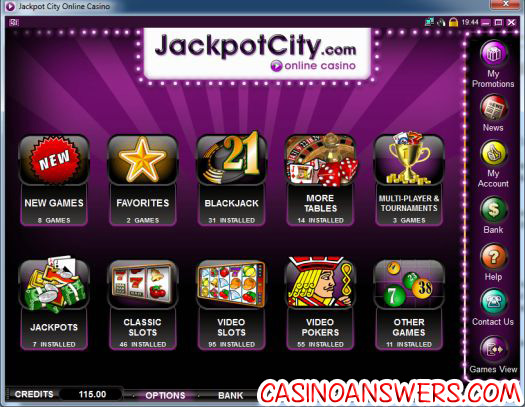 And when I click "Other Games" this is what I get: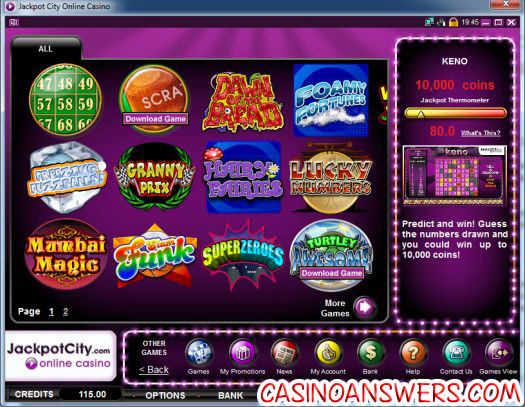 There are two pages there. The games listed are:
Keno
Scratch Card
Dawn of the Bread
Foamy Fortunes
Freezing Fuzzballs
Granny Prix
Hairy Fairies
Lucky Numbers
Mambai Magic
Slam Funk
Super Zeroes
Turtley Awesome
Whack a Jackpot
Wheel of Riches
Wild Champions
So we'll try out quite a few of these games, and see exactly what they have to offer.
The first game is Wild Champions. This is how it looks: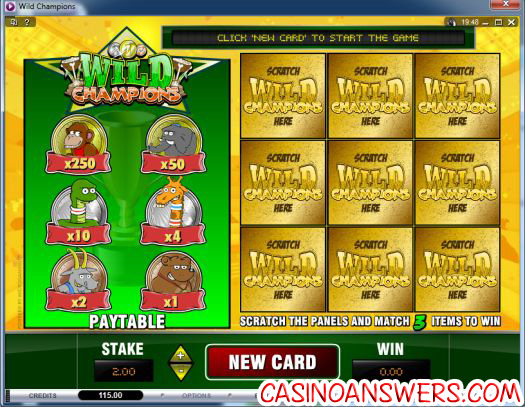 It's a 9 panel instant win scratch card game. You scratch all the panels, and if you match 3 of the items on the left in the paytable you win that amount.
Once you buy a card, you get the option to either reveal all the scratch icons at once, or scratch the panels separately. As you can see in the below screenshot: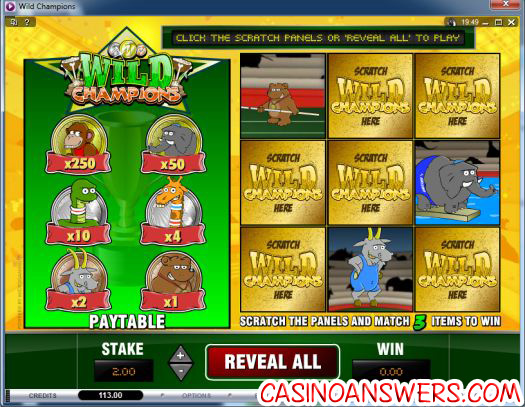 I've been scratching them separately. I'm betting $2 per card BTW.
I get my first winner a few cards in, when I get 3 of the bears. An animated gif then plays showing all 3 items, and the bear does a pole vault attempt: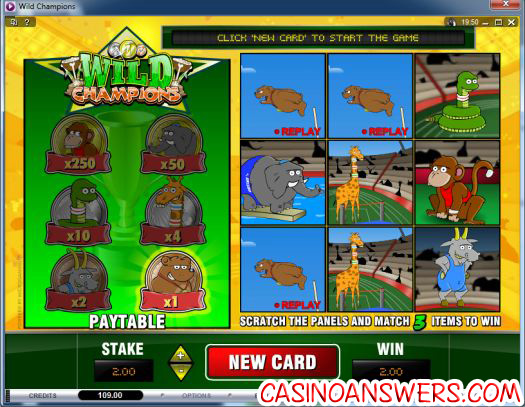 Cute.
My next two cards are x1 winners with the bears, then I get a nice x10 winner with 3 snakes: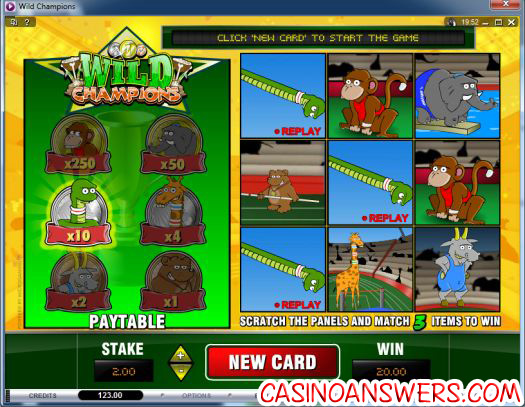 Here is a x4 winner with three giraffes: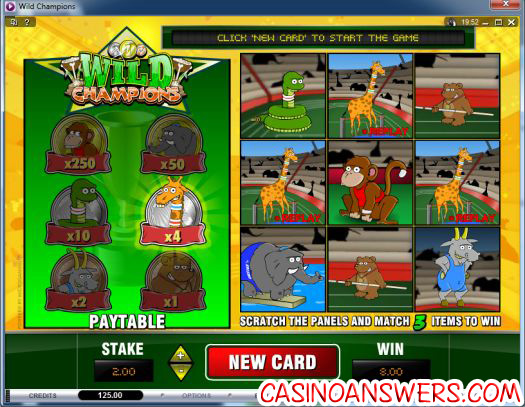 I actually win that quite a few times, and my balance jumps up all the way to $135.
Once my balance hits $100 it's time to check out a different game.
The next game is Mambai Magic. This is how it looks: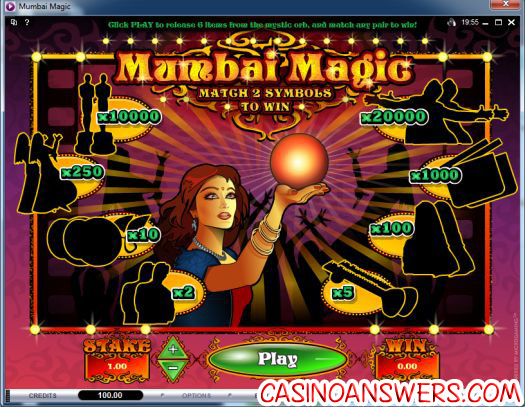 And you have to match two symbols. You click Play and the crystal ball distributes various symbols, as shown in the screenshot below: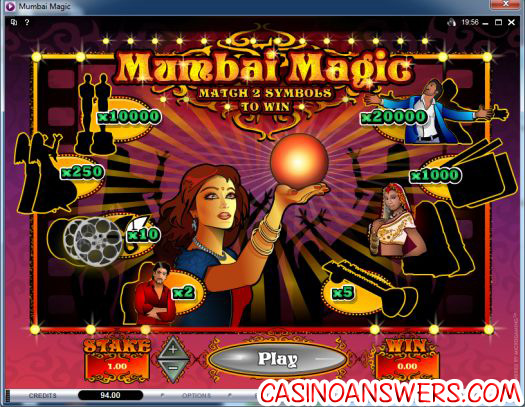 However I have completely awful luck in that game, as I bet $1 and play 35 times without winning anything. Unreal. Assuming the odds go win at least one icon are 3-1, that is some serious bad luck.
We'll try out Foamy Fortunes to end the day. This is how it looks: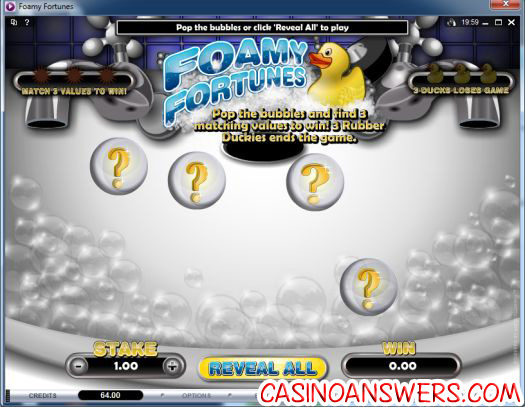 You basically have to pop the bubbles and find 3 matching values to win. If you find 3 rubber duckies it ends the game. This is the type of game I like – it's basically a scratch card, but it adds some actual fun into it, and makes you feel like you are actually in control of the situation.
Here I am with 2 ducks and 2 x10,000s: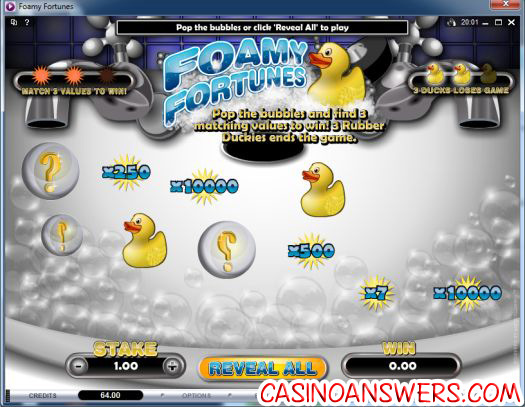 Alas I have no luck at that game either, and my balance is down to $53.
Oh well not a great night, let's hope we can get lucky tomorrow!
Welcome to day 4 of the Jackpot City Casino blog. Things have been a bit hectic on this end, but should all be settle down now. We're going to wrap up Jackpot City – by losing all our money – in the next two blogs, and then move onto a new casino to take place this week.
Things haven't been going well at Jackpot City Casino. I've had fun, especially with their mobile casino, but overall it's going to be another unfortunate losing blog, bar a miracle.
We have exactly $49.25 left. One good thing about this casino is that you can check your playthrough requirements in the cashier. Go to cashier->withdrawal and it lists it. Our playthrough requirement is rather hilarious right now – we need $6250 playthrough, and have managed to play through exactly $342.99.
I'm going to play the classic fruit machine slot Who Wants To Be A Stallionaire. This is how it looks: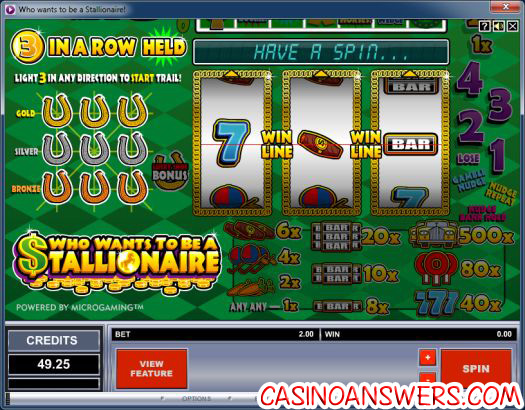 We'll do $1 per spin to start. Also if you click View Feature you get this: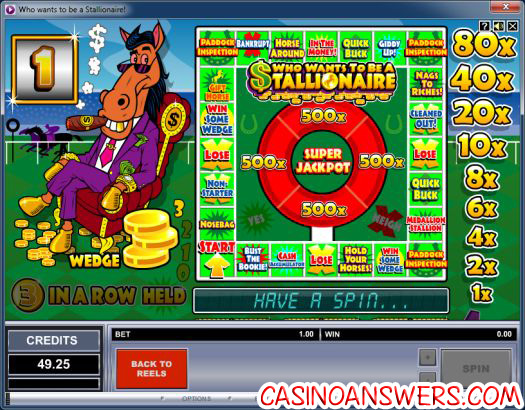 To activate that feature or bonus game, we have to get three horse shoes displayed in a row. The bonus game allows multiple nudge and hold features. Horse shoes are added to the lucky show rack depending on their position on the payline. Let's play, and see how we do….
We lose the first 12 spins – this is a fun slot BTW – here's one example where we came fairly close: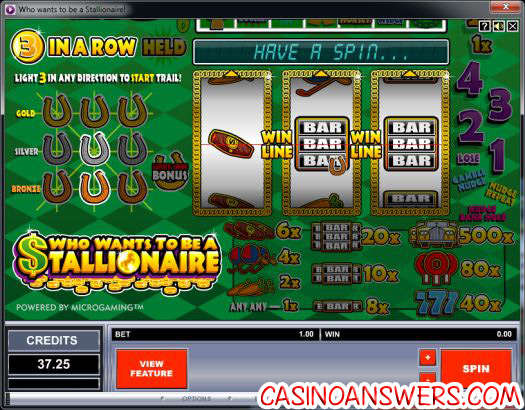 Two spins later we get our first win: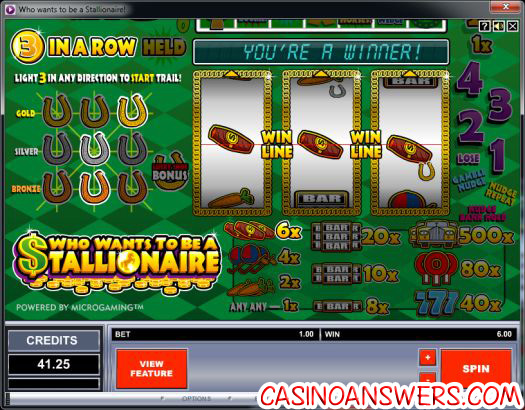 Then we come extremely close to a 500x win: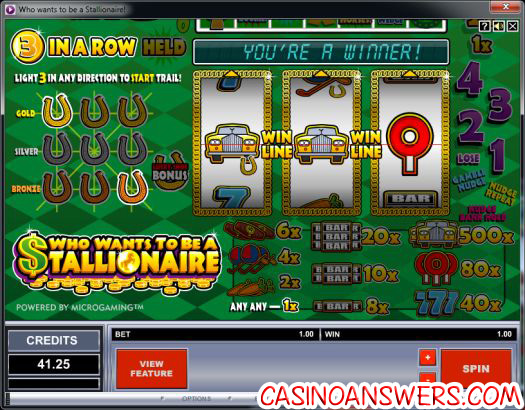 Oh boy wouldn't that have been nice. However the horse shoes get held, and we manage to pick up 3 in a row to start the bonus game.
I clicked spin: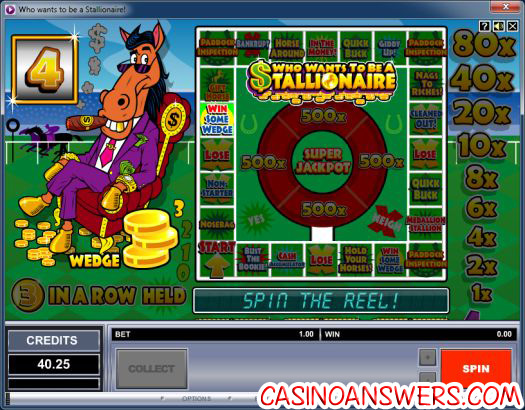 And I got to move 4, so I was able to win some wedge. Next one was a "Quick Buck" as I moved 6. Then I got to Nags and Riches where I got the option to collect or continue: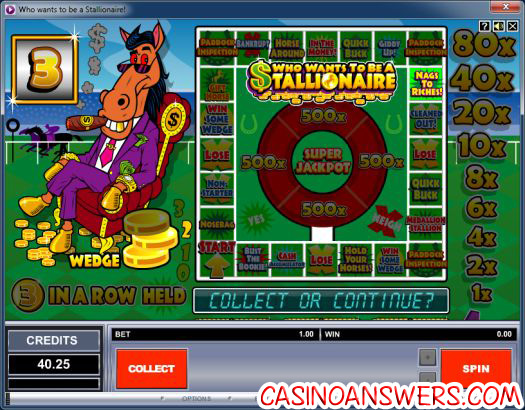 I've absolutely no clue how much I would collect haha, but I'm going to continue anyway. I think all I'd get is $2.
Oh I see how it works. I ended up collecting, then it spins a variety of times each time being a winner, and I have the option to collect, or let it keep spinning to see if I can get a bigger win. I've no idea how many times it spinned, but I eventually settled on a 6x win: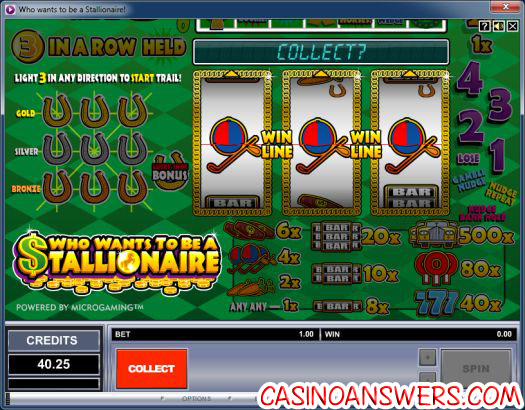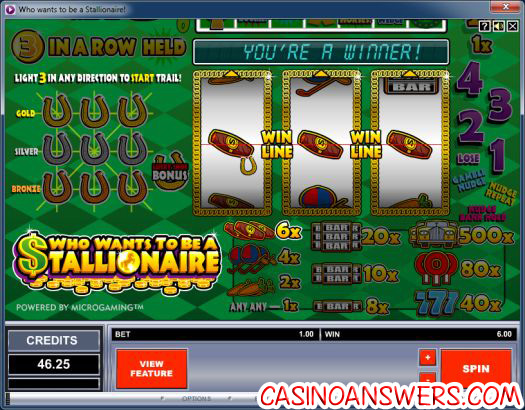 Our balance eventually drops to – $14.75 – yikes, and I call it quits for now. I'll be back later to finish the blog. Who Wants To Be A Stallionaire is a very fun online casino game though, I recommend playing it at Jackpot City Casino.
Welcome to the final day of the Jackpot City Casino blog. We haven't had too much luck at Jackpot City Casino, and we're left with just $14.75 with a pretty hefty wagering requirement.
Oh well – it's still been fun, and I've played some real fun games.
Alright so I'm going to be playing me some Multi-Player Wheel of Wealth. You basically play with other people – it's pretty cool. Here's a screenshot;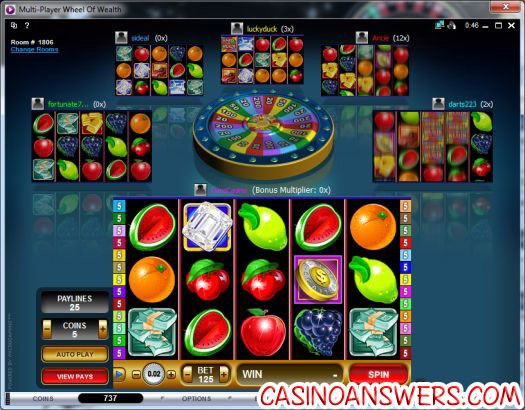 You also get the ability to upload your own avatar. Unfortunately there is a 48 hour waiting period while they review your avatar, and mine isn't showing yet.
You have the option to chat, and you bet multi-line etc. So this one I bet 0.05 a line, and I bet 4 coins and it works out I am betting 100: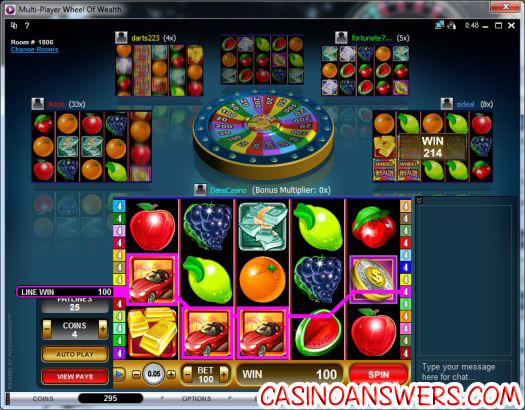 I get a HUGE win the very next spin of 1180 coins, with a bunch of Wheel of Wealths: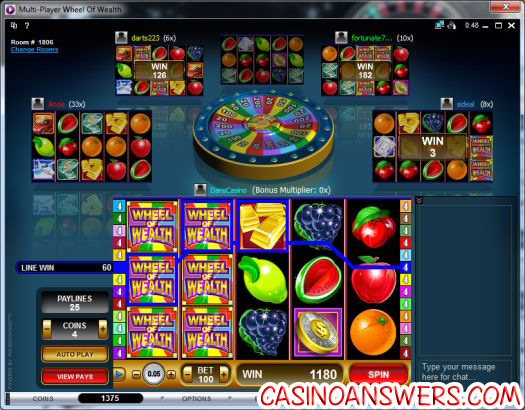 I decide to up the ante to $0.10. That means I am ebtting 100 coins a hand, and have 600 odd coins left. You can of course change all this.
I managed to activate the bonus round – and it's really cool because you place your needle, then you spin and play, and you win whatever it lands on plus your bonus multiplier. See screenshots below: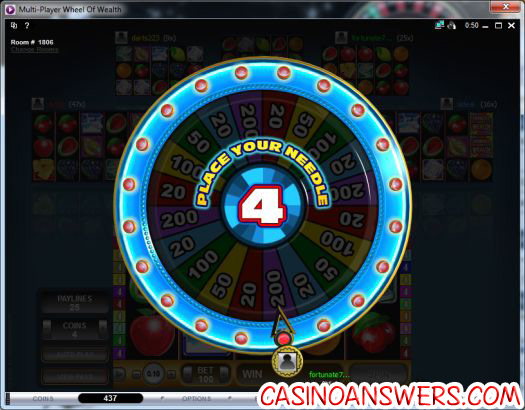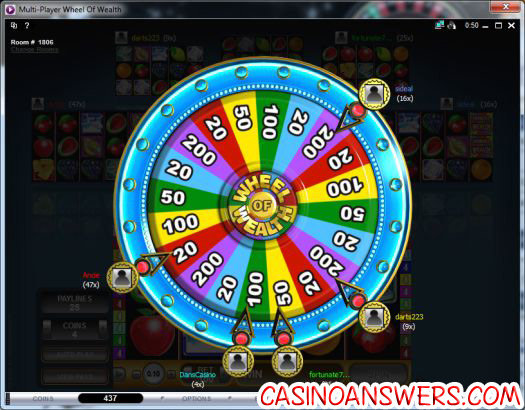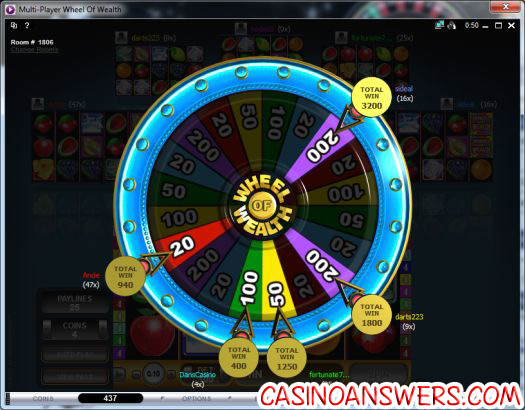 So I won 400 coins there, as I got the 100 plus the 4x multiplier.
My money soon disappears, and on my last spin betting 50 I get a 1642 win woohoo: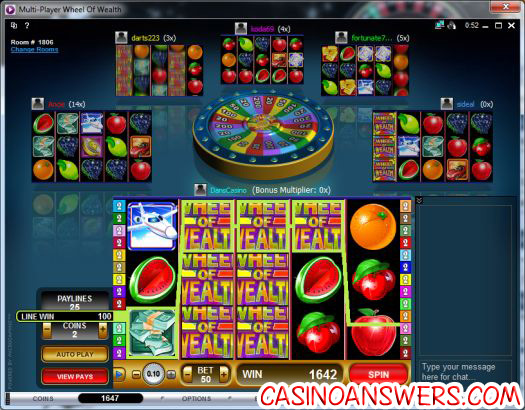 Unfortunately I didn't get much luck after that, and I go broke at Jackpot City Casino.
Oh well it was a fun ride – and that multi-player Wheel of Wealth Special Edition game was a heck of a lot of fun.
I'll be a little bit late getting the Jackpot City Casino Review up as I'm going to England for a few days. I won't be able to do the casino blog while I am over there, but I will be back soon so don't you worry!
In the meantime go visit my friends at Jackpot City Casino.