If you are looking for answers to any casino questions then you have came to the right place! Providing answers to all your casino questions is exactly what CasinoAnswers.com is all about.
We don't just cover the common casino questions either – we aim to answer anything and everything even barely related to casinos, both online and offline. Pardon the cheesiness of this next line – but we have more casino information than you can shake a die at!
There are two main ways to navigate Casino Answers. The first method is by using the sidebar over to the left there. You can pick a category – from a general category like casino laws & regulations – to a game specific category like "Blackjack" and get all casino questions and answers on that specific casino topic.
On each category page we also list the most popular casino questions and answers for that category based on an algorithm that includes pageviews, search results and time spent on the page. That way if the topic you are looking for is popular then it will be easy to access.
The other method of navigating Casino Answers is by simply asking a question. Don't get this confused with the likes of yahoo answers where you ask a question then have to wait for people to actually respond, or wiki answers which has a lot of pages with the question *asked* but no actual answer, or at least not an in-depth answer.
All the casino questions and answers on this website are very in-depth. We put lots of work and detail into every article on the site. When you are asking a question on Casino Answers you are basically using our internal casino search engine to search the website. If there is an article related to your search we will display it, and if there isn't you can email us and we will add it within 48 hours.
For example – if you wanted to know what the rules to Baccarat are. You would either click the casino game rules category or the Baccarat link in the sidebar, or you would search the website by typing something similar to: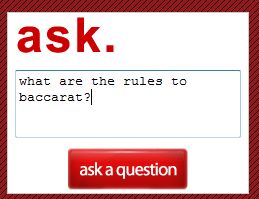 Examples of other text you type if looking for Baccarat Rules include:
How do you play Baccarat?
Rules to Baccarat?
Baccarat Rules

Once you hit "ask" you get our search results page which looks like this:

And you are presented with casino answers related to what you typed in.
Now what if you search for something not currently in our casino database? For example, as of right now we don't have any articles on "what fish eat chicken for breakfast?". Yeah I don't know what it means either haha.
When a user searches for a phrase with no results, we get an email alert about it, and add it to our database to add to the website. Also here is the message you will get: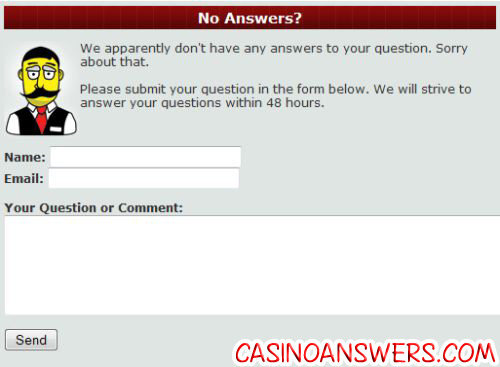 If you fill that form in – and we only require your e-mail address so we can e-mail you with the answer – we will add priority to the question, and aim to answer it within 48 hours as mentioned.
And that's it. That's how Casino Answers works, and this is where you can find your Casino Answers. We really hope you enjoy the website, and if you have your own website even if its just a blog, we'd love for you to give us a link. Thanks!
Additional Casino Answers Questions:
Is Casino Answers a good website?
We would actually like to turn this question around and ask you what you think of our website. Constructive criticism is the best way to correct mistakes and improve. If you have any thoughts, feedback or suggestions on what you would like to see more or less of, please let us know by e-mailing us at Site@CasinoAnswers.com. We hope you enjoy your visit at Casino Answers.
Related Questions:
Alternative Ways to Ask/Incoming Search Traffic:
The answer to the question Where can I find Casino Answers? is also applicable for the following questions:
Is there any good casino information websites? I have a question about Blackjack, where do I ask? Where can I find a lot of great slot reviews?