Taxes are a very grey area when it comes to online gambling. You see, in offline casinos, winnings can and will be taxed once they hit a certain amount. However, are they able to enforce it on online winnings? Well, if you live in America, you do have to claim your online casino winnings, just like in an offline casino.
Why? Well, it's classed as an income of yours and gambling has stopped being exempt from being taxed. This is taken from the IRS official website and is their thinking behind the matter:
Gambling winnings are fully taxable and must be reported on your tax return. You must file Form 1040 and include all of your winnings. Gambling income includes, but is not limited to, winnings from lotteries, raffles, horse races, and casinos. It includes cash winnings and also the fair market value of prizes such as cars and trips.
However, there is good news for all casino gamblers from the United States. You see, you can deduct any loses from your tax return as long as you're able to provide receipts, statements or other pieces of information that shows that you have made loses on the site. The great thing about online casinos is that this is all documented in the cashier section and as long as you print off your deposit and withdrawal history, you can claim loses back up to the amount of your winnings.
Sadly, the government won't give you a break if your losses total more than your winnings. Shocking, I know, but that's the rules!
Now, I know you're thinking that small wins shouldn't be worried about and the IRS are probably not going to be interested in your $200 win, but there is a chance that if you get audited, they'll wonder where that money has come from and we cannot, in good conscience, not inform you of this.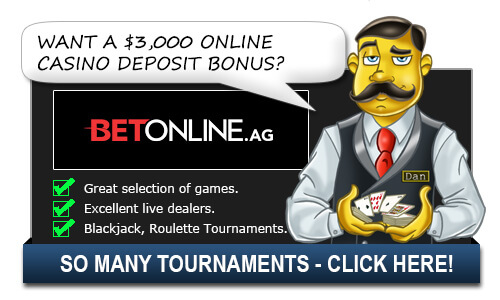 Keeping records of your wins and loses is always good practice, anyway, so we'd recommend you keep track of every session you play, not only for tax purposes, but to find out which games you're winning the most on, so you can focus your attentions on them. Plus, if the tax man does come calling, you can keep him satisfied with your meticulous records. God knows a tax man loves pages and pages of paper with numbers all over them!
So, there you have it: your gambling income is taxable. Now, whether you decide to report it is up to you. Should you hit a huge win, it's obviously unavoidable and red lights will start going off come the end of the financial year when you've got this extra $1m floating about. However, it is a grey area and it really shouldn't deter you from gambling online, as it is exactly the same as an offline casino. If you don't decide to announce it, if you do get audited, there will be questions asked and you'll have some penalties to pay. We don't want that!
Once you've realized that it's not all bad, head over to Bovada and check out their slot machines.
Additional America Gambling Tax Questions:
What is the tax on gambling winnings?
This is not tax advice so please check with a professional before paying any taxes on gambling winnings.
Winnings are said to be subject to a flat 24% tax or income tax withholding on winnings over $5,000. These types of tax laws can change in an instant though so, again, please check with a professional as this is not tax advice.
Top Casinos for Americans

Related Questions:
Alternative Ways to Ask/Incoming Search Traffic:
The answer to the question In America Do I Have To Pay Taxes On My Online Casino Winnings? is also applicable for the following questions:
Do Americans get taxed on gambling winnings?
Top Casinos for Americans