If you're looking to play Craps online then first of all I do need to warn you about one thing – it won't be anywhere near as fun as if you were playing it in an actual casino!
Of course you most likely already knew that. But it bears mentioning – one of the biggest parts of Craps is the social atmosphere, all cheering and celebrating together for each dice roll. That's sadly missing in Craps online, where there isn't even any multiplayer aspect to online Craps.
That's not to say it isn't fun – just nowhere near as fun as a live casino! And if you're a new player to Craps then playing online first is a smart idea – you'll get to learn the game and all of the rules and how it works and so on without any pressure. The last thing you want is to be a new craps player for the very first time in an actual casino – you'll have no clue exactly what you are doing!
So – how exactly do we play Craps online?
Well, every online casino offers a different graphics layout for Craps, however the functions remain the same. We're going to be showcasing the Craps tables at
as they have an awesome setup which is great for beginners, and is very simple to use.
So here is how the Craps table looks: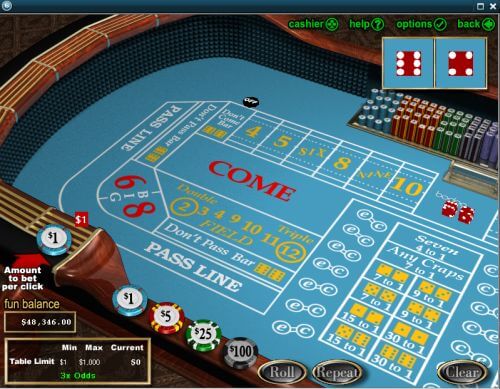 I should also note that
offers a "practise table" or "fun money" – basically you can play Craps online without risking any of your own money. So if you are a beginner then that's another reason to play at
.
So the first thing you do is place your bets. You do that by clicking the chips that you want – it lists $1, $5, $25 and $100. If you wanted to bet $8 you would click the $5 chip then the $1 chip 3 times. Then you place your bets where you want. For example you can click on 2 4s to come up at 9 to 1 odds, bet the pass line, bet the field etc etc etc.
When you're happy, you click "Roll". The dice will then fly across the table as if they were actually rolled, bounce off the wall and come back. Here's how it looks after that: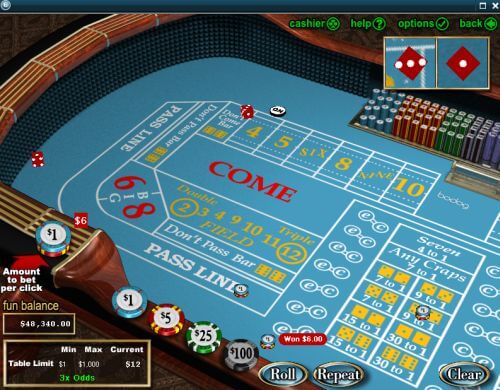 As you see – at the top right it zooms in on the actual dice so you don't have to try and view the small graphics – you see exactly what you rolled.
And that's how to play Craps online. As I said – not really that exciting sadly – but it's a good way to get accustomed to the game at least.
Head to
to get your online Craps fix.
Additional How To Play Craps Online Questions:
None Yet
Related Questions:
Alternative Ways to Ask/Incoming Search Traffic:
The answer to the question How To Play Craps Online is also applicable for the following questions:
How do you play craps online? Where can you play online craps?