If you've read any articles on live dealer games here at Casino Answers, you will be aware of huge much I love them. I honestly think live dealer games are the future of online casino gaming. The premise is simple; the casino has some offices or a studio, they fill it with gaming tables such as blackjack, roulette and baccarat and then they place some cameras to film the action and beam that to the players wanting to play live dealer games.
It's such a simple idea, but also an idea that makes online casinos gaming a lot more fun. Yeah, online blackjack is fun, but when all you're seeing is some graphics on the screen representing a card, it's not as fun as seeing an attractive dealer turn over real cards. Plus, it would eliminate any thought that the random number generator might not be 100% legit (of course, we have complete faith in RNGs, but we know some people, especially poker players, sometimes doubt them).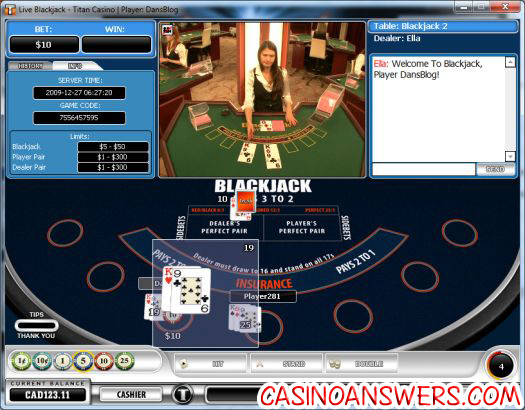 So, live dealer games are great fun and now you'll be wanting to try them out. But where is the best place? Well, as we always say, Titan Casino is perhaps the best online casino around if you're a player from outside the United States. It has great bonuses and game selection, but their live dealer games put them at the forefront of the online casino market. Casino Answers love Titan Casino and their live dealer blackjack is one of the main reasons.
Of course, Titan Casino is not the only casino out there that offers live dealer games. 888 Casino are also market leaders in the live dealer market. They, again, are for non-US players only, but they are great if you're looking to play live dealer games. The dealers are not just pretty faces, they are extremely competent, too. If Titan Casino doesn't take your fancy, 888 Casino is a fantastic alternative. Needless to say, I love them both and spend hours at the live dealer blackjack tables whiling the hours away. They are a great alternatives to just staring at computer graphics and you can change dealers should you find one isn't doing you any favors, or you just fancy a change of scenery, which you can't do playing boring old online blackjack.
Live dealer blackjack is perhaps the most popular live dealer game of all and once you try it out, I'm sure you'll see why. It's great fun and when you win, you can even tip the dealers if you believe in karma (which I do). There are cool little features to live dealer blackjack, which could end up making regular online blackjack obsolete if we all decide to start playing live dealer games. I, for one, wouldn't mind a bigger selection of tables and dealers, so we all need to start playing more and more live dealer blackjack. If you don't, we'll be stuck with very few tables and a small pool of live blackjack dealers! So, get to the live dealer blackjack tables at Titan Casino and 888 Casino right away.
Additional Live Dealer Blackjack Questions:
(None Yet)
Related Questions:
Alternative Ways to Ask/Incoming Search Traffic:
The answer to the question Where Can I Play Live Dealer Blackjack Online? is also applicable for the following questions:
What casinos offer live dealer blackjack? Can I play live dealer blackjack online? What's the best place to play live dealer blackjack?