In this article I'm going to discuss counting cards in Blackjack.
With all the decks these days, counting cards is never as potentially profitable as it used to be however it is still a method that can be used to some success, plus it adds some fun to the Blackjack table. Even when I am playing casually and just for fun, I find myself trying to keep a count.
Of course counting cards in Blackjack isn't going to guarantee you a win.
Before I get into how to count cards, let me first discuss a few topics:

Important Notes about Card Counting in Blackjack:
No guaranteed profit. It's not a "cheat" or anything like that. It's just meant to lower your disadvantage over the house and help your chance of winning. Plus like I said it's fun to do.
Not easy. People watch that Kevin Spacey movie and think oh yeah it's easy. It's not. It really isn't. It requires a lot of hard work just to get card counting down and then doing it at the table can be tough.
Not impossible. It's not impossible either even with multiple deck games.
You need a good bankroll. To be able to count cards you're going to have to be sitting at the table and paying attention to the cards – for a fairly long time. You're also going to be raising your bets or lowering your bets based on the count so you need a bankroll to handle that. If you're betting $5-$25 you probably need to be sitting there with $1000.
Casinos don't like it. So you have to be careful otherwise you can get kicked out of a casino. We'll cover that soon.
Counting Cards in Blackjack For Dummies
The one thing you have to remember is this – high cards = good for player, low cards = good for dealer. If there are a lot of low cards in the deck then that will help the dealer get that 17 or better. The high cards increase the chances for you of getting a 20 or a Blackjack.
The easiest card counting system is known as the Hi-Lo. You assign cards a value.
Ace, King, Queen, Jack, Ten = -1
Nine, Eight, Seven = 0
Six, Five, Four, Three, Two = +1
That makes for a nice balanced count and is great to remember. This is essentially Blackjack Card Counting for Beginners.
So any King that comes out you take 1 off the count. For each 5 that comes out you add 1. You don't change the count if a 9 comes out.
You will need to keep a running count throughout your play at the casino. So let's do an example hand:
Bob, Bryan and Jim are at a table. Bob gets dealt K8, Bryan 27 and Jim 6Q. Dealer has an ace as the up card. We start with 0. -1 for the King, 8 is ignored, +1 for the 2, 7 is ignored, +1 for the 6, -1 for the Q and -1 for the Ace. Count is -1.
Bob stands. Bryan draws a 5(count=0), then a 4(count=+1), Jim gets a 7 and busts which doesn't affect the count. Dealer draws a 2 and an 8 which hits 21 and that is +1 and 0, bringing the count to +2.
It may seem complicated but the more you practise it, the more you'll get it down. You'll get to see a Q6 for example and remember they cancel each other out.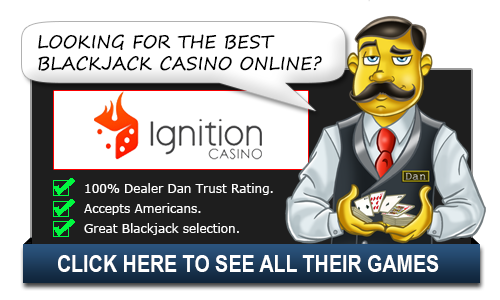 Single vs Multiple Deck Blackjack
So this is how you count cards in Blackjack. How do we actually use it? It can differ based on decks. For example in single deck Blackjack if the count hits +5, that's when you want to be betting big. However if it's an 8 deck game, +5 means nothing.
It's based on the quantity of decks used. Let's say it is 8 decks. Then if 3 decks have been dealt, there are 5 left. So you have to divide based on that. In this case a true count of 5 divided by 5 leaves you with +1, which isn't really good enough.
Using Card Counting Without Being Detected
Like I said above – nothing is guaranteed. You're just increasing your odds. However one thing you need to do is make sure it's not obvious you're counting cards.
Theoretically you'll be raising your bets when the count is high. However you don't want to go too crazy. Only increase them in little amounts and don't JUST do it based on the count. Throw in the odd high bet if you're on a good run.
You can have a system if you want too – like start with $5 at neutral or negative count, then $10 at +1, $15 at +2 and $25 at +3 or higher if you're going from $5-$25. That's not too bad as it's mixing it up and not being too obvious what you are doing.
Don't do big jumps. Don't go from $5 to $25 in one hand. Maybe double it or go to $15 but that's it.
Do things that are natural. If you win at $25, betting $100 at a high count might seem good on the next hand but is an obvious one. Instead say you're feeling lucky, and let the winning bet ride. Things like that never raise an eyebrow.
And hey be sure to tip the dealer too. They're the most aware of all the casino staff and they won't care what you're doing as long as they're getting tipped.
Top Blackjack Casinos for Americans

| # | Online Casino | Reason | Visit |
| --- | --- | --- | --- |
| 1 | Bovada Casino | Must trustworthy casino for Americans. Bet Sports too! | |
| 2 | Slots.LV | $22 No Deposit Bonus just for registering, Good Blackjack Games | |
| 3 | Ignition Casino | Blackjack games like Single Deck, Zappit, Perfect Pairs. | |
Additional Blackjack Card Counting Questions:
How does card counting affect normal strategy?
Obviously there are a lot of different strategies in Blackjack depending on the game, rules and decks etc. However a few ones that change from your general basic strategy are:
Count of -1 or less: Hit 13 when dealer has 2 or 3, hit 12 against 4,5,6.
Count of 0 or +1: Just normal strategy.
Count of +2: Double down on 11 against an ace, and an 8 againset a 6. Stand on a 12 going up against a 3, and a 16 against a 10 if the 16 you have has at least 3 cards.
Count of +3 or more: Always take the insurance. Stand 12 vs 2, double down 10 vs A & 9 vs 2 & 8 vs 5.
Related Questions:
Alternative Ways to Ask/Incoming Search Traffic:
The answer to the question How To Count Cards in Blackjack is also applicable for the following questions:
Blackjack Card Counting Strategies, how do you count cards in Blackjack, the Hi-Lo Blackjack Card Counting System
Top Blackjack Casinos for Americans

| # | Online Casino | Reason | Visit |
| --- | --- | --- | --- |
| 1 | Bovada Casino | Must trustworthy casino for Americans. Bet Sports too! | |
| 2 | Slots.LV | $22 No Deposit Bonus just for registering, Good Blackjack Games | |
| 3 | Ignition Casino | Blackjack games like Single Deck, Zappit, Perfect Pairs. | |