Shouldn't you be asking why not? I guess I'm a bit biased.
Anyway, what's so good about playing at an online casino? Well, first of all, there's the convenience. Chances are that unless you live on the Las Vegas Strip, you have to travel a bit to get to a casino. Now, if might be five minutes into town, or it might be on the other side of town, or, if you're unlucky, it might be in another state. With online casinos, you don't have to worry about getting there, planning a day in advance or taking a day off of work. It takes 5 minutes to start playing at an online casino and you'll never have a wasted journey for forgetting your ID.
On top of the convenience of not having to leave your home to have fun, there's also the ability to have a massive choice of where you play. Again, unless you live on The Strip, there won't be a massive choice of casinos nearby. You might have one or two and if you don't like them, tough luck! With online casinos, you don't like one? Well, you try another one. Don't like that? Well, there's plenty more out there for you to try. The possibilities are almost limitless. I personally love the ability to choose where I play. There are two casinos close to me and I'll be honest, I don't like the staff in them, as they're rude and the costs far too much compared to what I'd pay in other places. But if I want to play at a casino, I have very little choice, unless I want to travel 1 hour to the next one. With online casinos, if I don't like the casino, I delete it fro my hard drive and move on. Perfect!
But here is why I enjoy playing at online casinos more than offline: I never have to wait for a game. See, my local casino isn't a sprawling place like The Bellagio, it's a decent size, but at peak times all the boxes on the blackjack tables are usually full and trying to even see the wheel at the roulette table is a mission, let alone placing a bet. But when I play online, I don't have to worry about a box being played, I don't have to worry about fighting past people to get my bet on at the roulette table and there's never a worry about my favorite slot machine being played by the masses. It really is great.
So, looking at the above examples, you might be thinking to yourself, "Well, that just sounds a little anti-social. I need a better reason than that!" If you are, for shame! But, how about this, which is probably the best reason: online casinos will give you money to play there. Oh, yes. You see, you go to your local casino and you get $500 of chips. Now, does the cashier give you another $500 to play with? Of course not! But online casinos will give you a very nice deposit. Say you took that $500 and instead of going on that 1 hour drive to the casino, you decided to play online. At many online casinos they'll match that $500, so you have $1,000 to play with, meaning your money will got a lot further than it would have elsewhere.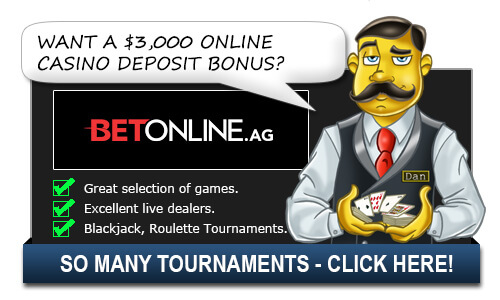 Of course, would a casino ever give you free money to play at their tables just for the hell of it? I seriously doubt it! But online casinos do. Free play is a great way to test out the casino without using your own money. How many offline casinos would do that to such an extent? Also, most casinos have a "free play" feature so you can test out the games and the software for free to see if it's the right place for you to play. Much better than gambling money in a casino you're not happy playing in, isn't it?
So, have I convinced you yet? No? Well, let's get into the smaller things. You can play at any time of the day, for a start. You want to have breakfast while playing blackjack before you go to work, go for it. You can also wear whatever the hell you want. You want to sit there in your birthday suit and play some baccarat? Well, just make sure your curtains are closed. As long as you have food in the house, you won't have to pay an arm and a leg just to eat. Also, you can curse at your computer screen all you want when the dealer hits the miracle card, or the ball bounces out of your number without fear of some huge bald security guard coming over and threatening you. In fact, you can break out the chicken dance when you hit the progressive jackpot without making a fool of yourself! Plus, there is such a massive selection of games at online casinos. If you were to try and fit all the games online casinos offer into a live casino, it would have to be a hell of a size and the tables would have to be tiny, the choice of games is just that immense.
The fact is, offline casinos are fun places, they really are. I've had great fun in them, but I've also had times when I really hated them and the people inside them. I've encountered some great people, I've met some great members of staff, but I've also met very horrible people and some of the worst staff in the world. At online casinos, I never worry about that. Yes, I might find some software I'm not keen on, or a slot machine that is awful, but that's easily remedied: I just try another slot or another casino. Plus, no casino has ever gave me money to play there, so it's a no-brainer for me – it's online casinos every time.
Top Casinos for Americans

Additional Online Casino Questions:
What's the most important thing a new online casino player should know?
The most important thing for an online casino player is this – check the terms & conditions. Every online casino you are interested in signing up at – before you download the software, read the T&C. Many casinos have different T&C. For example – one casino won't let you wager more than 25% of the bonus money at a time, and if you do that then all winnings are void. Other casinos won't let you win progressive jackpots if you currently have an existing bonus. So be sure to read those terms and conditions before signing up.
Related Questions:
Alternative Ways to Ask/Incoming Search Traffic:
The answer to the question Why should I Play at An Online Casino? is also applicable for the following questions:
Are online casinos fun? Why shouldn't I play at an online casino? Why should I play at an online casino over a live casino? What benefits are there at playing at an online casino? Why are online casinos good? Are online casinos better than B& casinos? Whats so good about playing at online casinos? What's the difference between online casinos and offline casinos?
Top Casinos for Americans