Here's the good news: you don't need to be James Bond to play Baccarat. Sure it helps, and uttering "Shaken, not stirred" while wearing a Grateful Dead t-shirt probably isn't going to make you any friends, but Baccarat isn't the "gentlemens" game anymore, reserved for the rich and famous. It's a game that you can play at any casino, both live and online.
However what offline casinos will often do is to preserve the "exclusivity" of Baccarat, will offer another version of Baccarat called mini-Baccarat. The game of Baccarat usually has a $20 minimum, however mini-Baccarat has $5 minimums. Most online casinos don't bother with the mini Baccarat version, and you can play online Baccarat for however much you want, at casinos like
.
But, how exactly do you play Baccarat? It's actually a very simple game to play. Let's look at a Baccarat table layout: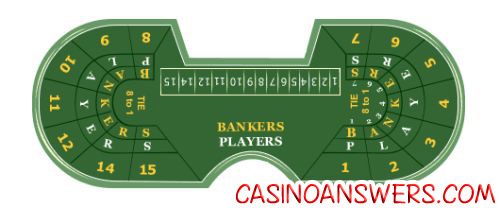 Baccarat can usually fit up to fifteen players, and it is very easy to play. Prior to the dealer dealing out any cards, you have to make a bet. The dealer will be dealing out cards to the "banker" and the "player" – basically two fictitious participants in the game. Before the cards are dealt out you basically have to guess as to who will win the hand.
That's it – that's how you play Baccarat. You place a bet on either the "player" side or the "banker" side. You also have the option of betting that it will be a "tie".
Now, how is it decided how a Baccarat hand wins? That's where it gets a little bit trickier. The Baccarat hand that wins is the hand that totals nine or comes closest to nine. Two cards are dealt out to both hands. All cards count as their value, except for aces and face cards which are counted as zero.
What if the hand is ABOVE nine however? What if a seven and a nine are dealt out? Well in that case the total is sixteen, and we just take the "1" off that and it is reduced to 6.
Of course things do get just a little bit more complicated. At this point we should mention that before you even contemplate playing Baccarat for real money, you really should play it for fun first. We've set up an exclusive deal with Rockbet Casino to offer all players $100 free, no deposit required, to try out their games. Simply click this link, download the software and register an account. When you're done that you just visit the cashier to activate the free no deposit bonus.
As for the rest of Baccarat? It's best to read our in-depth Baccarat Rules article to really get the hang of Baccarat.
Additional Baccarat for Dummies Questions:
(None yet)
Related Questions:
Alternative Ways to Ask/Incoming Search Traffic:
The answer to the question How Do You Play Baccarat? is also applicable for the following questions:
Baccarat for Dummies? Beginners guide to Baccarat?