The country of Guinea can be found on the west coast of the continent of Africa. Like the majority of countries in the region, Guinea's economy is dominated by agriculture and minerals, with high levels of diamond and gold deposits making the country relatively well-off, especially when compared to many other African nations. Guinea is bordered by six countries – Guinea-Bissau, Ivory Coast, Liberia, Mali, Senegal and Sierra Leone. The capital of Guinea is Conakry, and it is where most of Guinea's wealth can be found, distributed amongst several of its 1.7 million inhabitants.
What is interesting about Guinea is although it is an Islamic country, gambling is not illegal. While it is not prevalent like gambling is in other West African countries such as Ghana, you can still venture into a casino in Guinea if you are visiting Conakry. That being said, you are not going to be spoilt for choice, as you might have expected, and any casino you might happen across in Conakry will most likely be an addition to one of the hotels in the city. In fact, if you are invited to a casino that is not part of a hotel, you might want to be a bit sceptical and steer clear of it.
So, out of the few casinos, what is the biggest casino in Guinea? Well, it is difficult to be 100% sure given that the casinos in Guinea aren't casinos in the traditional sense, but all signs point to the casino on-site at the Riviera Royal Hotel is the biggest casino in Guinea. The Royal Riviera Hotel is located just off the N1 motorway in Conakry, and it is only a ten-minute drive from the airport. The casino at the Royal Riviera Hotel is not really what people visit for, but at the very least you can indulge in a few games of roulette, and if there are other table games open at the time, you can consider yourself very fortunate, indeed and partake in them.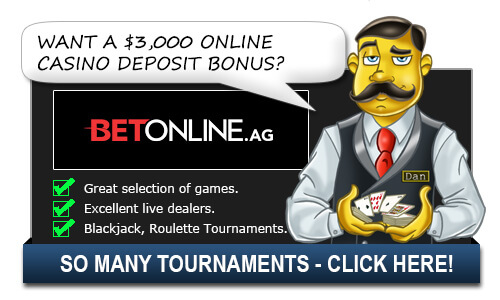 No, most people head to the Royal Riviera Hotel in Conakry because it is one of the most luxurious hotels in the city, with 74 rooms over its two hectares, as well a hairdresser, spa, gym, pool and tennis courts. So, in all honesty, the casino is a mere afterthought at the Royal Riviera Hotel, much as it is elsewhere in Conakry, it just so happens that the casino at the Royal Riviera is biggest than that of its competitors.
What that all means is that although gambling is legal in Guinea, and you can find casinos dotted about, do not expect the glitz and glamour you might find elsewhere. No, instead just set your expectations a bit lower and think of a couple of table games, which is still more than you can expect from other Islamic countries! So, as long as you set your expectations on the low side, you will most definitely not be disappointed with Guinea's largest casino at the Royal Riviera Hotel.
Top Casinos for Americans

Additional Biggest Casino in Guinea Questions:
None Yet
Related Questions:
Alternative Ways to Ask/Incoming Search Traffic:
The answer to the question What is the Biggest Casino in Guinea? is also applicable for the following questions:
Guinea casinos, biggest casino in Guinea, is the Royal Riviera the biggest casino in Guinea? Is gambling legal in Guinea?
Top Casinos for Americans