British Columbia, often referred to as BC, is a province on the west coast of Canada, and it became the sixth province of Canada in 1871, so there is a lot of history in its lush countryside. The capital of British Columbia is Victoria, which can be found on Victoria Island. Many visitors to British Columbia go to take in the scenery, exploring the national parks and checking out the various flora and fauna that can be found all over the province. Bears are famous in this part of the world, and can be found all over British Columbia, while whale-watching is another common activity for tourists to participate in when visiting.
Of course, not everyone that visits British Columbia is interested in looking at animals or smelling the wild flowers that are resplendent in the spring. Some people are more interested in a city holiday, and cannot stand the idea of spending the day trekking. And even if that is your bag, come the nighttime you cannot go venturing into the wilderness unless you are particularly brave. So, instead, visitors are drawn to British Columbia's nightlife, and a big part of that is casino gaming. And the best place in the province to partake in some casino gaming is in British Columbia's biggest casino. But what is British Columbia's biggest casino? Well, the biggest casino in the province of British Columbia is the River Rock Casino Resort, which can be found in Richmond. While it is unusual that the biggest casino in a province is not located in its capital city, it is still the 25th biggest city in Canada in terms of population.
As it is the biggest casino in British Columbia, you would expect the River Rock Casino Resort to be a considerable size, and it will not let you down. In fact, at around 70,000 square feet, it is definitely a large resort. In fact, as it is a resort, the River Rock Casino Resort is not only a casino, but two hotels with around 400 rooms for visitors, as well as having a theater on-site, a spa, fitness center, its very own marina, and over 15,000 square feet of the resort is dedicated to meeting space. There is a lot going on at River Rock Casino Resort, not least the casino action which is what most of its 10,000 daily visitors are coming for.
The casino itself is open 24 hours a day, 7 days a week, 365 days a year, so whenever you have the itch to get to the casino and you are in Richmond, you will be able to head down to River Rock Casino Resort to scratch that itch.
There is a lot of choice for casino patrons at River Rock Casino Resort, with a choice of over 1,000 slot machines being the main draw for many players. As for table games, the selection is second to none, as you would expect. All the basic games are there – blackjack, roulette, baccarat and craps – as well as the slightly more exotic games like pai gow, as well as modern twists on the classic games such as Four-Card Poker, and Ultimate Texas Hold 'Em. You can keep yourself amused for days on end with the variety of games you can find at the River Rock Casino Resort. And if you are a high-roller, they will take great care of you, with private high stakes slots in the casino's Jade Room, and three private rooms for the high stakes table games – Salon Prive, Dogwood Room and the Maple Room. There is also off-track horse racing betting available on-site, with a lounge dedicated to that pastime.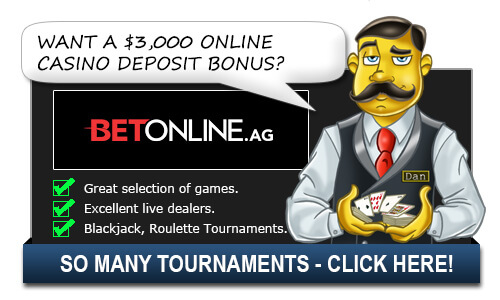 There are six places where you can sit down and grab something to eat at the River Rock Casino Resort, as well as a coffee shop for a quick stop and go. The restaurants cater for all palates, with something for everyone – Asian, pub grub, French and the obligatory buffet. Lulu's Lounge, as well as offering food and drink, is also home to live entertainment at the casino, so if that is your thing, head along there for an evening where you will find everything you need in the one space.
River Rock Casino Resort opened in June 2004, and is owned by Great Canadian Gaming, which owns ten casinos throughout North America. The River Rock Casino Resort is the company's flagship facility, with its base in Richmond.
Top Casinos for Americans

Additional British Columbia Casino Questions:
None Yet
Related Questions:
Alternative Ways to Ask/Incoming Search Traffic:
The answer to the question What Is The Biggest Casino in British Columbia? is also applicable for the following questions:
What is the biggest casino in B.C.?
Top Casinos for Americans