Red Dog, which is alternatively named Red Dog Poker, is a dog-themed online casino game that uses playing cards to determine randomized outcomes. In literal sense, Red Dog was originally the card game referred to as Acey Deucey, which has since been repackaged. Subsequently, Red Dog has other monikers, including "In Between" and "Yablon".
Red Dog, which has now been overshadowed by other inventive and thrilling casino games, was Americanized and popularized by Las Vegas casinos. However, merchant ships from overseas are credited for importing the basics of the Red Dog in the US.
An older version of Red Dog had rules that prompted gamblers to use underhand tactics easily. However, such tendencies were curbed following its reinvention in the wake of the legalization of gambling in the early 1930s.
The rules of Red Dog are similar, whether played in online casino sites or at traditional gambling joints. The normal 52 cards, which are in batches of three, are used in Red Dog. Upon placing an ante bet, a Red Dog player is initially dealt two cards, face up. Instantly, the player gets another card, face down. The first two cards are placed further apart to create room for the third one, wherein it is wedged between the first two playing cards.
Red Dog has a simple objective: the face value of the third playing card must be between the face values of the first two, which is called "spread" in gambling circles, to win. For instance, if the first two cards were 2 and J, then the third must be strictly between 3 and 10 in order for the player to win .
In this case, the player loses the bet if the third card is either 2 or J, or if the third card's value is not within the mentioned range. The gambler retains the stake if the first two cards given are consecutive like 7 and 8, which is considered a "push".
A red marker, which repeatedly hovers over a spread table, pinpoints the payout. If the marker pinpoints 1, 2 or 3, the payout is 5:1, 4:1, or 3:1, respectively. The payout is "even money" if the marker points between 4 and 11. However, the payout is 11:1 for a "3 of a kind" (three similar cards) scenario.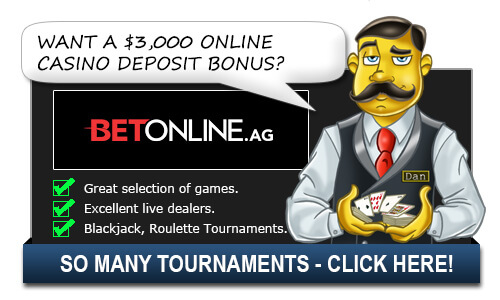 Red Dog: Game Review
The table limit of Red Dog ranges from $1 to $100, and the virtual gaming chips are in denominations of 1, 5, 25, 100, and 500. The navigation panel boasts the barest of basics: "Clear", "Help", "Repeat", "Place Bet", and "Raise" buttons. Playing Red Dog needs neither special gaming skill nor previous knowledge of casino games as everything is straightforward and there is a brief user guide. Red Dog is the go-to casino game for players seeking a much-wanted intermission while playing demanding casino games, or for players who cannot stand complex playing rules thanks to plain sailing.
However, the damnable simplicity associated with Red Dog can be off-putting. Red Dog is the "plain Jane" of casino games, figuratively.
Red Dog: Game Strategy
No tactic is necessary when playing Red Dog, although a player is recommended to optimize their winning chances by doubling their stakes when there are many possible winning face values–like over 7 playing cards–wherein the first two cards' face values are far between. Red Dog does not have a fixed house edge because it is commensurate with the amount of decks in a particular casino game, which can be as little as one deck (associated with a house edge of 3.155%) or as much as eight decks (connected with a house edge of 2.751%). Theoretically, Red Dog has a Return to player (RTP) rate of 97.34%.
Top Casinos for Americans

Additional Red Dog Questions:
None Yet
Related Questions:
Alternative Ways to Ask/Incoming Search Traffic:
The answer to the question Red Dog is also applicable for the following questions:
Where to play Red Dog online, how to play Red Dog
Top Casinos for Americans