Heads or Tails is an arcade game developed by the Playtech online casino software provider. You can play Heads or Tails at Omni Casino and Bet365 Casino.
Heads or Tails is an arcade version of the classic heads or tails game. It is one of the simplest games in the world. In the game, there is a coin. One person will predict heads or tails. Often there will be a second player to take the other side of the coin. The person will flip the coin and whichever side of the coin comes up wins.
Playtech's Heads or Tails arcade game is set around a table. There are three people sitting around the table, each with a pint. The game screen is static and the only actual animation involved is the coin flipping. Here is a screenshot of the Playtech Heads or Tails arcade game: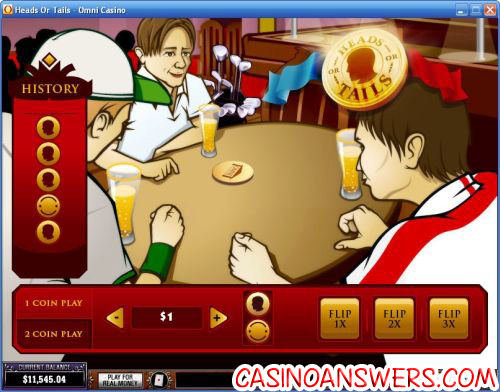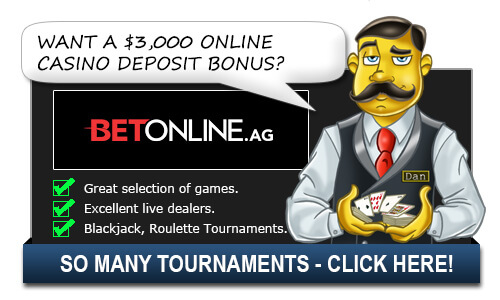 To play Heads or Tails, you must place a wager. Available wagers are $0.10, $0.20, $0.30, $0.40, $0.50, $0.75, $1, $2, $3, $4, $5, $10, $15, $20, $25, $50, $75 and $100. Next, you must choose if you want to bet on heads or tails. Then, you must choose if you want 1-coin play or 2-coin play and how many times you wish to flip the coin.
First, we will go over 1-coin play. In 1-coin play, you have the option of flipping once, twice or three times. If you choose once, a coin will flip and if you win, you will win 1.9X your bet. If you guessed wrong, you will lose. If you choose, twice, the coin must come up as your selected side both times for you to win. This will decrease your chances of winning by 50%, but it will also increase your possible winnings by 100%. If you win, you will win 3.8X your bet. If the coin does not come up on the right side for any of the three flips, you will lose. Finally, you can choose to flip three times. If the coin comes up on your side all three times, you will win 7.5X your bet.
The Heads or Tails arcade game also offers a 2-coin play mode. In 2-coin play mode, there will be two coins. You must predict what each coin will come up as. If you select one heads and one tails, if both coins come up as the same, you will lose. If one comes up as heads and one comes up as tails, you will win. It doesn't matter which comes up as which side. The payouts on the 2-coin mode are the same as the 1-coin mode.
If you're the type of player who likes to look at what is "hot" or "cold," Heads or Tails has a history of the 5 previous games listed at the left side of the screen. The location of the history box may vary if you are playing Heads or Tails at an online casino other than Omni Casino.
Heads or Tails is not the type of game that you can play for hours on end, but it is good for a few plays between other games. To play Heads or Tails and get a 100% up to $100 signup bonus while you're at it, please visit Omni Casino.
Additional Heads or Tails Questions:
Are US players able to play Heads or Tails for real money?
No, players from the United States are unable to play at Playtech online casinos for real money at this time. For a good selection of unique specialty games, US players can play the CTXM games at Bovada.
Related Questions:
Alternative Ways to Ask/Incoming Search Traffic:
The answer to the question Heads Or Tails Casino Game Review, Q&A, Flash Game, Rules is also applicable for the following questions:
Heads or Tails for Dummies, specialty games for dummies,