High Rollers is a 3-reel, 5-line bonus slot machine with a progressive jackpot. Developed by Realtime Gaming, you can play High Rollers at Bovada.
When you see the name "High Rollers" for a slot machine, you might think that the slot machine has a big money gambling sort of theme. If that's the case, you are wrong. The slot machine's name is High Rollers. Think about it for a second… Okay, so now that you've thought about it, if your second guess was that it is a hippie-themed slot, your second guess is correct! The High Rollers bonus slot is even coloured in tie-dye and has a bunch of flowers on it as well. There's even a ladybug that dances across the screen, complete with sound effects. Now that's trippy.
High Rollers is a nickel slot machine. You can play up to five coins. For each coin you play, you will activate one payline. There's even a progressive jackpot that you can be eligible for if you play High Rollers on the maximum bet. Bets on High Rollers are $0.05, $0.10, $0.15, $0.20 and $0.25. Ironically enough, with bets like this, High Rollers is actually preferable to casual low stakes players rather than high rollers.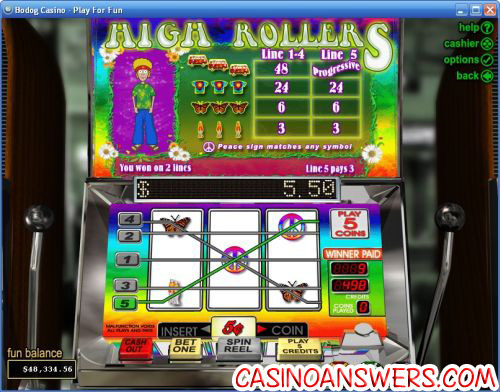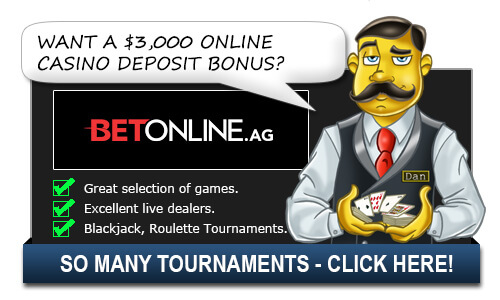 To play High Rollers, you must first buy your credits. To do this, click on the $5, $25 or $100 chips at the bottom right of the screen. You can buy more chips by clicking on a chip multiple times. You can always cash your credits in by using the red button that reads "Cash Out." Once you've purchased your credits, you can either use "Bet One" to play 1, 2, 3 or 4 credits or use "Play 5 Credits" to make the maximum bet (worth $0.25). Playing the maximum bet is the only way to be eligible for High Rollers' progressive jackpot.
The peace sign symbol is High Rollers' wild symbol. It will match any symbol in the game to complete a winning combination.
Here are the payouts for the High Rollers bonus slot machine (payouts in parenthesis): 3 bottles (3), 3 butterflies (6), 3 tie-dyed t-shirts (24), 3 vans (48 on lines 1-4; progressive on line 5).
To win the progressive jackpot on High Rollers, you must have 3 van symbols appear on the fifth payline. The only way to activate line 5 is to play 5 credits per spin. High Rollers' progressive jackpot is not big at all, so it is easy to trigger the jackpot. The jackpot is won frequently.
If you're a high roller yourself or maybe if you just want to try and win a progressive jackpot, you will want to check out High Rollers at Winpalace Casino. There you can get a $1000 regular signup bonus, a $3000 slots bonus or a 200% up to $2000 high roller bonus. For full details, please visit Winpalace Casino.
Additional High Rollers Slot Questions:
Can casino players from the United States play High Rollers?
Yes, US players are accepted at both Winpalace Casino and Bovada Casino.
How do I win the progressive jackpot on the High Rollers slot machine?
To win the progressive jackpot, you must hit three van symbols on the fifth payline. In order to activate the fifth payline, you must make the maximum bet of $0.25 per spin.
Related Questions:
Alternative Ways to Ask/Incoming Search Traffic:
The answer to the question High Rollers Slot Machine Review, Q&A, Flash Game, Rules is also applicable for the following questions:
Is there any hippy slot machines? Any slot machines for playing stoned? Best slot machine for a pot smoker?