Global Cup Soccer is a 3-reel, 1-line multi-coin slot machine developed by Rival Gaming. You can play the Global Cup Soccer classic slot machine at Vegas Days Casino and Pantasia Casino.
Global Cup Soccer's theme is obvious from its name – the World Cup. The slot machine has the flags of many of different major soccer powers on it, including England, USA, Japan, Germany, Spain, Switzerland, Greece, France, New Zealand and more. Symbols on the Global Cup Soccer slot are: referee, soccer ball, gold trophy, silver trophy, bronze trophy, triple bars, double bars and single bar. Here is a screenshot of the Global Cup Soccer slot machine: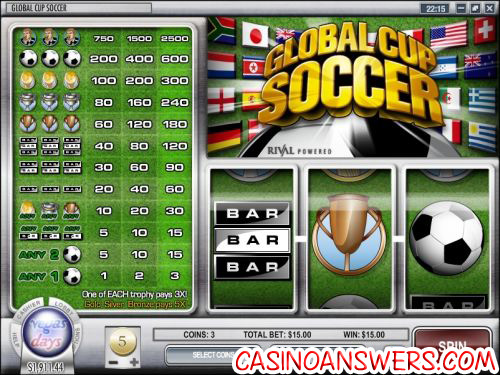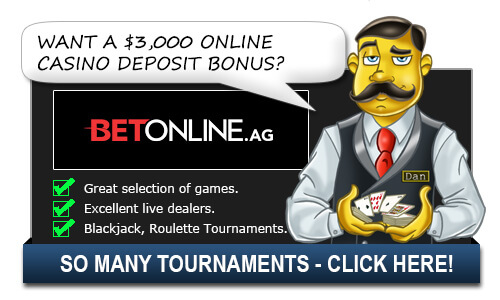 To get started on the Global Cup Soccer slot, select a coin value. Coin values available are $0.01, $0.05, $0.10, $0.25, $0.50 and $5. Next, choose the amount of coins you wish to bet (up to 3). If you want to play all three coins, you can spin using "Bet Max." If you wish to play with fewer coins, you can spin the reels using the "Spin" button at the bottom right. Casino Answers recommends you play with the maximum bet at all times.
The top fixed jackpot on Global Cup Soccer is the referee symbol. Three of that symbol will win you the 2500 coin jackpot. The second largest fixed jackpot is the soccer ball, worth 600 coins. You can win this top jackpot by playing the Global Cup Soccer video slot at Bovada.
Global Cup Soccer has 12 different winning combinations. We will list them here along with the 3-coin prize. 1 soccer ball (3), 2 soccer balls (15), 3 of any bar symbol (15), 3 of any trophy (30), 3 single bars (60), 3 double bars (90), 3 triple bars (120), 3 bronze trophies (180), 3 silver trophies (240), 3 gold trophies (300), 3 soccer balls (600) and 3 referees (2500). One of each trophy will pay a 3X multiplier. The gold, silver and bronze trophy winning combination will pay a 5X multiplier.
Soccer fans will enjoy Global Cup Soccer. It is a very straightforward classic slot machine that is easy to play, looks great and has some nice mood-setting music. For a good place to play Global Cup Soccer, Vegas Days Casino is offering players a 100% signup bonus up to $500.
Additional Global Cup Soccer Questions:
Is Global Cup Soccer a US-friendly slot machine?
No, American players are no longer allowed to play at Rival online casinos. Instead, we suggest you check out a Top Game casino like Bovada for all your online gambling needs.
What special features does Global Cup Soccer have?
Global Cup Soccer is basically a classic slot machine, but it does have something extra. Winning combinations with one of each trophy will earn you a 3X multiplier. If you're able to get Gold, Silver, Bronze from left to right, you will get a 5X multiplier.
Does Global Cup Soccer have a progressive jackpot?
No, Global Cup Soccer does not have a progressive jackpot. The top fixed jackpot on Global Cup Soccer is 2500X. If you're looking for a win much bigger than that, Vegas Days Casino does have some progressive slots – Money Magic, Major Moolah, One Million Reels BC and Strike Gold. For more on Vegas Days Casino, you can read our in-depth Vegas Days Review.
Related Questions:
Alternative Ways to Ask/Incoming Search Traffic:
The answer to the question Global Cup Soccer Slot Review, Q&A, Flash Game, Rules is also applicable for the following questions:
What World Cup slot machines are there? What world cup casino games are there?