Frost Bite is a 3-reel, 1-line classic slot machine developed by Microgaming, featuring a wild symbol and multipliers. You can play the Frost Bite classic slot game at All Slots Casino and Lucky Emperor Casino.
Frost Bite Game Description
Frost Bite has an ice cold theme. Symbols on the Frost Bite classic slot machine are the Frost Bite symbol, Frostie symbol, three Bar symbols and a Snowflake symbol. The whole slot machine consists of white and various shades of blue. At all times, you can hear the cold wind in the background. When you hit a winning combination, Frostie will laugh to celebrate. For a look at the Frost Bite classic slot game, a screenshot is below: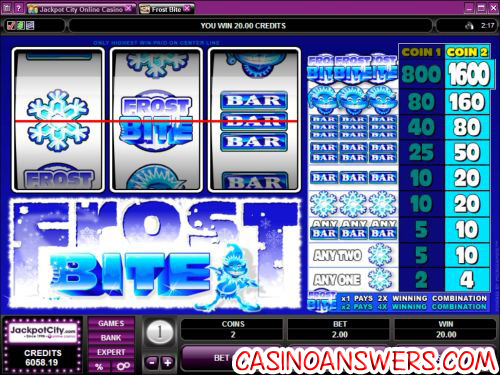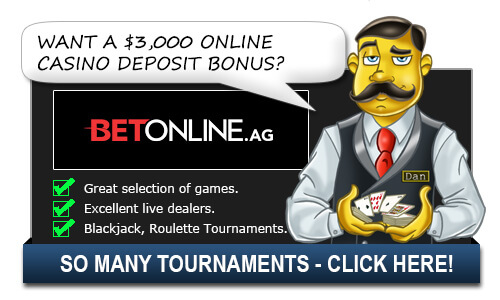 Frost Bite Betting Options
Coin sizes on the Frost Bite slot machine are $0.25, $0.50, $1, $2, $5, $10, $20 and $25. You can bet 1-2 coins per spin on Frost Bite. Frost Bite is a quarter slot, so you can make bets as low as $0.25 per spin. The highest total bet on the Frost Bite online slot machine is an impressive $50 per spin, which much more than most Microgaming classic slot machines. To play the Frost Bite slot game on the maximum 2-coin bet, press "Bet Max." For other bets, hit the "Spin" button.
Frost Bite Top Payouts
The highest paying symbol on the Frost Bite classic slot is the Frost Bite symbol. 3 Frost Bite symbols on the payline will pay out the 1600 coin top jackpot (on maximum bets). It is by far the highest paying symbol on the Frost Bite slot game at 10X the size of the next best payout. The Frost Bite symbol is wild and substitutes for all other symbols in the game. The symbol also acts as a multiplier. 1 Frost Bite symbol will double your winnings while 2 symbols will quadruple them.
Frost Bite Payout Schedule
There are 9 winning combinations on the Frost Bite classic slot machine. The complete payout schedule is as follows (1/2 coin payouts in parenthesis): 1 Snowflake symbol (2/4), 2 Snowflake symbols (5/10), any 3 Bar symbols (5/10), 3 Snowflake symbols (10/20), 3 Single Bar (10/20), 3 Double Bar symbols (25/50), 3 Triple Bar symbols (40/80), 3 Frostie symbols (80/160) and 3 Frost Bite symbols (800/1600).
Frost Bite Autoplay Mode
Hit "Expert" and you will gain access to the Frost Bite autoplay mode. You can either play 5 or 10 autoplay spins or you can set advanced settings. Advanced settings include number of spins (5, 10, 25, 50, 100, 250 or 500), number of seconds between spins (0.25, 0.50, 0.80 and 1.50), stop once all spins are complete, stop when jackpot is won, stop if a win exceeds or equals ($25, $50, $100, $250, $500, $1000 or $2500), stop on any win or stop if credits increase/decrease by ($25, $50, $100, $250, $500, $1000 or $2500). You can stop the autoplay mode on Frost Bite at any time.
Frost Bite Summary
If you're looking for a chilly reel spinning experience, you can play the Frost Bite slot machine at All Slots Casino!
Additional Frost Bite Questions:
Can I play a Flash game of the Frost Bite slot for free?
You can play Frost Bite at the Instant Play casinos All Slots Flash Casino and Lucky Emperor Flash Casino. You can play for free or real money. If you experience any difficulties with the Flash casino, make sure you have the latest version of Adobe Flash Player.
Related Questions:
Alternative Ways To Ask/Incoming Search Traffic:
The answer to the question Frost Bite Classic Slot Guide & Review is also applicable for the following questions:
How do I get to play the frost bite flash game? Where can I play a winter slot?