The major factor that devastates new players is bankroll management. In most scenarios, they win a few hands, and think "hey, I should move up to higher stakes." This in turn, busts them. Next thing you know, they're hitting the 'reload' button. Then the cycle will repeat itself, until they or their loved ones call for an intervention. Don't let this happen to you. Poker is easy, but bankroll management isn't. Even if you're playing perfect poker, dreaded variance can wreck you. What's worse is when you lose to variance and then turn into a maniac and tilt off your roll.
It is important to have bankroll management as you don't want to lose all your money in just a few hands and start to hate the game. Poker can be a lot of fun and it's more of a skill than gambling, but when you start putting out money that you can't necessarily afford to do; that's a problem. This is why bankroll management is so important. Knowing what level to play at and how to play at that level is just as important as knowing whether or not a flush beats a straight. It's the basis of playing poker and something you should really study.
To avoid losing your investment in the game, try to play pretty tight when first starting out. This will decrease variance, while also training you to become a more patient player. Of course, your style will vary depending on the game type. For example, a six-ring table will obviously make you play looser than a full ringed one. That said, playing tight is a good way to make sure that you can play for a long time. Especially starting out as the less hands you are involved in, the less chance of losing.
Say for example, you deposit $50 into your account. You should ONLY be playing at the $2 no-limit cash tables. That is about 25 buy-ins worth. Try to keep your bankroll 25-30 times the level of the tables you're playing at. If, for example, you like to play heads up, or six-ring, you're going to need 30-50 times the big blind. For Sit and Go's, you are going to want at least 50 or so buy-ins, and for multi-table tournaments, you're going to need at least 100 or so buy-ins.
This is a rough guide on the numbers, but it really comes down to what you're comfortable playing with. What really matters is having a back-up plan in case you suffer from a run of bad luck. Be prepared to move down stakes if needed. Don't let this get you discouraged; everyone, at one point, has had to move down levels, even the pros.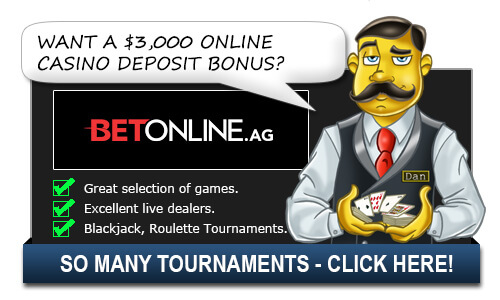 By following these basic tips and guidelines, you should never bust out and have to make that dreaded 'reload' again. Just remember to plan within your budget. Keep it a hobby, and a low pressure one at that. And who knows, you just may end up being the next Phil Ivey.
Top Casinos for Americans

Additional Texas Holdem Bankroll Management Questions:
(None Yet)
Related Questions:
Top Casinos for Americans