Turbo Tournaments are tournaments in which the blinds rise rapidly with the idea of the tournament not taking very long, even in the later rounds. You will typically see people all-in early and often. For this reason, a lot of people think this is a luck based game. While there is certainly some luck involved – such as getting a great hand early – that's not the main basis of the game.

In any form of tournament poker, the luck can increase the bigger the blinds get, in relative to the players current stacks. However unless every player is sitting there with two big blinds and basically going all-in every hand, then there is still a lot of skill that can be used when playing the later stages of turbo speed tournaments.
First of all, in regular tournament poker the "general rule" is that you go all-in when you have 10 or less big blinds, because post-flop you generally don't have the stack to make any sort of moves and will be going all-in regardless, plus pre-flop 10 big blinds generally increase your fold equity.
Turbo tournaments should be treated the same way, although you should be playing looser, and moving in more often. 12-14 big blinds can be a good amount to move all-in pre flop with when it comes to the latter stages of turbo tournaments. With the speed of these tournaments, that can come far faster than you would imagine.
As mentioned, skill plays a huge factor. Knowing the players really helps too. Often you will be moving in with minimal hands – with the blinds rising fairly often, you don't have time to wait for a premium hand to be dealt to you, because it will suck up your blinds fast. Therefore it is good to be able to estimate the calling range of players, as well as know who is going to be calling you and who is going to be folding. With the hands that you will be going all-in with and pushing all your tournament chips into the pot with, you most likely won't want to be called the majority of the time. Your main aim is to pick up the blinds, to help you survive another round.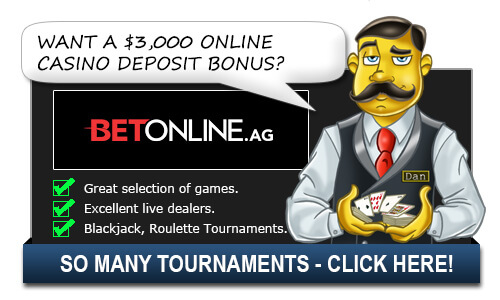 That's why you need to know who you can pressure – who is going to fold every hand until they get a pocket pair; who really NEEDS to win the tournament to the point that they'll let you run over them, and who is an action junkie that will call with any two cards. You also need to know who understands tournament poker, and who understands this strategy themselves, and who is going to sit there folding every hand till they are forced all-in.
A great place to try this turbo tournament strategy out is Bovada, because their turbo tournaments are full of a lot of passive players who will let you run over them, so that you can see the benefits of being aggressive.
Please Note: Americans cannot play at Fortune Poker, due to the UIEGA. A great alternative to try this strategy is at Bovada, the poker room created by Doyle Brunson. Click here.
Top Casinos for Americans

Additional Turbo Tournament Luck or Skill Questions:
(None Yet)
Related Questions:
Top Casinos for Americans