Super-turbo tournaments are tournaments where players start with very few chips and blinds go up extremely fast. Typically, you start with 15 big blinds and the size of the blinds increases every 2 minutes. Fortunately, there are still plenty of decisions to make in these tournaments, so yes, you can make good money if you know how to play them.
The first thing to pay attention to is the size of your stack in big blinds. Divide your stack size into four zones. When you have under 3BB, you are in the DEAD ZONE. You need to double up as soon as possible by sticking the money in with the first decent hand you see. Doubling up soon is far more important than going broke by waiting for a good hand. With 3BB, look to put your money in with any hand that contains a queen, king, ace, or pocket pair.
If you have between 3 and 7BB, you are in the RED ZONE. You are close to going broke, and you need to steal some pots. If you're on the button or in the small blind, and the hand has folded to you, go all in with playable hands.
If you have between 7BB and 12BB, you are in the YELLOW ZONE. You can wait a couple of hands, but you need to make your move soon. Go all in if you have ace-ten or better or if it's folded to you on the button or in the small blind and you have a playable hand.
If you have more than 13BB, you are in the GREEN ZONE. Play tight and let other people go all-in with each other. If you have a strong hand, like 88 or better, or ace-queen, try to get it in with someone who is a short stack.
Remember these rules and you are sure to make money.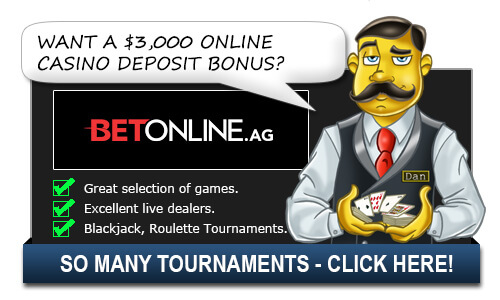 Once you get to six handed or five handed play (or play a tournament with smaller tables of this size), your stack size should be the guiding light for everything you do. Be aware of the other stack sizes at the table and as long as you don't have a "desperate" chip tack (think six big blinds or less), you should do your best to avoid confrontation and instead let the others at the table fight it out.
You should always go through a list of questions before you get involved in any hand. Are you short stacked? Are you in a comfortable chip position? If you fold, what will happen? What might they have? Are you out of the money finishes at this moment? You will need to weigh all this plus what is in the center of the table to decide if you want to act. When you get late in the game like this, you should always be aware of where the big blinds stand and how close you are to finishing in the money.
Top Casinos for Americans

Additional Super Turbo Tournament Making Money Questions:
(None Yet)
Related Questions:
Top Casinos for Americans