To have a good home poker game, you need good equipment. You can't have the same sorry cards that your kids use to play Go Fish! and you can't have cheap poker chips. If you want to have the kind of game that will keep your friends coming back, you have to have the good stuff. That all starts with the chips, so what kind of chips should you get?
There are several options for buying poker chips. If you're buying on a budget, you can get a 500-chip set of chips for around $40. These chips will be plastic, so they won't feel like real poker chips, but they are just as good for playing poker as any other chip.
Casinos use clay chips that weigh in at 11.5 grams. These are a little more expensive than plastic chips, but they are much more comfortable, are weighted better, and make chip tricks easier. They give a real authentic feel to the festivities and make that "splashing" sound that you are used to hearing at a casino.
Try to buy at least 100 chips for every player you expect in your home game. Buy lots of white and red chips. You don't have to buy poker chips by the set, which will come with lots of greens, blues, and black chips. Instead, consider buying 300 white chips, 500 red chips, and 200 green chips for a 10-player home game. There are many pre-made stacks that you can buy that have all of the chips you could possibly need, but you need to be careful about the quality of these and inspect them beforehand.
If you are considering expanding your home game or playing for more money, you can ask each of your regulars to donate part of their buy-in one day for new poker chips. Most regulars are happy to throw $5 in for snacks, so they'll probably be willing to throw another $5 in for new poker chips.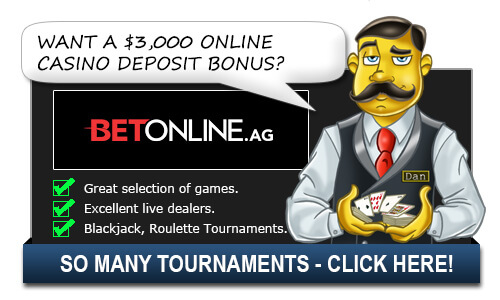 For those of you who want to get real crazy, you can sometimes find old versions of casino chips on ebay. These are real chips that were used in casinos before they switched over for whatever reason. They hold no monetary value, but they look and feel like the real thing because they are the real thing. You can even get chips that say some big numbers on them like $2500 or $5000.
The nice thing about getting the nicer chips is that nobody can try to pull a fast one on you. Some people might buy the same set you have and try to sneak some of them into the game, thus making their stack look much bigger than it actually is and gaining an unfair advantage. Only the worst type of people would do this, but they are out there. Avoid all that by springing for the quality chips and keeping a close count on them. Poker is a game that you and your friends can play for life and these chips will last a lifetime if you treat them right.
Top Casinos for Americans

Additional Buy Poker Chips Questions:
(None Yet)
Related Questions:
Top Casinos for Americans