Let It Ride, also known as Let Em Ride at certain casinos, is a table game found at casinos, and is very similar to poker games like 5 Card Stud.United States Play at Bovada
Let It Ride was invented by the innovative company Shuffle Master. Let It Ride is a very simple game, and easy to play. The player gets dealt three cards, and there are then two community cards which all players can use.
Here is a screenshot of Let It Ride in action: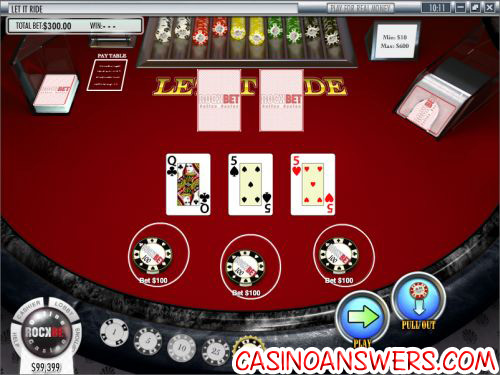 Let It Ride is played with one standard 52 card playing deck. There are no jokers or wild cards in the deck. Each player must place three separate bets down on the table. Once the player has been dealt three cards, they have the option of "Letting It Ride" and keeping all three bets on the table, or pulling a bet. The first community card is turned up, and the player has the option again of Letting It Ride or pulling one of their bets.
At no time in Let It Ride are you playing against the dealer. All the dealer does is deal out the cards. You are simply playing against the cards, and to win money you must get at least a pair of tens. If you get less than a pair of tens you don't win any money.
The amount of money you win, or amount of chips you get returned, varies depending on your hand. A pair of tens or higher will usually result in a 1 to 1 payout, while a royal flush is 1000 to 1 payout.
Let It Ride is a popular game because you can take back bets when you have a bad hand. However if you get dealt a strong hand early, then you are able to bet and take advantage of that, knowing that you are going to win at least your initial bet back, and possibly more.
We should also note that Let It Ride is a very slow game, and there isn't much "action" to it. You won't find it at many live casinos due to this, or you will usually find one table at best. A game like this just isn't profitable for casinos due to the slow pace, and it has actually earned the nickname Let It Die by various casino dealers, due to the slow pace and thus low tip return.
Thankfully you won't have dealers sneering at you when you play at online casinos, and you can take as long as you want to play. We recommend either the Let Em Ride tables at Rockbet, or at Vegas Tech casinos like Online Vegas Casino.
Additional Let It Ride Questions:
(No additional Let It Ride questions)
Related Questions:
Alternative Ways to Ask/Incoming Search Traffic:
The answer to the question What Is Let It Ride? is also applicable for the following questions:
What is Let Em Ride? What is Let Them Ride?