Keno 101 is a virtual keno game with 5 betting options above the game card, these wager bets include 50 cents, $1, $2, $5 and $10. Before you start playing the game, it's a must to choose one of these bets. Additionally, there are a total of 80 numbers to pick from with a 10,000 coin jackpot offer available as well. Winning occurs once you get all 15 numbers filled in correctly.
This version of Keno is simple to play unlike the rest, every game slot is numbered and all you have to do is just follow up the numbers listed on the left-side of your keno game card. In appearance, the game looks very much like a typical Keno card which you'll find in a real Casino. The layout will particularly appeal to new players who've never tried out the game before. (Get 20 free spins on the Mariachi 5 slot, win real cash. Click here and use code DANSPINS20 during signup.)
Key Keno 101 Features
Apart from being easy to understand, there are other attributes that also make this Keno popular amongst users, they include:
a) A simple and polished layout
b) Realistic graphics
c) 10 round breakdown
d) Betting payout chart
e) 'Clear' option to erase numbers and reset the starting wager.
f) Quick Pick. Allows players to have their gaming numbers randomly picked for them, you can decide to have either one number selected or any other figure up to 15.
g) Auto Play. Players can have their sessions to include consecutive rounds by using original wager bets and numbers. You can decide to play 1, 2,3,5,10,25 or 50 rounds consecutively, allowing you to relax and watch as the winnings continuously come in.
How to play Keno 101
The first step is deciding how much you're comfortable with wagering, there's a decent amount of table limits available to pick from and this will appear to most players if not all. Your betting limit options are $0.50, $1.00, $2.00, $5.00 and $10.00.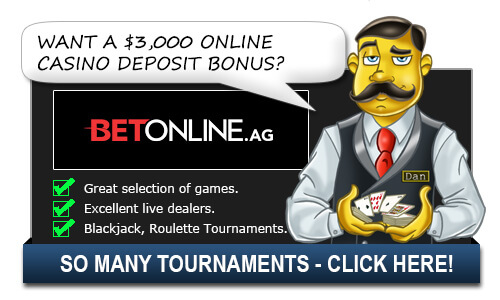 The next step is determining which particular numbers and how many you want to play. Remember that the more numbers you select, the better your winning chances if they are matched up correctly. You can choose from numbers 1 to 15, or alternatively let the game randomly pick any amount of numbers you want by clicking on the 'Quick Pick' option.
Once you are ready, push the 'Click To Play' button at the bottom of your screen so that numbers can be drawn. The more accurate matches are done the more you win. Players are also allowed to let their game run through several playoffs in a row using the same wager figure and number.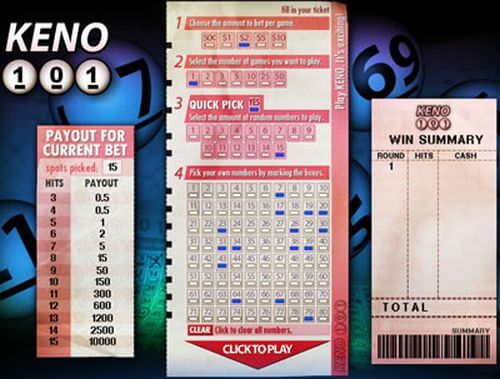 To the left side of your Keno 101 ticket, there's a breakdown of the total numbers you play. It shows how much can be won potentially if you hit the numbers that have been chosen. To the right, there's a round-by-round breakdown which is helpful if you want the game run through multiple playoffs in row indicating how much has been won in each round, and the numbers caught in each stage as well. There are 4 bold numbers to the left side of your keno card, the selections you pick will turn into a dark-blue color for easy identification. This makes it easier to arrange the numbers and plan accordingly for a win.
Top Keno Casinos for Americans

| # | Online Casino | Reason | Visit |
| --- | --- | --- | --- |
| 1 | WinADay Casino | Amazing Multi Card Keno Game | |
| 2 | Slots.LV | $22 No Deposit Bonus just for registering, Fun Keno Game | |
Additional Keno 101 Questions:
None Yet
Related Questions:
Alternative Ways to Ask/Incoming Search Traffic:
The answer to the question Keno 101 is also applicable for the following questions:
Keno 101 Review, Play Keno 101 Online
Top Keno Casinos for Americans

| # | Online Casino | Reason | Visit |
| --- | --- | --- | --- |
| 1 | WinADay Casino | Amazing Multi Card Keno Game | |
| 2 | Slots.LV | $22 No Deposit Bonus just for registering, Fun Keno Game | |