This is a question that splits a lot of people when playing in casinos.
There are players that think it's only right to tip a dealer/croupier, as they're providing a service and if you win, they've provided a good service and it's only right to tip them. There are people that tip dealers/croupiers because they know that most of them are on minimum wage and it's nice to tip them. And finally, there are people that believe in tipping dealers/croupiers because of karma. You tip them, you're likely to win more, right? Well, that's down to you.
However, there are people that don't tip dealers/croupiers. Some people feel it's because they don't get a tip from the casino when they lose their bankroll. There are also people that don't do it because they feel it's even harder to beat a game's house edge when you're giving away some of your profits to the dealers/croupiers.
Now, both schools of thought are true. Yes, games are harder to beat if you're giving some of your profits away, but tipping is good manners and, come on, it's always handy to try and keep karma on your side.
I personally always tip dealers/croupiers, as I always like to tip people that provide a good service. Yes, if you don't receive a good service from a casino worker, you might not want to tip them and that's perfectly acceptable. However, the casinos don't always pay them well and count on a large portion of their income to come from tips. Fair? No, but that's the world we live in.
It should be noted that it's only been recently that casino players in the United Kingdom have been allowed to tip dealers/croupiers. Now, however, they are free to tip whoever they want in a casino, which is definitely a good thing.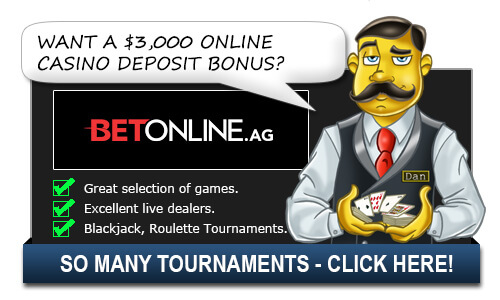 And to tip someone, all you have to do is slide them a chip, let them know it's for them and they'll put it in their tip collection.
Also, online casino players are now able to tip dealers and croupiers. A lot of casinos now have tables with live dealers and croupiers and you have the option to tip them, which, if you believe in karma especially, is a great thing. It's great when you win, tipping them and then having them type a thank you message in the chat box. It's a great feature that makes you feel like you are playing at a real casino.
So, in short, I personally think it's a good thing tipping casinos staff and now that I can do it online, it's great because I always like to keep karma on my side, just remember it's not all about tipping the cute dealers/croupiers, you should tip the ugly ones, too!
Top Casinos for Americans

Additional Tipping Dealers Questions:
(None yet)
Related Questions:
Alternative Ways to Ask/Incoming Search Traffic:
The answer to the question Should I Tip Dealers / Croupiers? is also applicable for the following questions:
Can I tip dealers or croupiers? Is it good karma to tip dealers or croupiers? Can I tip dealers in online casinos? How do I tip casino staff?

Top Casinos for Americans