American Blackjack is one of the most popular Blackjack games from Betsoft. The great thing about the American Blackjack by Betsoft is house edge is small, which is around 50.65%. Keep in mind that you can only get this kind of house edge if you play a great Blackjack strategy. Also, there are slight nuances between American Blackjack and regular Blackjack.
In this article, we are going to enumerate some of the differences between the American Blackjack and regular Blackjack. Since American Blackjack is different, you also have to adjust your strategy, and we will discuss that in the later parts of the article.
American Blackjack Key Differences
With Betsoft's American Blackjack, there are 3 positions for you to play. You can choose to "sit down" on just one, or "sit down" on all 3; which means you can get 3 hands per round. To place a bet, there's a selection of chip sizes in the bottom right portion of the screen. You simply choose your chip value, and click "place bet." When you want the round to start, simply click on the "deal" button.
Betsoft's American Blackjack makes use of six decks in total. However, the decks are shuffled each round.
Whenever you get a pair, you can split your cards. Unfortunately, you cannot re-split.
With Betsoft's American Blackjack, you are able to double down after you choose to split your cards.
In this version of Blackjack, you don't have an option for a late surrender.
Whenever a dealer gets an Ace for the first card, the dealer can check for Blackjack. If the dealers get a Blackjack, the round immediately ends, and you lose all your bets.
You can take an insurance if the dealer gets an Ace. Insurance pays 2 to 1.
You also have the option to bet that the dealer will get a Blackjack on an Ace. The Blackjack bet pays 3 to 2.
When it comes to doubling down, you only have such if your cards total to 10 and 11.
In this version of Betsoft's Blackjack, the dealer will draw up to 16, and will stand on 17 or higher.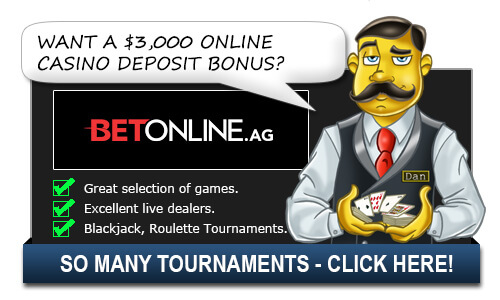 American Blackjack Review
Since Betsoft is behind this game, you can expect a high-quality experience. The graphics are easy on the eyes and non-cluttered. The cards nicely flip across the screen. Also, you have 3 speed options to choose from. Your game options are conveniently placed at the bottom of the screen.
American Blackjack Strategy
The main difference between American Blackjack and regular Blackjack is that the dealer can able to peek for Blackjack on Aces. Hence, this is where you should adjust your strategy. For example, since you know that the dealer won't have a Blackjack using the first two cards, this means it's safer to double down or split your cards.
Standard Blackjack card counting can be applied. However, since the deck shuffled for every round, the effectiveness of such strategy is reduced.
Betsoft's American Blackjack is one of the most played card games under the company's repertoire. The house edge is just around .65%. The software is clean and intuitive, which is great on the eyes especially if you are playing for long stretches.
Top Casinos for Americans

Additional Betsoft American Blackjack Questions:
None Yet
Related Questions:
Alternative Ways to Ask/Incoming Search Traffic:
The answer to the question American Blackjack Betsoft is also applicable for the following questions:
What is different about Betsofts American Blackjack game?
Top Casinos for Americans